BY MIKE STEVENS
CROWLEY LAKE – The shortest Eastern Sierra runs I've ever made were while covering the April trout openers for Western Outdoor News (Friday through Sunday). For these purposes, I'm not sure those count since I'm not fishing. "Suicide runs" up Highway 395 are something I've long thought about, but I only recently pulled the trigger.
The plan was, after putting the latest issue of WON to bed on Monday evening, shoot up to Mammoth Lakes late that night, get up early and hit Crowley in a boat rented from Crowley Lake Fish Camp. The next day, freelance a bit in limited time before hitting the road for home by 4 p.m. That's right, 365 miles each way for about a day-and-a-half of fishing. Rock 'n Roll.
There were only a few cars lined up at the gate on a weekday morning at Crowley Lake. The gate opened at 7 a.m., and we were soon on a flat-bottom boat with a 20 hp motor that could have comfortably fished three guys, but it was just myself and Taylor Miller of San Marcos who has been coming up 395 with my group for over 20 years.
In my 30-plus years of trekking up there, I've never fished Crowley Lake which is pretty ridiculous. So, I grabbed all the intel I could from Andre Nersesian of Eastern Sierra Sportfishing (troll/spin gear guide service), and I was lucky enough to notice former WON editor Rich Holland was on the lake in the days leading up to my visit, and he also came through in the clutch with the latest dirt.
Almost all of the intel pointed toward areas throughout the North Arm of the lake in the 8- to 20-foot depth window. Wanting to take advantage of any first-thing-in-the-morning bite, a motored straight over to Big Hilton Bay which is a short ride from the Marina. The handful of go-fast boats including two from Sierra Drifters Guide Service made me feel like it wasn't a terrible call, and we started casting under the fog-like smoke blown in from the Creek Fire.
About 15 minutes in, Miller struck first with about a 13-inch brown that ate the exclusive WON Thomas Buoyant we gave to subscribers at the Fred Hall Show. Following the barbless-hook-artificials protocol that is the norm at Crowley this time of year, the fish spit the hook on its own in the net and was quickly released, and that was it for Hilton Bay fish.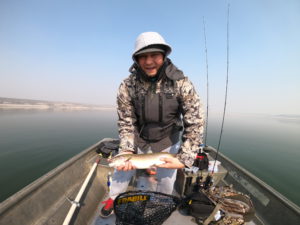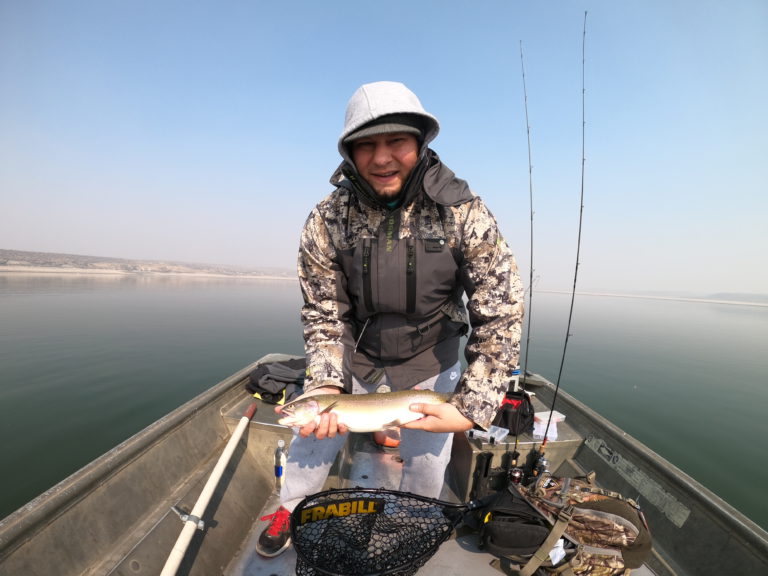 We made the long-run well into the North Arm and stopped in a couple coves before heading further up toward where the Owens River dumps into the lake. It didn't take long to realize you can't get really close to the inlet without getting into some shallow water over a mucky bottom. Looking back toward the main body of the lake, I could tell most of the boats were following an obvious "line," so I just positioned us at the "top" (or would that be the back?) of the line and tried to get in on whatever it was they knew about. Referencing back to the map of the lake after the fact, I could see that our best fishing went down well offshore of Green Banks.
Fan casting with big spoons in open water well offshore, Miller whacked a couple quality browns and a 19-inch cutthroat all on a Johnson Sprite. I know, I hadn't heard of it either, but it's a sweet lookin' spoon with a cool rainbow-trout paint job over straight chrome. What I was very aware of is the fact that Johnson is a well-known, long-established brand that now falls under the Pure Fishing (Berkley, Abu Garcia, Penn, Pflueger, etc.) umbrella. As much as I'd love to gush about how a more well-known Eastern Sierra standard was the hot lure this time around, the Johnson Sprite absolutely stole the show on this day.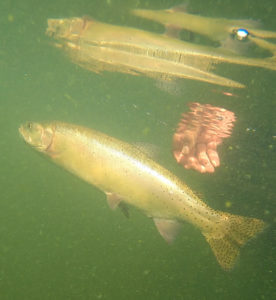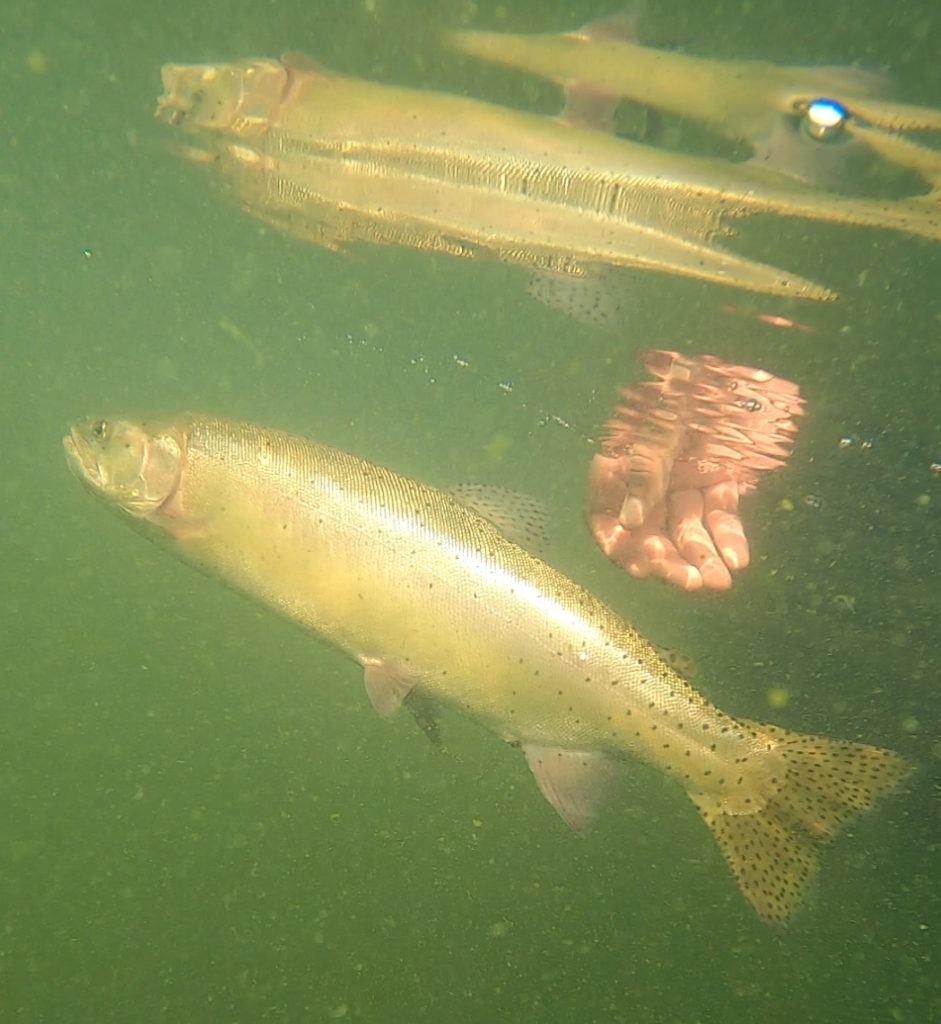 After a zillion or so more casts, I'd finally connect to what turned out to be a personal-best cutt of my own in the same class as Miller's. I was geared up for bigger fish, at least when compared to my standard ultra-light arsenal: a 7-foot light action St. Croix Trout Series rod paired with a Daiwa Fuego 1000 reel. I spooled up with 5.2-pound (really) Seaguar Finesse Fluorocarbon, which I noticed (on the packaging) that it's actually smaller diameter than standard 4-pound mono. While I did get to hear the drag zing a few times before that fish hit the net, I felt great to be on a little beefier gear than I usually work with when tussling with this quality Crowley cutty. St. Croix was pretty well represented on this outing, with Miller on a 7-foot ultralight Premier rod paired with an ultralight Mitchell reel and the new Berkley Fluoroshield that earned top marks for line at the ICAST Show in 4-pound.
As far as the lure that worked for me, put it this way, I'm considering writing a column on that alone primarily focusing on the weird, random way I ran across it. For now, I'll just say it was sent to me from by a European brown-trout specialist, and I only found it by accident when searching for something else with a similar name. If you'd like to dive down an Internet rabbit hole and get into some websites featuring a language you do not speak, it's called the Jack Rapid Snapper… Made in Denmark.
We were a long way from the barn so we started working our way back toward the Marina end of the lake with a couple fruitless stops along Chalk Cliffs and Lifeguard Point. We'd ultimately find ourselves at the extreme opposite end of the lake where the Crooked Creek inlet is found. This was an area I always wanted to check out after years of driving past its opening near Highway 395. It's a very unique, narrow canyon-type environment a boater could cast to either bank from the middle of in most spots which was a big difference from the open-water situation we'd been chucking metal in all day. It was more of an exploratory run in our final couple hours in the boat, but Miller managed to stick one more thick-shouldered brown on the Johnson Sprite as the final fish of the day.
It was a ton of casting for relatively-low numbers but the fish were all quality. The the day flew by fast since it seemed like any of those casts could connect to another quality trout. More importantly, it finally put Crowley Lake into my rotation, and learning about the wide range of boats available to rent out of the Fish Camp (CrowleyLakeFishCamp.com) really has my wheels turning, thinking about how I can get back out there with just about any size fishing group I show up with.
While the much of the fishing comes to a close when the general trout season ends on Nov. 15, Crowley Lake shuts down on Halloween. So, there is still a little time for a "suicide run" of your own, or just make plans to check it out between next year's April opener and October 2021.