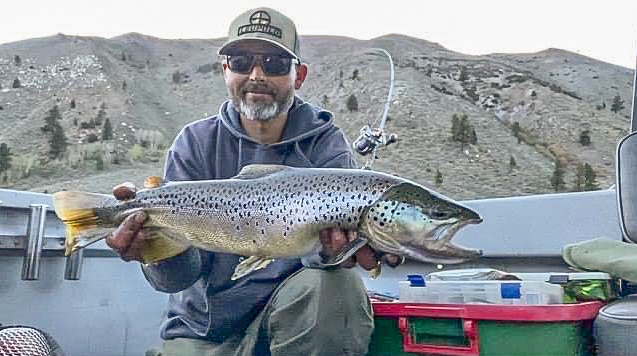 BY ERNIE COWAN
MAMMOTH LAKES — These are the days of glory for anglers on Eastern Sierra Trout waters. Let's see why.
Let's start with the crowds. There are none! School is still in session and summer vacations have not yet brought the flocks of visitors to the high country.
Then there's the weather. Sure, it can still be up and down, maybe even a little snow, but there are no skeeters feeding on you. Mornings might be chilly some days, but by early afternoon you are down to a light, long sleeve shirt.
And how about the water? Springs flows are ideal, clear and filled with fresh food that has fish feeding eagerly.
And the last factor is the fish. Local stocking efforts over the past three years have pumped tons of 3- to 7-pound rainbows into waters from Bridgeport to Bishop and those bigs are hungry and biting as winter shifts to summer. Add to that, there continues to be an active bite for big browns, and it looks like the cutthroat have now come to life as well.
The biggest fish we could find over the past week was a 10-pound rainbow wrestled from Convict Lake by Alexander Mette from Montclair, who was tossing a Kastmaster from the north shore. Shore fishing at Convict has been strong, with plenty of trophy trout showing in in creels.
Mammoth Lakes is starting to buzz as anglers get excited about the road opening into the lakes' basin for Memorial Day weekend. Anglers can expect an incredible bite there. Marshall Smith at Rick's Sport Center said anglers who have hiked or biked into lakes Mary and George have all been returning with limits of 3- to 5-pound rainbows, "and a few 6 pounders as well."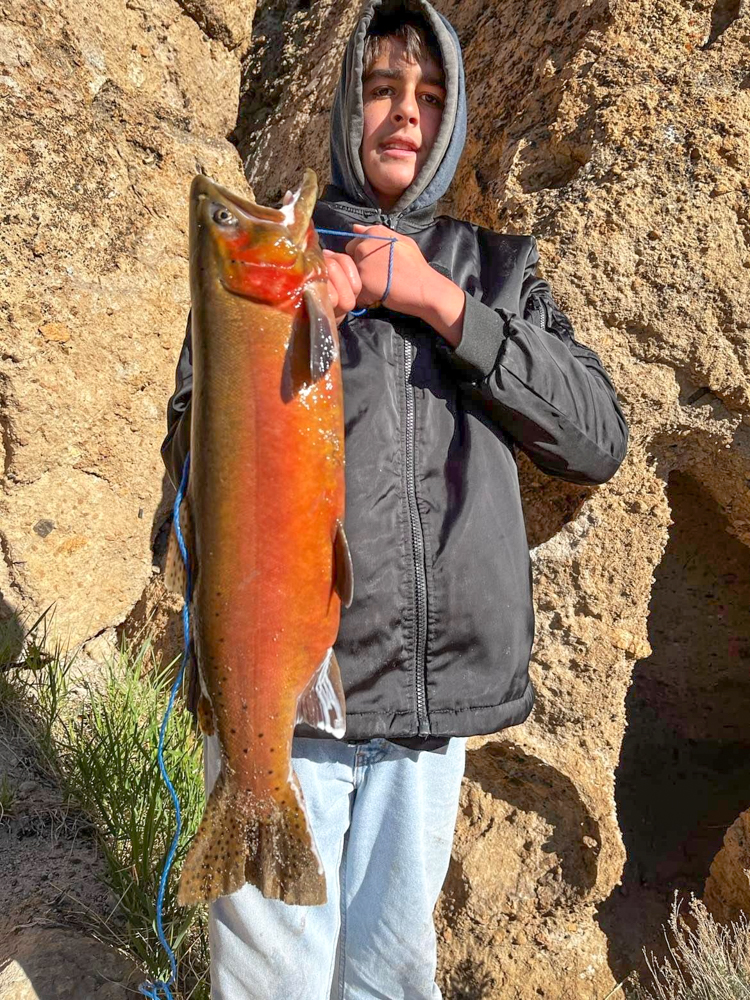 "The water is still cold, so those fish were all caught from shore where the fish are in close," Smith said. There are not estimates as to when the road down Justin Frey with FreyFisher Guide Service reports that the bite starts early around 7 a.m., but stays hot throughout the day, peaking between 8 and 10 a.m.
The big water of Crowley Lake has been kind to anglers this past week.
Young angler Owen Delacruz from Lake Elsinore fished Crooked Creek Canyon at Crowley and used a hot pink Sierra Slammer to catch an 8- to 10-pound cutty. This young angler is a Sierra veteran at age 15, and by-the-way, he was named after the Owens River.
We still don't have many reports from Rock Creek Canyon, but that will change next week as services open and anglers flood into the area for Memorial Day weekend.
June Lake Loop anglers have been all smiles, too. In addition to the great fishing at June, Gull, Silver and Grant Lakes, Rush Creek will open to fishing on May 27. While the cutthroat bite has yet to turn on at June Lake, anglers were checking in with some beefy rainbows last week, including an 8-pound rainbow caught by "The Boys from Bakersfield" with a nightcrawler and bobber down by the beach.
Not to be out done, Gull Lake gave up an 8.24-pound rainbow to yellow PowerBait dunked by Jimmy Kelly from Carlsbad who was enjoying a father-son trip with his dad Jim Kelly. Silver Lake was hot for both cutthroat and rainbows last week, giving up an 7-pound, 2-ounce cutty for Herb Cuadras from Huntington Beach who was dunking a nightcrawler from shore. Steve Gallegos didn't do too bad either, putting two monsters on his stringer, including a 9-pound, 10-ounce hawg and an 8-12 while bobbing in a float tube.
Grant Lake may be low but that has not impacted the trout bite, with guide Dan Lengning reporting one outing that landed 10 browns to 4 pounds and two Kamloops rainbows. His secret is a trolled Rapala late in the day.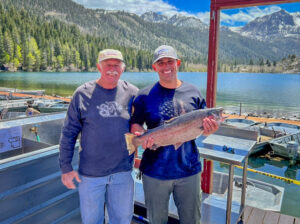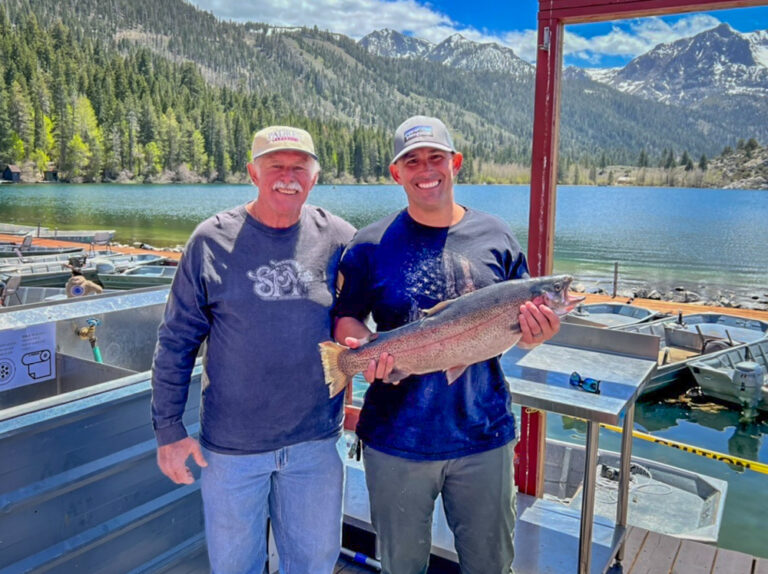 Water is also extremely low at Lundy Lake, but Brad Beaver at Beaver's Sporting Goods in Lee Vining said some trout to 3 pounds are showing up for shore anglers.
Flows in Lee Vining Creek have bumped up, slowing the fishing a bit, but Beaver said it is well stocked and as flows drop to normal levels, anglers can expect some nice fish to be caught. Beaver reports that Virginia Lakes are now ice-free and shore anglers have been catching fish, although those bigs lurking in deeper water have not quite started biting yet. Highway 120 west from Lee Vining into Yosemite is expected to be open for Memorial Day.
Bridgeport area waters continue to amaze, producing both monster browns and rainbows. Mike Olney came down from Gardnerville, Nev. to fish Lower Twin and connected with a 9-pound, 11-ounce brown late in the day. We aren't sure what he was using, but after a photo he successfully released his catch.
Upper Twin Lakes has been doing well for bait anglers using nightcrawlers, orange or yellow and garlic PowerBait and Pinched Crawlers.
Boat anglers are getting good results with trolled brown trout or orange Rapalas, along with Woolly Buggers. The kokanee bite has started at Upper Twin, with fish holding around 30 feet.
Lots of 3- to 5-pound fish coming out of Bridgeport Reservoir, and last week there was an 8.18-pound heavyweight hauled in by Jim Richardson from Reno, Nev. with PowerBait.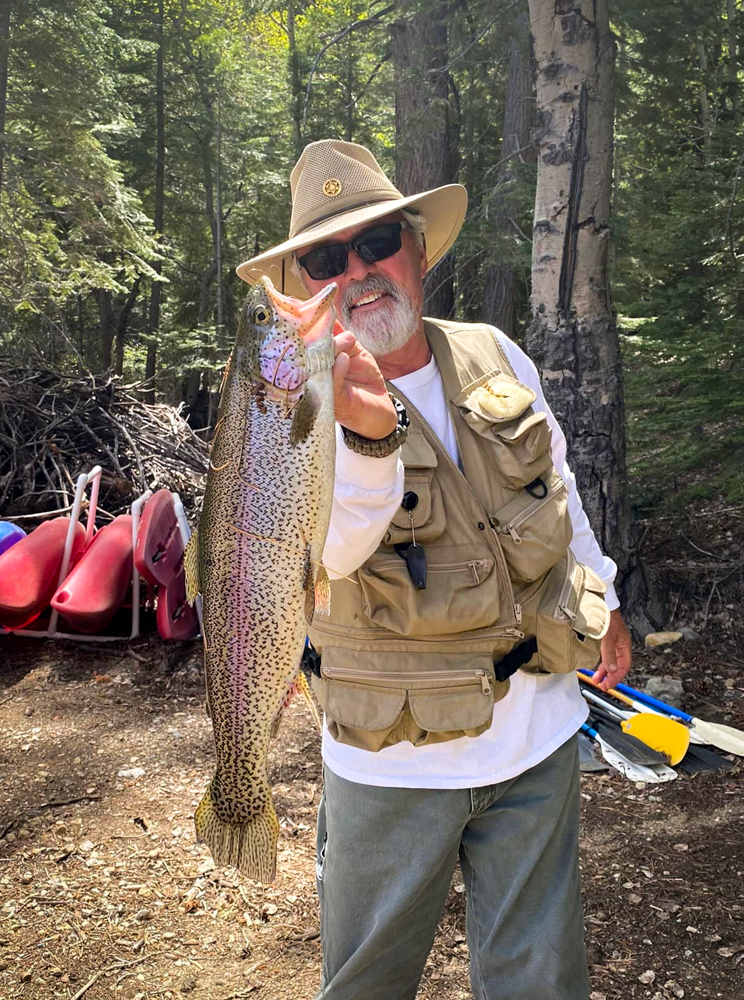 Services in Bishop Canyon will be open for Memorial Day and that's good news for hungry anglers who will now be able to get snacks, drinks and tackle at Sabrina Landing. The Waterfront Café and Pie Shop is scheduled to open on June 17. Jared Smith, new owner at Lake Sabrina, said he still has no date for availability of rental boats.
"As soon as the water comes up five to seven feet, we can float some boats. We have no estimate on launch date at this time thanks to the cold snap last week which practically stopped the runoff, low initial reservoir level, drought level snowpack etc.," Smith said.
While both South and Sabrina lakes are low, basin waters have been stocked and anglers are doing well in both forks of Bishop Creek, at Intake II and North Lake.