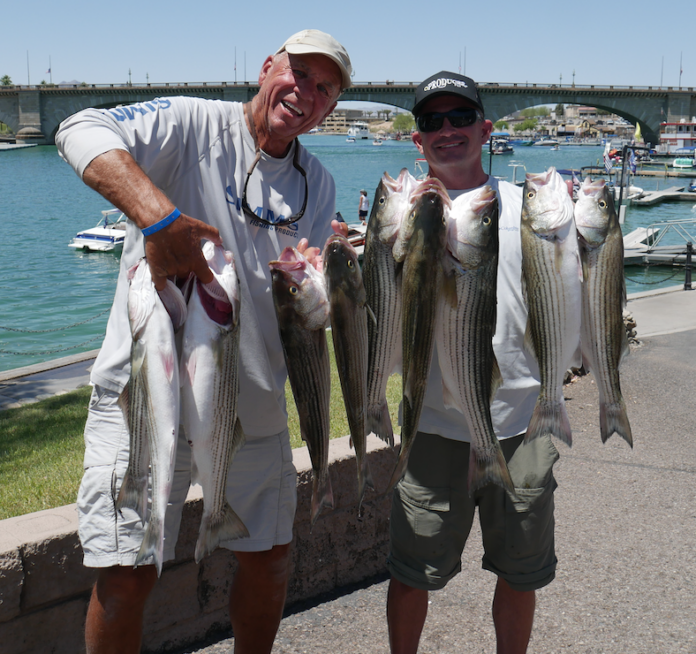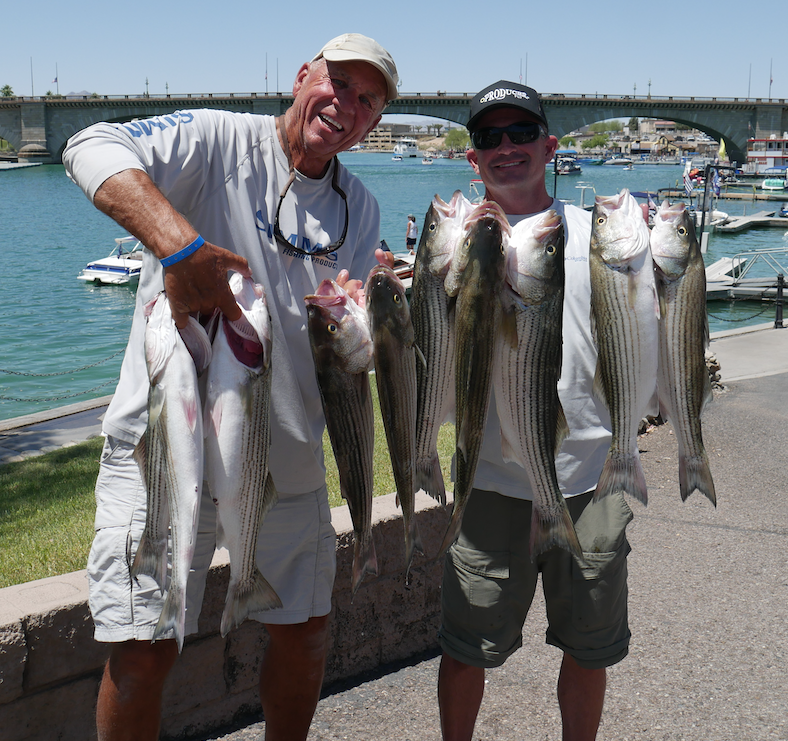 BY MIKE STEVENS
LAKE HAVASU CITY, Ariz. – The heat was on during both fishing days of the 40th-Annual WON Lake Havasu Striper Derby as triple-digit temps set the backdrop of one of the longest-running Western Outdoor News events.  The 2022 tournament was a tight race going into the final day, and perhaps more than any other year, lady anglers made a very strong showing in the big fish department. Striper Derby came to a close on May 15 after loads of sponsor prizes and cash were unleashed on a raucous award-ceremony crowd that clearly appreciated some of the new and unique ways that cash and prizes was doled out in this milestone year.
At the end of the event, it was the husband-and-wife team of Russ and Jovie Nievar who emerged as the winners after piling up a two-day total weight of 79.26 pounds.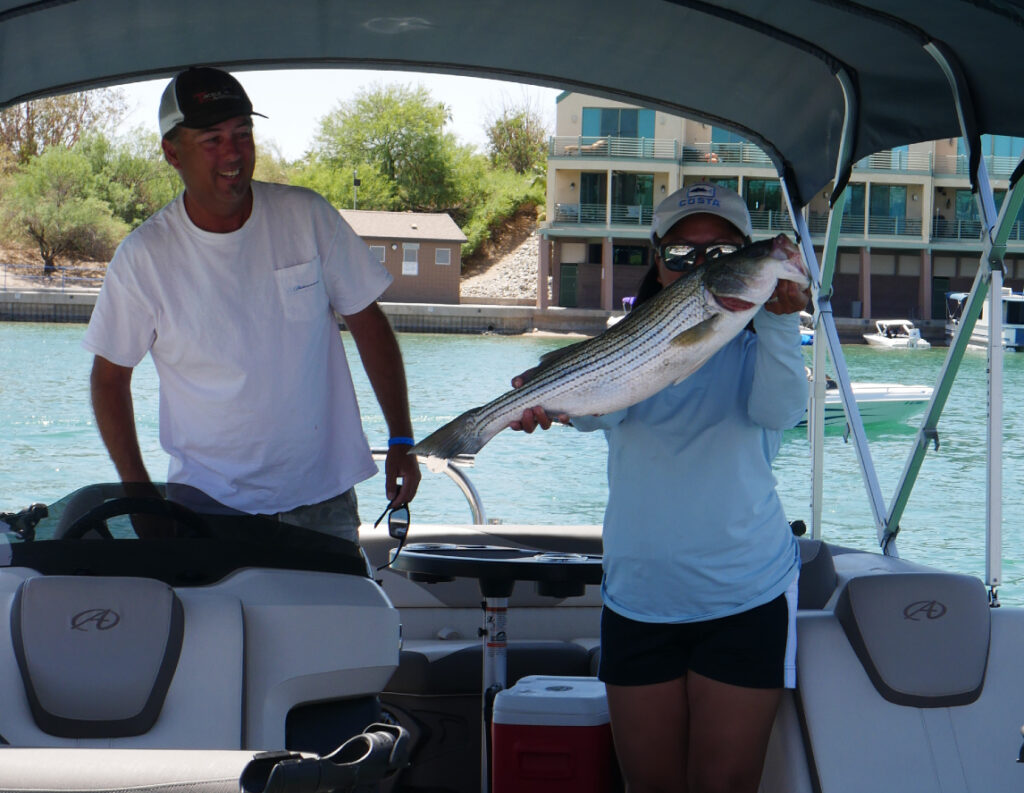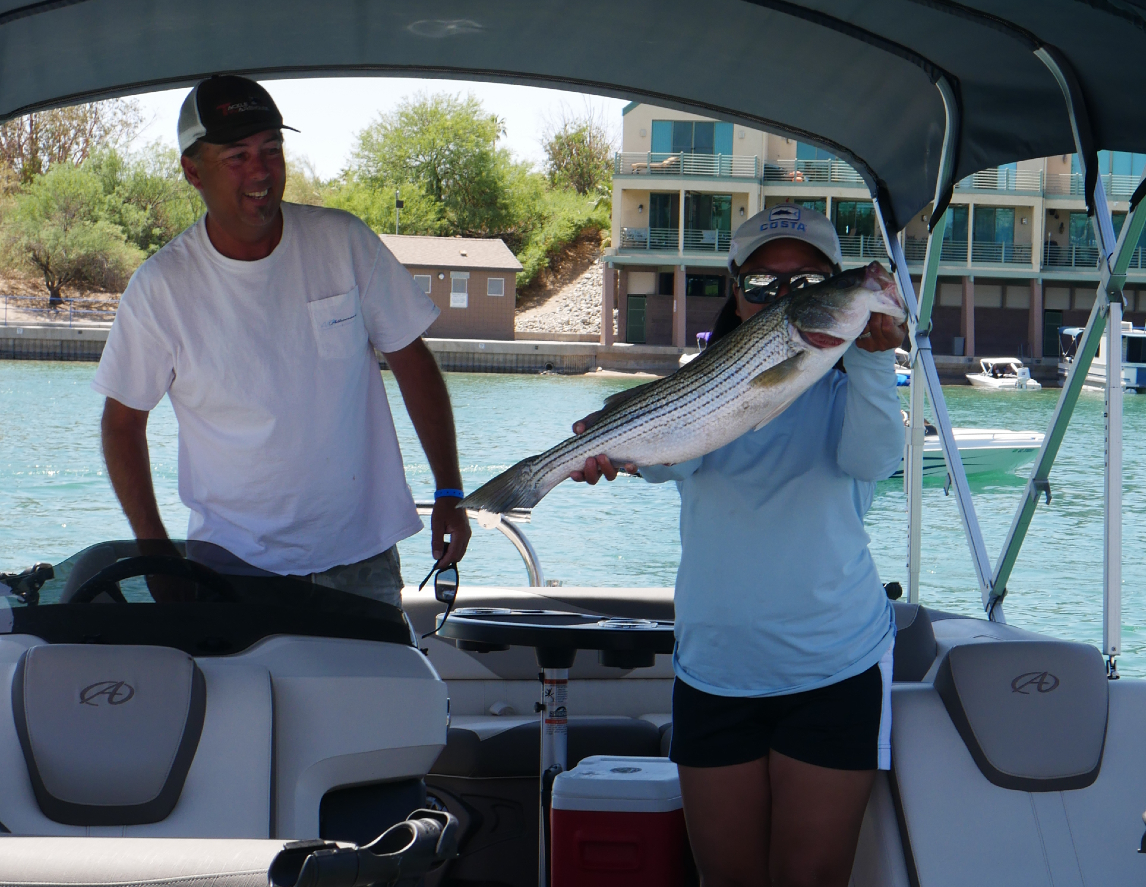 The 2022 Striper Derby kicked off at registration at Anderson Toyota in Lake Havasu City where pre-registered anglers checked in and picked up their goodie bags along with special 40th anniversary t-shirts and hats, and many enjoyed some of the 730-plus tacos prepared on site at Loco's Bar and Cocina that were also part of the package. This is also where a respectable number of anglers signed up on the spot and pushed the 2022 installment of the family-friendly derby to 116 teams.
On Day 1, a handful of teams were done fishing and ready to weigh in well before the scales opened at 11 a.m. Former Striper Derby champion Kenny Baldwin and his partner, Dan Dee were the first to weigh-in on Saturday after calling it a day at 7:30 in the morning. Baldwin told WON he was off the water in time to eat breakfast and lunch, before weighing in at Striper Derby Headquarters at London Bridge Resort, not to mention, avoiding the windless 105-degree heat that day. Those guys weighed in 10 fish for 45.49 pounds anchored by a 6.18 caught by Baldwin, and they were off to a great start with another day of fishing to go.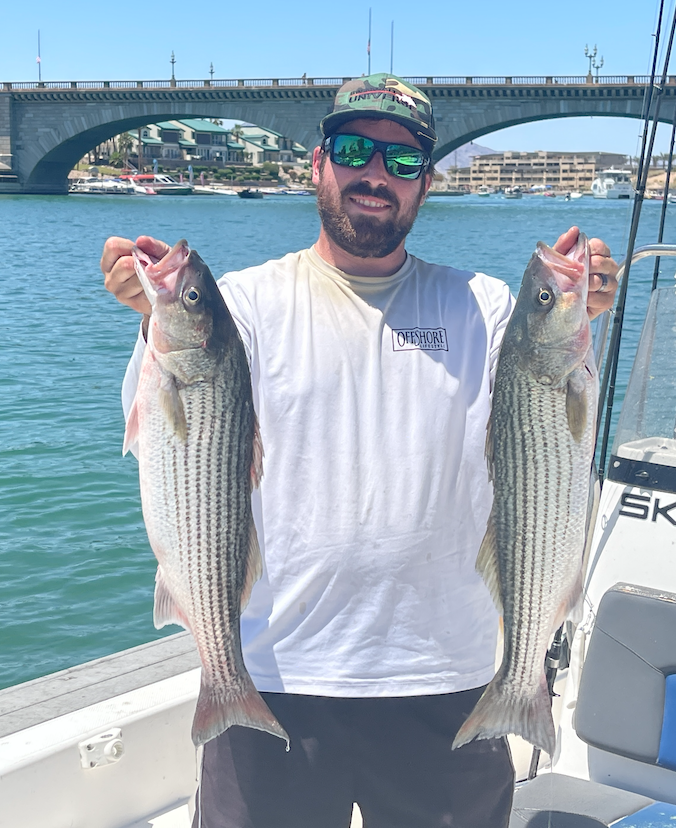 Local stick Jordan Panster was next to the scale with partner, Brian Williams, who compiled a 42.89-pound Day 1 bag with only eight fish. That included two fish totaling 14 pounds that simultaneously connected to the Lunker Punker thrown by Panster who was competing in his first Havasu Striper Derby. One of those fish went 7.6 pounds, and at the end of the day that was good for sixth-largest on Day 1.
Along with the party getting started with two very impressive bags kicking off the Day 1 weigh-ins by teams that were able to call it a day early. It's also worth noting that both of those teams did their damage 100 percent with artificials. Baldwin and Dee leaned on Baldwin's Producer Flies while Panster and Williams got it done with umbrella rigs, swimbaits, flies and topwater.
"We don't even have bait on the boat," said Williams.
From that point on, the rest of the field reflected the standard overwhelmingly-cut-bait along with the occasional artificial which is pretty standard at Striper Derby. Russ and Jovie Nievar were definitely on a cut-bait program, and on Day 1 they weighed in a 49.87-pound bag which was tops for the day and featured a 6.96 pounder caught by Jovie who happened to be celebrating a birthday.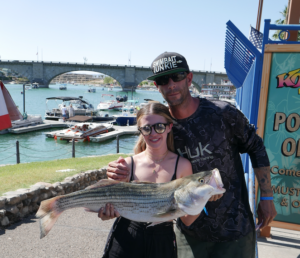 A scan of the Day 1 results shows half-a-dozen teams putting up total weights over 40 pounds and 15 teams bagged upwards of 30. Saturday's big fish leaderboard featured seven stripers over 7 pounds and was topped by Andrea Bucci's 11.29-pound model followed by Christie Ables' 9.27 pounder. According to Bucci's teammate, Eric Norgard, her fish ate a "golf ball-sized chunk of sardine" that helped propel them to third place after Day 1 with a 43.71-pound bag. The husband-and-wife team of Danny and Lena Garcia turned in the third-biggest lineside on Saturday that went 8.82 pounds.
Day 2 was even hotter with some clouds which meant a touch of humidity was also part of the equation, and there was still negligible wind. One could comfortably say this Striper Derby had the hottest daytime temps over at least the last decade when you take out the one that was pushed back to June due to the pandemic.
There's a smaller, 2-hour weigh-in window on Sunday, and the consensus across most teams was the fishing was tougher than the day before. Team Nievar brought in 29.39 pounds which was enough to finish on top with that 79.26-pound total. The team of Mark Carruthers and Ron Dyo actually crushed it on Day 2 with 40.2 pounds in addition to the solid 36.01-pound Day 1 bag, and that showing allowed them to finish in second place with 76.21 pounds. Norgard and Bucci wound up with 75.17 pounds and in third place.
Saturday may have had better numbers, but the overall big fish of the 2022 Striper Derby was caught on Sunday. That was a 18.12-pound tanker caught by Mark Bosak so close to the end of weigh-ins that the fish was still alive on the scale. It was also caught shortly after Bosak was looking to call it a day, but his partner convinced him to keep casting.
"I wanted to call it, but my partner John DiFederico said, 'no, we're staying,'" said Bosak. "Fifteen minutes later, I hooked up. I fish here all the time and never catch them this big, and to do it on Derby day right after John said that, it blows my mind."
The fish weighed 18.12 pounds and hammered a big swimbait fished on 20-pound line. Bucci's 11.29 pounder held the spot until that point, and she was actually in line behind Bosak as he weighed in his biggie, and she knew even before it hit the scale that she had been beat.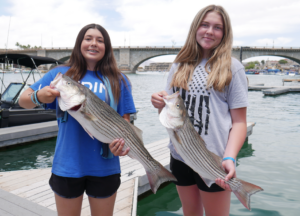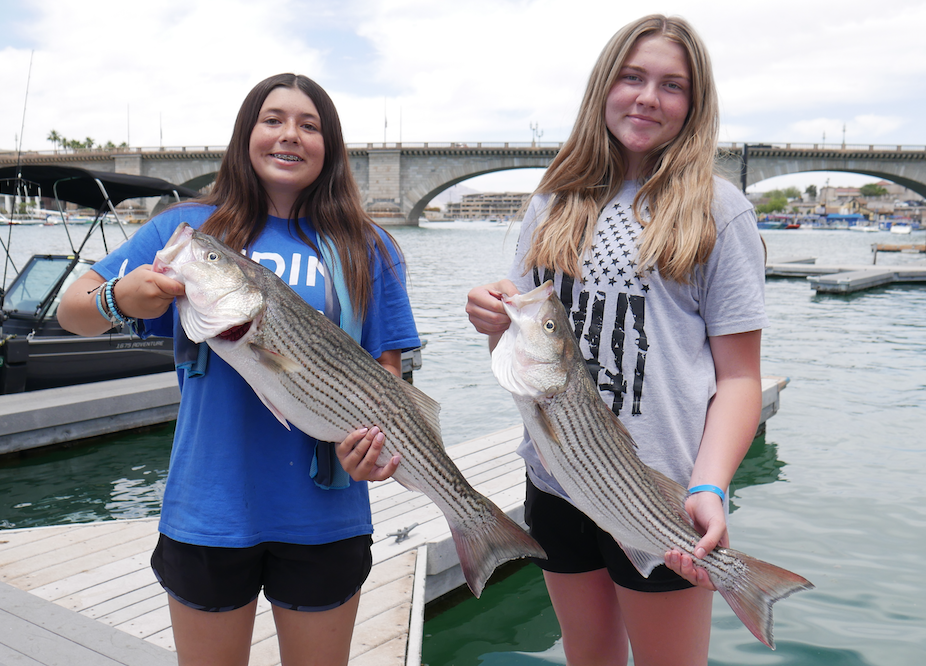 For his efforts, Bosak picked up $770 for the general big fish entry, but he was also in the "high roller" optional which tacked on another $2,100 in cash. From Striper Derby sponsors, he picked up a Sea Eagle SR 10.6 inflatable packing a 6 hp Suzuki outboard which will be a lot of a fun for a family guy with a house on Havasu, a Frabill Bearclaw net and a reproduction of his big fish from Global Fish Mounts.
Another big fish of note was the 9.78-pound striped bass brought to scale by 14-year old Paige Moll who was paired with her 16-year-old sister, Zoey. That fish was the third-biggest of the event and good for $440 in big fish cash. Bucci also got $440 for second-biggest, and Christie Ables (9.27) picked up $330 for fourth. Danny Garcia barely made the top 5 with his 8.82 pounder, but he was also second among those in the High Roller optional which got him another $1,260. Sam Hall grabbed the last $840 High Roller check with his 8.69-pound fish.
For first place, the Nievars picked up two each of high-end, Igloo Trailmate coolers, Igloo insulated bottles, Costa sunglasses and backpacks, rod-and-reel combos from Abu Garcia, Bearclaw nets from Frabill top-shelf Daiwa Tactical backpacks and Daiwa braid to go along with line and lures from Berkley, and the first-place trophy. They also scored a pair of tickets to fish the Sum Fun out of Dana Wharf Sportfishing this summer.
"It goes wide open, then it shuts off, then it goes wide open again, and it shuts off," said Russ Nievar when asked about the fishing in this particular Striper Derby. "You just have to be ready when it happens and then go to work. Be efficient, use all your rods, and just work."
Lake Havasu Striper Derby has every level of angler represented, but Nievar is now a two-time Striper Derby champion who routinely finishes in the top 10 if not the top 5 or 3, so if making a run at the title is something an angler is interested in, it all starts with that level of work ethic.
"Go to your spots, and wait for it to happen," he added. "When it stops, wait for it to happen again."
Gear from those brands were represented from top to bottom in the prize packages going to the top-10 finishing teams, and Daiwa spinning combos and Plano tackle storage solutions (soft siders) were also presented to teams finishing in the back half of the top 10.
Raffle prizes from Abu Garcia, Costa, Daiwa, Plano, Berkley, Spiderwire, Jumpstart energy drinks and Frabill were also scattered among the countless raffle prizes up for grabs at the award ceremony, and there was even a Furuno Fish Finder in that mix.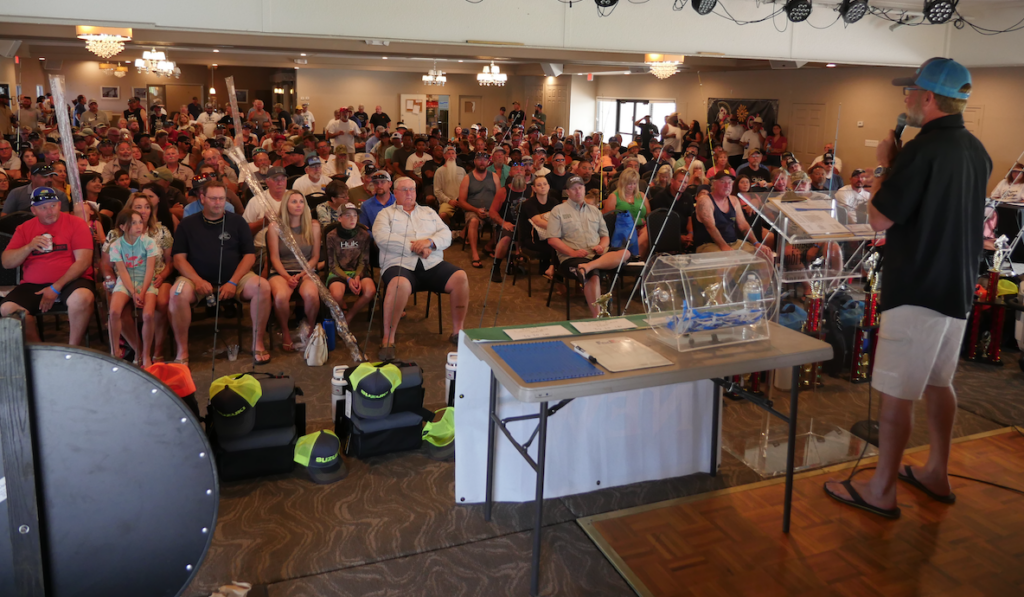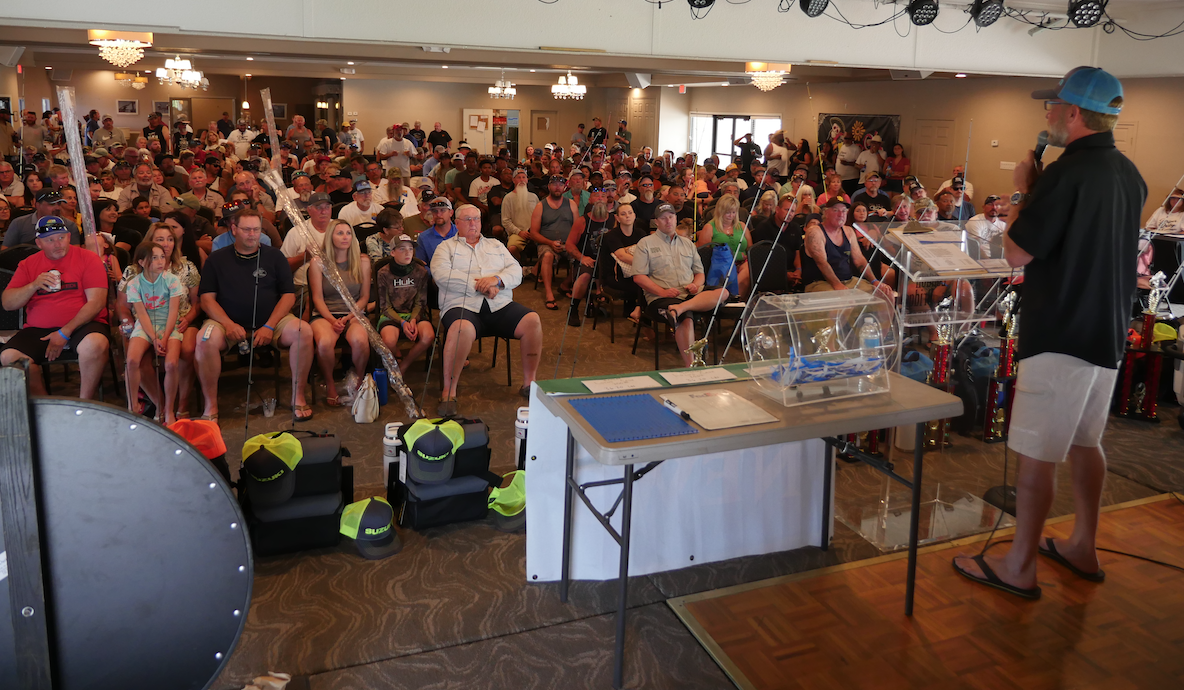 One of a few all-new elements of the awards portion of Striper Derby to help commemorate its 40th year was the $40,000 Match for Cash presented by Suzuki Marine. In the Match for Cash, if the two numbers after the decimal in the weight of the overall biggest fish of Striper Derby (in this case, .12 for Bosak's 18.12-pound fish) matches the randomly-generated number (sealed prior to the event), then that angler grabs a check for $40,000. The numbers didn't match up this time, but it's a heck of an opportunity and a very winnable one as evidenced by the $25,000 awarded in similar fashion to a lucky angler catching the right tagged fish at WON Troutcast at Lake Cuyamaca back in April.
Also from Suzuki Marine was $3,000 in the Spin-to-Win promotion in which Striper Derby participants were drawn raffle style, and they could spin the wheel that had spots ranging from $100 to $3,000 (to start). The wheel would be spun until the $3,000 was gone, always with a spot on the wheel for everything that was left. That's right, if the first spin lands on $3,000, game over!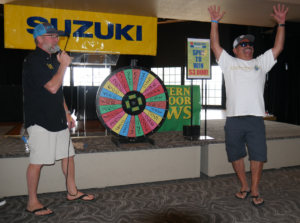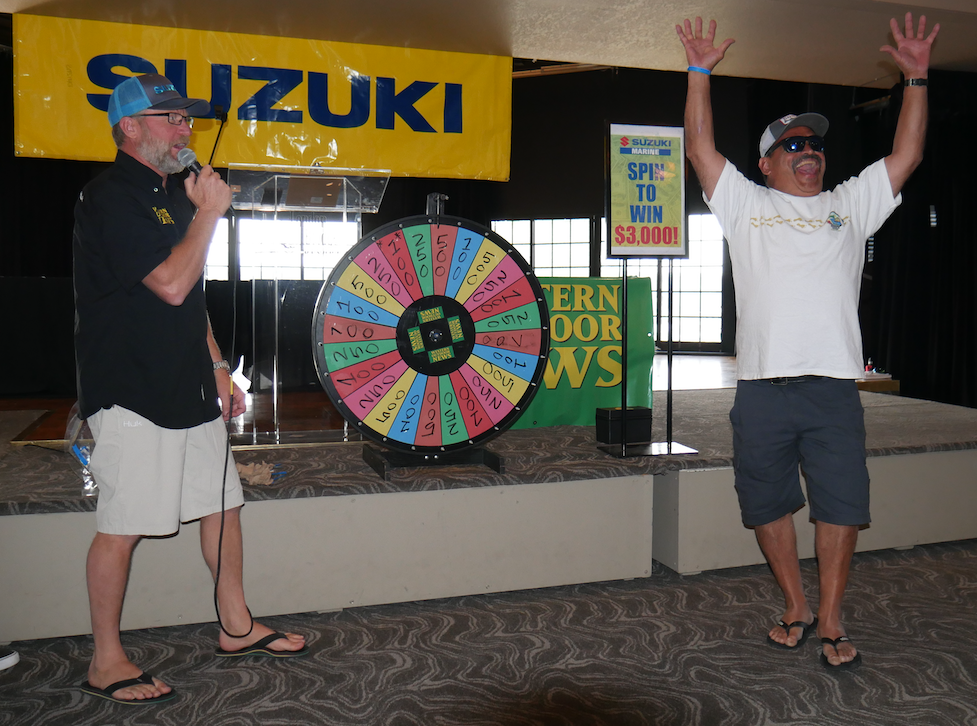 That didn't happen which meant the wealth was spread across more of the crowd that got especially fired up while this was going on. In total, 10 winners took home checks ranging from $100 to $500, with a couple not only falling one spot short but actually teetering on the big-payout spot. Some tournament organizers thought the Spin-to-Win deal made possible due to the generosity of Suzuki Marine drew a bigger (certainly louder) reaction out of the Striper Derby crowd than all other portions of the awards ceremony.
The long-standing Striper Derby traditions were still very much part of the deal, and the Blind Bogey portion of the awards ceremony is another one that gets the crowd fired up. Ten random weights are generated for each day, and the teams with a total weight closest to those numbers wins a cash prize. It's pretty cool to see someone who caught one little striper hit a Blind Bogey and go home with a three-figure check. In all, 20 checks (ten for each day) were doled out for a grand total of $8,480 in the Blind Bogey portion of the show alone. In honor of the 40th anniversary of Lake Havasu Striper Derby, WON Tournament Director Billy Egan made one of the Blind Bogey weights an even 40 pounds. Bill Wood Sr. and Donald Wood hit that one with a Day 2 weight of 39.79 pounds.
Along with providing 700-plus tacos at registration, Loco's Cocina and Bar also made its presence felt at the awards ceremony. Loco's owner Jesse Marquez did a Blind Bogey of his own called Loco's Super Blind Bogey. This bogey wasn't exactly blind, as Marquez picked the weight, 36.20, as a nod to his restaurant's location on 3620 London Bridge Road. The winners of "Loco's Cash" for Saturday was Scott and Sandra Green who weighed 36.01 pounds, and Al and Richard Macias on Sunday with a 35.86-pound bags. Marquez also handed $100 cash to the two youngest anglers registered in the 2022 WON Lake Havasu Striper Derby. Both were 7 years old, and perfect examples of the family-friendly roots the event is built on.