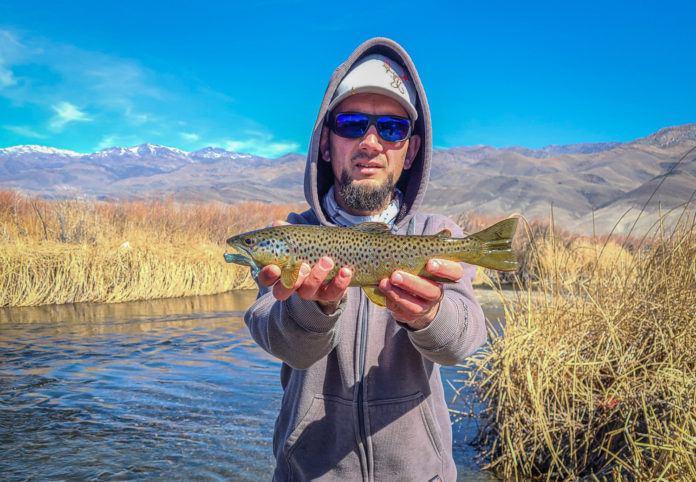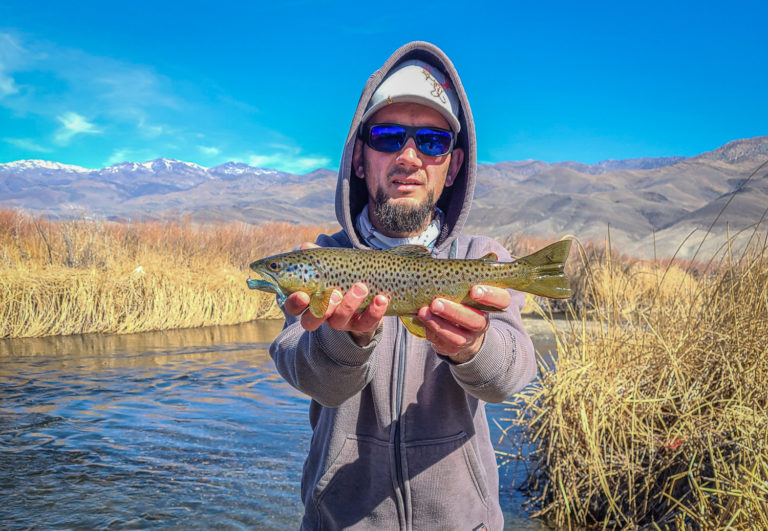 BY ERNIE COWAN
BISHOP — Maybe even the fish are anxious about the opening of the general Sierra trout season next month. Trout have become more active in waters open to winter anglers, and even the warm water bass and catfish have started to chew. With milder weather and ideal river flows, the Lower Owens below Pleasant Valley Reservoir has been popular with anglers and offering lots of fishing variety.
Andre Nersesian at Eastern Sierra Sportfishing reports that fishing has been consistent on the Lower Owens around Big Pine, even if the weather has been up and down.
"Fishing remains pretty good on the river outside of town and some spots north and south of town, with the best time being from about 10 a.m. until 3 p.m., especially on days when the bugs are hatching strong," Nersesian said. Trout have been eager to take plastic jibs worked with some patience and method.
"The fish are there, just keep at it and you will connect," he said.
Sierra Slammer swimbaits, Panther Martins and Thomas Buoyants have all been getting good results.
Avo Apkarian from Los Angeles fished the Lower O with Nersesian last week and caught and released 30-plus rainbows over two days with a Sierra Slammer. Bass have also started to become active in the lower sections of the Owens River.
"There are a lot of smaller fish around, but more big ones will come out and play with the warmer weather headed our way in the next few weeks. This should be just in time for the May 1, Eastern Sierra Bass Tournament now being planned. Lot for more details as the date gets closer.
There have been a few reports coming in from Pleasant Valley Reservoir of fish being caught by anglers wading at the upper end and tossing nymphs and dry fly combos. As weather warms, this could continue to improve as long as river flows remain down. Anglers at PV using traditional lures are connecting with bigger rainbows in deeper water near the dam.
Guides at The Trout Fitter in Mammoth Lakes report that access to Hot Creek has improved significantly and even the trails down to the creek have very little snow. It's also getting more crowded, but the fishing is still good and the creek is clear and there are no weeds.
They suggest midges early and late with a sporadic mayfly and caddis hatch midday. Case caddis patterns have been the most productive nymph pattern. Streamers have also been producing well with olive seeming to be the preferred color. The most productive window is between 11a.m. to 2 p.m.
Access to the Upper Owens is a challenge, even with four-wheel drive, as snow is now being replaced by deep mud pockets.
Snowmelt has created cloudy water, especially above Hot Creek and the spring spawners have also spread throughout the system, so guides say don't expect big numbers of fish in any one location.
As always, this time of year, fish are holding in warmer water, and that means deeper pools and slower back-eddies. Resident rainbows have been sipping at micro mayflies and midges, so trail a midge or mayfly in size 20-26 behind an attractor nymph to offer something for everyone. Troutfitter guides say some afternoons the dry fly action can be productive but be ready to throw size 18 through 22 dry flies behind a #12-14.