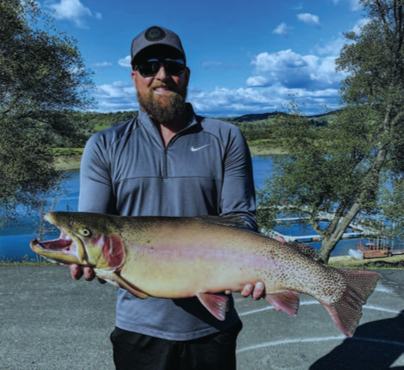 BY DAVE HURLEY
IONE – Heavy private trout plants at the reservoirs of Lakes Camanche, Pardee, and Amador are paying dividends for trout trollers while previous plants from the Department of Fish and Wildlife allow solid action at both New Melones and Don Pedro.
Lake Amador hasn't slowed down for big fish since last week's new record rainbow trout of 19.96 pounds as several trout over 10 pounds were landed by trollers this week. 1000 pounds of a mix of cutbow and rainbow trout were released into the lake this past week, and these fish joined the brooder trout with a few over 20 pounds released two weeks ago. David Merek of Lodi picked up a 16.2- pound cutbow trolling a Gulp! Minnow, Adam Blosfield landed a cutbow at 14.7 pounds on a curly-tailed minnow, Alan Astwood of Ione scored a 13.3-pound cutbow on a Thomas Buoyant, and Zach Lytle used a rainbow F7 Rapala at 3 feet in depth at the mouth of Carson Cove for a 13.22-pound cutbow.
Robbie Dunham of Koke Machine Guide Service, who put his client onto a 16.6-pound cutbow on a Speedy Shiner this past week, will be back at Amador in search of more trophies this week.
Dunham was at Camanche this week, and he said, "We had a bit of everything with rain, wind, and god, as it was a tough bite with three rainbows out of 5 hook ups. I think it was more a matter of the weather since I had the same client out the previous week for two limits by 1:00 p.m., and we ran the same gear – Speedy Shiners in the main river channel to the dam. The trout are scattered throughout the lake, and when the water temperature warms up from the current 53 to 55 degrees, with the number of trout in the lake, the bite is going to takeoff." 3600 pounds of Mt. Lassen Hatchery rainbows were split between the North Shore, South Shore, and the South Pond this week.
At Lake Pardee, 1000 pounds of Mt. Lassen Hatchery rainbows are planted per week, and shore fishing is good for the first few days after the plant. Dunham was on the lake this week in search of kokanee, and he said, "Most of the trollers are focusing on the early-season kokanee, and the bite is slowly improving, but it is very early. I trolled between Deer Island to the mouth of the river for 5 kokanee with three other grabs at depths to 20 feet with my custom pink micro-hoochies with a gold blade. I then trolled Speedy Shiners in the main lake for trout, and after landing three rainbows, I called it a day. We need the weather to get settled before the bite is consistent for both species."
New Melones is another option for trout trolling, and Kyle Wise of Head Hunter Guide Service said, "I went on a trip for a client who wanted a brown trout, and fortunately, we were able to landed one just under 4 pounds within 45 minutes on a Cop Car Speedy Shiner as Melones is not consistent for browns. My next trip was with a father and son, and they caught and released 26 rainbows working from the surface to 25 feet from the dam to Mormon Creek to Bear Creek and along the south end of the lake. It is a matter of just covering water as there are a number of planters in the lake."
Kokanee Power is holding their first event of the season at Lake Pardee on April 17th. Information visit kokaneepower.org