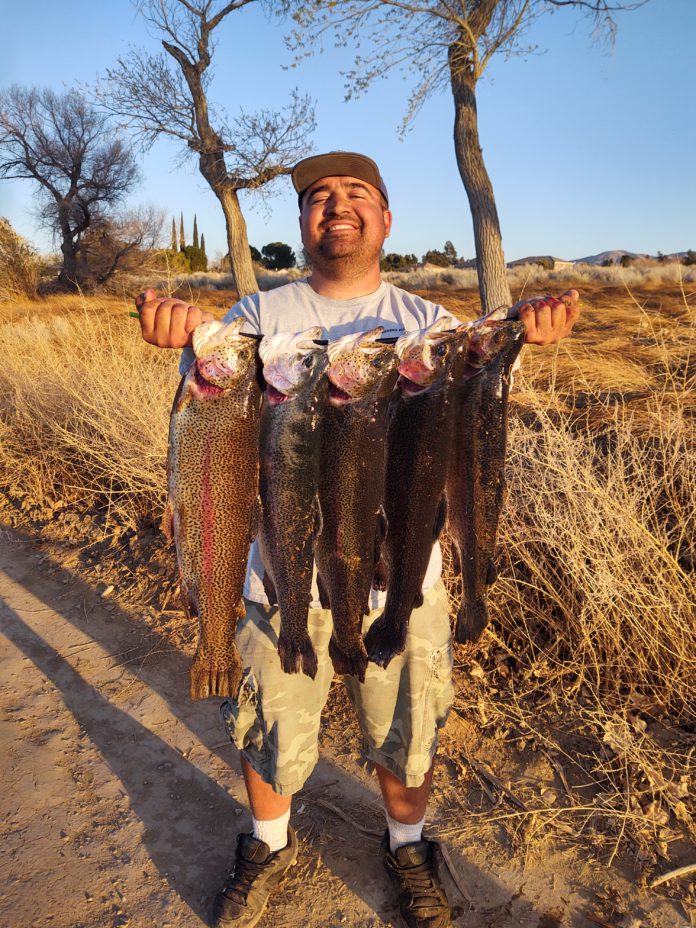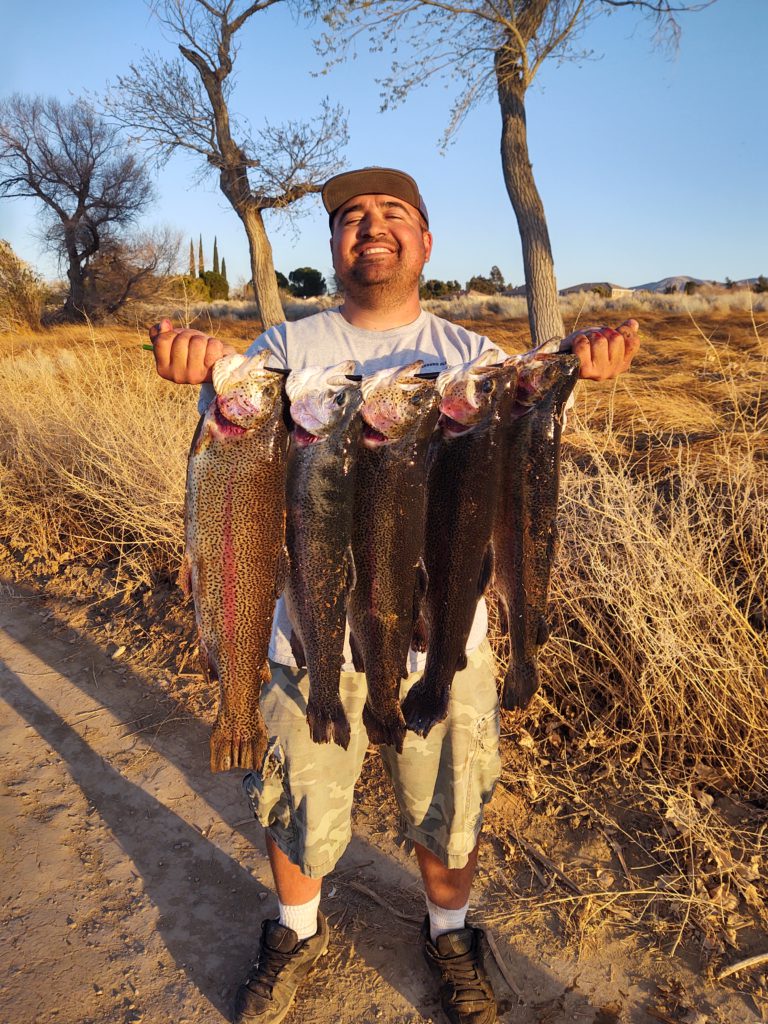 BY ANDREW MACK
PALMDALE – The Mt. Lassen Trout Farm truck showed up Thursday night at Palmdale Fin and Feather with a full load of 6,000-plus pounds of fish. These were not just average stocker size either. These fish were 80% in the larger class! A small one was considered 4 pounds and fish up to 10 pounds were commonplace.
They have done something different this past week — instead of stocking the entire load in one location they split it up to both sides of the lake with 3,000 pounds going in on each side.
Rick Redman of Whittier was there when they opened up at 6:20 a.m. to start searching for fish. The first dock he stopped on made a few casts and connected to a 7.5-pound rainbow trout for his first fish of the day. With over 2.5 miles of shoreline, this lake is no small body of water so to find a fish so fast was a great way to start the day.
I got there around 2 p.m. knowing there was only a few hours left of fishing time and I knew I had to get it done quick. The first dock I started on I was throwing a yellow white minnow on a leadhead was able to connect to an 8.5 pounder but it soon snapped my 2-pound test once it got wrapped around some tules. After that, there were no more bites in the area so I had to move again and tried another area first for no luck.
Three more moves and finally I connected to a 9 pounder! Casted out again and got a short bite, so I knew the school of jumbo trout was in front of us. As I casted and casted and walked here and there, I was able to connect to a 4 pounder and a 6 pounder, and so far this was already a healthy stringer. But I needed to get two more to get to my 5-fish limit. It took more than half the lake to locate these fish.
Dave Oreb was fishing next to me and hooked up to a good-size fish throwing a black and clear Hookup Bait. I watched Rick net it and Dave says, "Look, there's another jig in its mouth. I guess someone else is using yellow white minnows like you." I have my suspicions so I walk over and check it out, and sure enough that is the same fish I lost earlier with my yellow/white Jish minnow and 1/32 Top Notch leadhead still in its mouth with around 4 feet of line tied to it. This fish had to have traveled almost half of a mile within an hour after I lost it, so they are definitely moving around the lake. I could not believe I got my jig back but I guess this fish followed us around.
Now with just half an hour left, I still needed two more fish for a limit to go before we had to leave. So I walked and walked and casted 'til finally I came up to a 6×6 clearing between some low-cut tules. I casted and bounced my minnow in the clear spot and i was bit! The fish pulled and then my minnow shot in the air, the hook came unbuttoned. Disappointed I casted again, nothing. Casted again, then I was bit again. This time the fish stayed on and into the net, a 7 pounder! I was wondering if this was the same fish or if there's a few in this little area. So of course I casted again. Bounced that little 1.5-inch minnow in the middle and, BAM, I was hooked up again! This time it was a big one…
It jumped out of the water, and all I could see was a double-digit trout! I knew I had to land this one. So it ripped through the tules getting wrapped up and tangled, and all I could do was wait. I did some scary stuff by opening up my bail and letting the fish free swim its way out. I knew it could come unhooked at any time but there was no way I could land this fish without it snapping the line the way it was.
After 3 minutes of doing this, the fish somehow swam out and the line became free. I got it to a clear section my buddie reached out with the net and scooped it up. I just landed my second double-digit trout this year, and it weighed 10.6 pounds! I could not believe the quality of these fish.
My 5-fish stringer weighed 37 pounds in less than 3 hours of fishing! Now I wasn't the only one that found success that day. Rick Redman and Brandon Landberg both had 5-fish stringers that were just over 30 pounds too. Dave Oreb had a new personal best trout at 8.5 pounds. It will definitely be a day of fishing to remember for all of us.