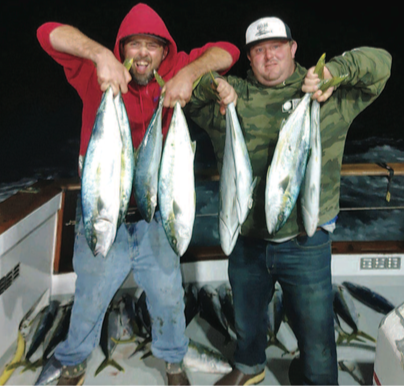 BY MERIT McCREA
SAN DIEGO — Over the weekend Capt. Kley took the Old Glory and 26 brave explorers out to search the offshore waters. And they returned triumphant.
While those wily bluefin were spotted, these early season showoffs wouldn't take the bait. However, 90 yellowtail ended up riding the bus back to H&M Landing, all 8 to 14 pounders, according to Danny Wade. An additional 8 tiger tuna rounded up the numbers.
Capt. Kley Williams posted Sunday: "We returned this morning from our first offshore trip of the season. In the morning we found a small school of bluefin but we never got any reaction from them. It didn't take long and we ran into some open-water bonito and just getting a few fish to pull on felt great. After a little searchingwe ran into an area of productive keeps. We started with a kelp for 23 nice yellowtail averaging from about 8 to 12 pounds. We looked the area over a little and found a couple of more good ones and ended up with 90 yellowtail up to about 14 pounds for our efforts. We went back on the search for bluefin and we found a really nice school of fish that reacted very well to the chum. We had fish well over the 100-pound mark boiling around the boat but we were not able to catch any."
As for the Coronado Islands, they made the run with just 13 anglers aboard and limited on nice rockfish. The report was a few yellowtail seen on the electronics, but the season was still early for much bite yet. Final score was 115 rockfish with 40 reds, 10 sheephead and 5 lings.
The Ocean Odyssey was H&M's boat on the weekend Colonet run south. Here results pointed to a bit better opportunity for yellowtail and the 29 anglers wrapped it up having boated 35. Over 500 quality rockfish provided ample incentive on their 1.75-day run, plus a dozen bonito also pulled some string to end up on deck.
As for the local bass and sculpin half-day bite bite, it started very strong with the Premier sacking boat limits for 28 anglers Thursday, along with 31 sand bass. But Tuesday 30 folks had slammed the bass with 83 keepers including 7 calicos, plus 108 of the red rattlers.
The Alicia and Jig Strike plugged away most evenings hooping up loads of lobster, mostly on the sub-keeper end of the scale, but also a few for the pot too.
At Point Loma Sportfishing, the boat Point Loma was online fishing half-day down at the bass and sculpin grounds. This bite continued to be all about leadhead or slider and squid.
At Fisherman's Landing it was the Dolphin getting out daily on their half-day schedule fishing bass and sculpin on leadhead and squid.
The Pacific Queen was back on the water fishing a 1.5-day down the Mexican coast. Their 33 fishers wound up 192 quality cods with 117 reds plus got 7 nice lings. The half-day fishing was good aboard the New Seaforth out of Seaforth Sportfishing, however, anglers worked a bit harder to draw a strike. Just a few keeper bass graced the deck most trips, but Wednesday they did deck a nice white seabass. Undoubtedly, the rockfish opener this week will bring a broad shift in these results and local anglers would be advised to have some tackle for fishing double dropper style for cods too. Up in Oceanside, the Oceanside 95 was charging across toward the east end of San Clemente Island at press time on an overnighter. Hopes were high for some slammin' bottom biters come daylight Monday morning.
The Oceanside SEA Center had the Chubasco II out almost daily this past week, fishing half-day. Catches consisted of just a few bass kept but more released, some sculpin and a pile of perch came in on Saturday and Sunday too.
This week should see both landings with a lot more trips going and a pile of local rockfish, fishing double droppers in deeper waters instead of picking and scratching for a few bass in the shallows.