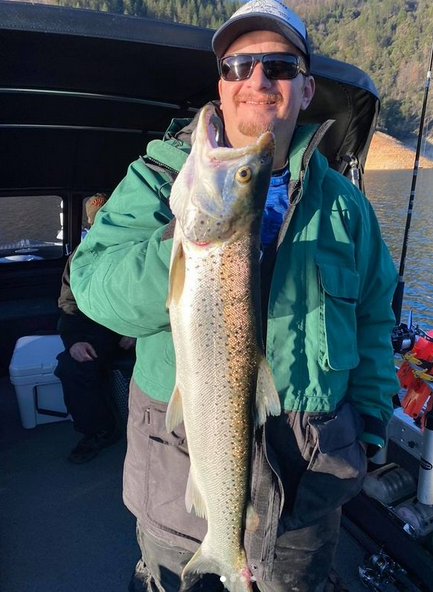 By DAVE HURLEY
LAKE SHASTA – Lake Shasta was the lake for bass tournaments during the months of January and February, and tournaments continue into March and April with both club and large circuit events. The Wild West Bass Trails arrives for a Team Open tournament this coming weekend, March 6-7, while the Phil's Propeller's tournament scheduled for Trinity Lake the following weekend may be moved to Shasta due to low water conditions. The Luke Sheehy Memorial Bass Tournament will be held out of Bridge Bay on March 20-21.
The bass are starting to move closer to the shallows, particularly late in the afternoons. John Boitano of Phil's Propellers in Redding was on the lake three times this past week, and he said, "I went into the McCloud Arm the first trip, and we experienced a tough bite with everything on the bottom for the 24 bass that we caught and released. The following day was very windy, and although I started off on the bottom, I switched over to tossing spinnerbaits against the shoreline in the wind. We ended up with 7 quality spotted bass to 3.5 pounds which is a good fish for this time of year. However, the bass wouldn't hit the reaction baits the following day, and everything came with jigs, Senkos, or 6-inch Z-Man plastic worms at depths from 20 to 45 feet. The reaction bite will continue to get better, and there were some large fish taken during last week's pro/am tournament."
For trout, Jeff Goodwin of Jeff Goodwin's Guide Service said, "It has been pretty much status quo this past week, and the brown trout action is off to a good start. The water temperatures range from 47 to 49 degrees, and the water is almost too clear. We're managing to get a few rainbows and bass trolling, but it's the big browns we're after.  Most days bring 3 to 5 bites from the big boys, but we're landing 3 to 4 on average.  3 to 4 fish doesn't sound like much but we're seeing a 4 to 6-pound average with reports of browns to 11 pounds. Our clients have hit the 7-pound mark this season so far, but we've lost a few really big browns already the past few weeks.  Trolling bait and big spoons has been worthwhile, and we're scoring some great fish on Brad's Killer Fish Cut plugs and Super Baits stuffed with bait and or tuna from the can with 20 feet being the optimum depth. The rainbows are typically higher, and we're not seeing many down low in the lake where we are fishing.  Our best fishing is ahead of us for both salmon and trout."
The public docks of Centimudi, Sugar Loaf, Jones Valley, and Packer's Bay remain open. The lake slightly to 50 percent.