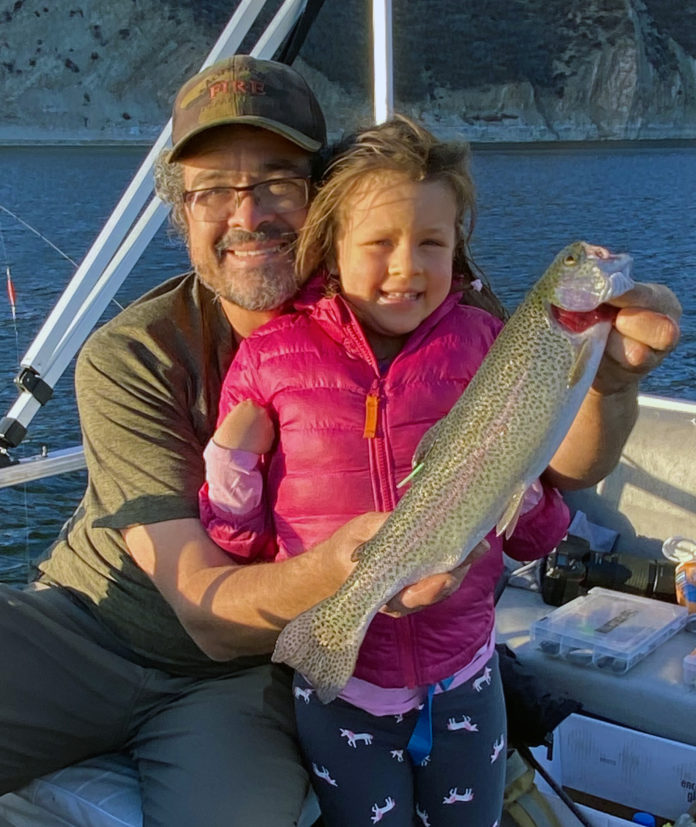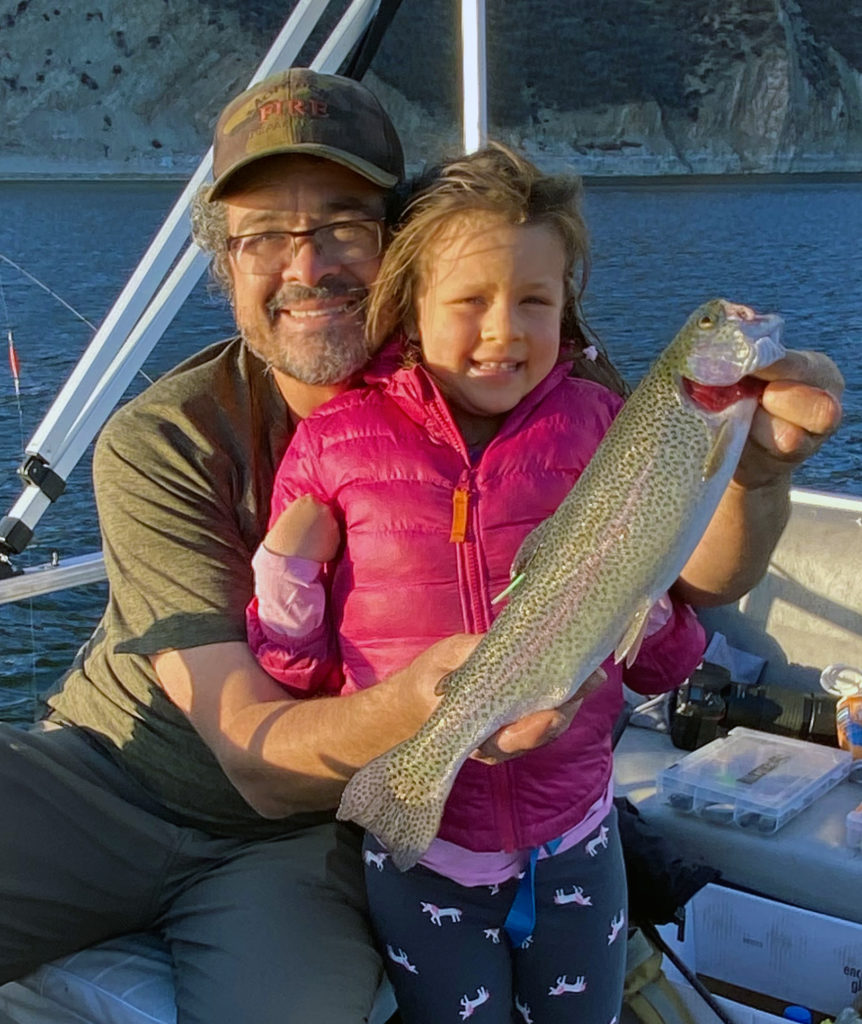 In these strange times of 2020 and COVID, I knew that the extended lockdown was wearing on all of us. This past week, I took my parents, Jeff and Gabrielle Farrell to Lake Cachuma, knowing that the cool air and sunshine were exactly what we needed!
Stopping by the tackle shop, we rented a pontoon boat. I then surprised my parents, having my sister's family meet us at the launch ramp. We crossed the lake and started trolling along the backside of the lake. Seeing that the water temps were still a bit warm, added to some boat pressure on the lake, I thought that the trout might be running a little deeper.
My set-up was 4-pound Izorline, fished on 9-foot, 6-inch steelhead rods, to a 5/8-ounce trolling keel sinker connected to various lures. The hottest lures were Rapalas. Hot colors were firetiger, brown trout, with brook trout getting hit the most.
Another lure that got hit well was a Thomas Buoyant spoon in the brown trout color, also trolled behind the keel sinker. Make sure to use a small snap to the spoon.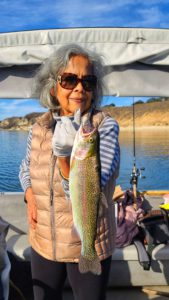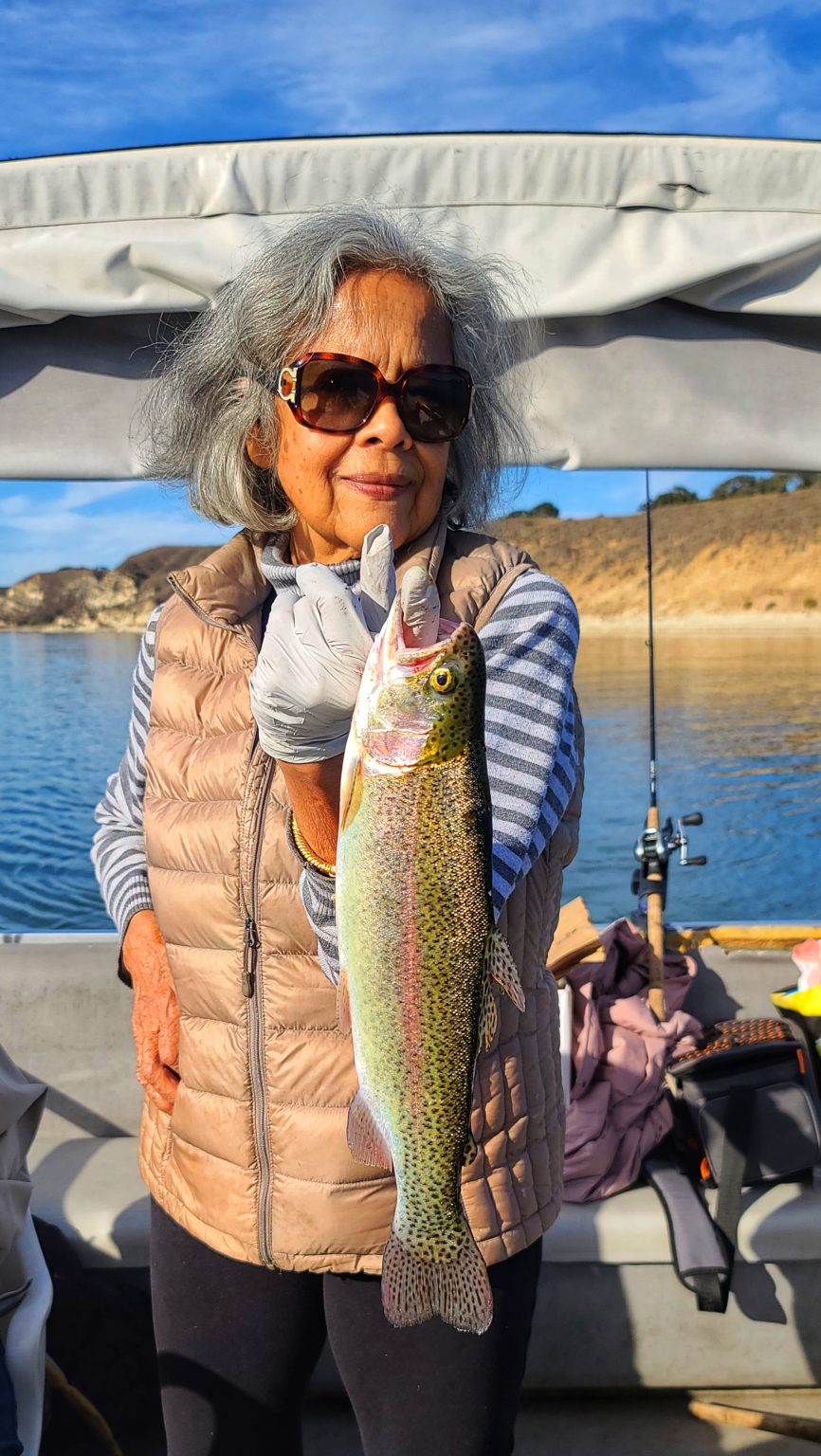 As we made our way in and out of the coves on the backside of the lake, we enjoyed sightings of mule deer, turkey vultures, osprey and even some Canadian geese.
After planting 8,000 pounds of trout the past month, fishing is good at Lake Cachuma, there have been some really nice sized trout up to 10 pounds caught this week. There are still some good catches on bass, and surprisingly, a few catfish have been biting too. Fishing off a boat is not required, as fishing off the banks is bringing some catfish, but also some good catches of trout. PowerBait is still the best option but throwing small Kastmasters and spinners will catch trout!
Everyone we saw was masked and distancing. The guys on the dock are fun and helpful getting you into and out of the boats! There is a great restaurant that makes Lake Cachuma a great and safe getaway.
We caught a few bass, a few trout and both mom and dad caught their own trout in the 2-pound range. While her fish was smaller, the highlight was watching my 6-year-old niece, Elo, catch her first trout and her biggest fish ever, a 1.9-pound rainbow! Lifelong memories made on a 3 hour tour…