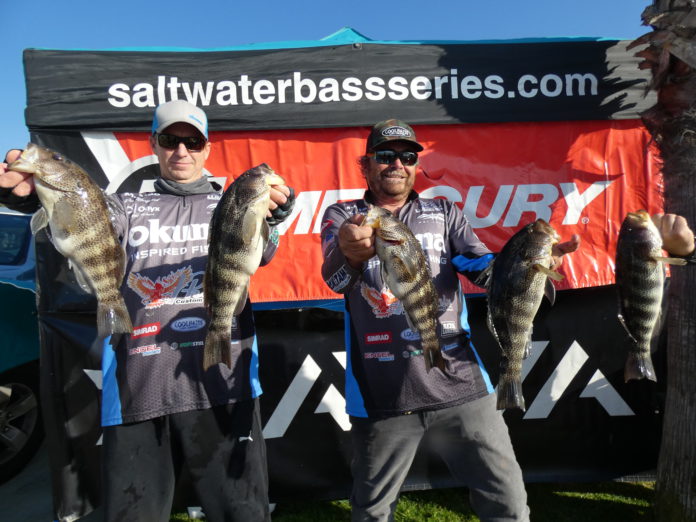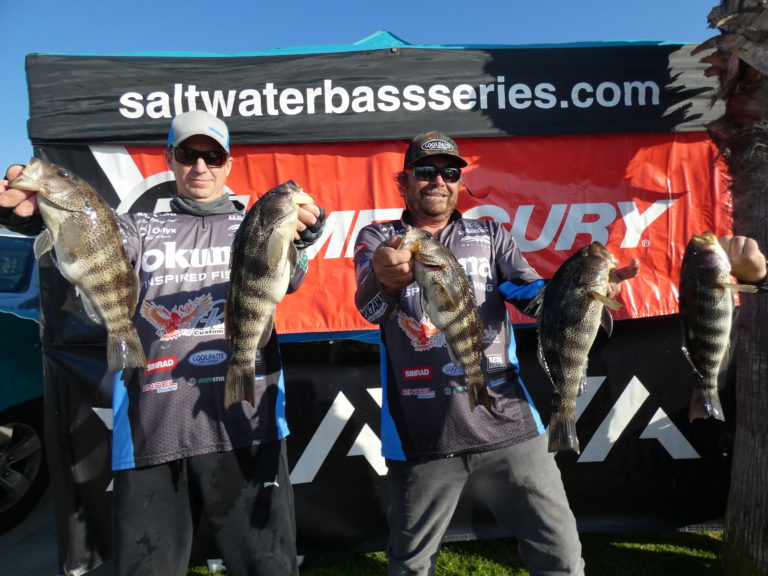 Lone limit of the day claims top spot in spotty-only tourney
SAN DIEGO – With a loaded 2021 Saltwater Bass Series tournament season filled with 10 events, everyone was more than ready to get it going with the first event based in Mission Bay. In this tournament format, the 59 teams were able to utilize either Mission or San Diego Bay as their targets for the "Spotted Bay Bass Only" event. With a bit of swell, the entrance at Mission Bay made for a small challenge to those that decided to fish SD Bay, both heading out and coming back. With Rookie / Family Division teams starting their weigh-in at 2:30 and the Masters at 3:00 tourney staff was able to keep from having teams bunch up for a very smooth weigh-in procedure.
Fishing had been great weeks prior to the event but this day, was some of the toughest Bay Bass fishing many had seen in a very long time. With only one full limit of 5 14-inch-and-bigger spotties, the field of teams struggled to just catch one keeper amidst lots and lots of short fish caught and released. Something to point out: many teams had caught, measured and held as keepers their fish and brought to the scales only to be penalized for "short" fish. This fish "shrinking" can happen and this day tourney director Gerry Mahieu personally heard from many that this is what was happening, those who checked their fish prior to weigh in released their fish and others… well they got the minus that short fish and 1-pound penalty after for their total weight. Weigh Master Mike Urabe was busy measuring fish not to let a single short get by. On a brighter note and as always, some teams caught them and here's how it ended up.
Finishing on top in the Masters Division with the only limit of the day was Josh Marquard and Shannon Perkins. These two weighed an impressive 9.01 pounds with most all of their fish caught on Coolbaits Down Unders with a 3-inch Big Hammer swimbaits laced on 'em. They also lost some good ones as well. Second place was Jason Quimby and Ron Withers, putting 5.85 pounds up with their 4 keepers. Followiing up in 3rd in the Masters was the 2020 AOY team of Matt Kobzeff and Rex McConnell, and these guys scratched out just 3 keepers for 4.60 pounds.
Finishing in First in the Rookie / Family Division was the father / son team of Scott and Dan Higley – they weighed 4 bass for a total of 5.69 pounds. All of their fish were caught on HookUp Baits. Right behind them in second with 4.18 pounds for 3 bass was Richard Jeppessen and John Gharib. Rounding out the top three was another father / son team, Scott and Daniel Reason, as they weighed 2 fish for 3.52 pounds. Now as you can see, this was some tough fishing, but to top off the day was Cash Troop, fishing in the Rookie / Family Division catching the biggest spotty of the day weighing a very nice 2.46 pounds!
Well that's it for this event as anglers look forward to the February 13th Long Beach "Sand Bass Only" tournament, where limits of bass will likely be very big across the board. Any information needed to fish these events are on the website at www.saltwaterbassseries.com. You can follow the SBS on FB at Saltwater Bass Series and on IG @saltwaterbassseries20. Come on out for a great time while you learn from the best, as these tournaments cut the learning curve many years! See you on the water and tight lines!
As a reminder, this and whichever events need be from the 2021 tournament season start, are "non-gathering' events where teams pre-register in order to meet social distancing and safe practice mandates. Those that approached the scales wore masks while handing their bag of fish across the weigh in table. There was no post event BBQ and only a few were asked to stick around for award pictures. Everything went exceptionally smooth with the help of the minimized SBS staff.