Southern California's first pandemic trout season
The long-awaited new year finally arrived, but this trout season is the first — in Southern California anyway — of the Covid era. The 2019-20 SoCal truck-trout season was able to sneak across the goal line as time ran out right before things started shutting down in March.That was less than two months before the Eastern Sierra general season typically has it's opener, and while that hallowed date was pushed back and visitors had to dance around some level of restrictions depending on when their trips happened, like baseball, at least there was some season.
Throughout the state at lower elevations, trout season is well underway and anglers are working around and adapting to challenges. Some are clear, others are murky or even just rumors, and in some cases, a challenge of one type creates an advantage or opportunity of another. The only thing that is certain, is there are plenty of trout out there being caught.
Business as usual
It would be a bold statement to suggest something attached to the 2020-21 trout season is unaffected by all this, but
some have certainly been luckier than others.
Diamond Valley Lake kicked off its trout season as scheduled and, like always, it's dumping in well over 3,000 pounds of quality Mt. Lassen rainbow and lightning trout once a month with the occasional double-stock like it had in December. Trout are stocked the day before anglers are allowed to go after them, allowing them to settle in a bit before the minijig barrage, but big striped bass hip to the stocking routine and marauding just offshore keeps most of the trout along the shorelines on either side of the marina. That's a good thing considering fishing from shore is not possible anywhere else on the lake. In true DVL form, anglers are always lined up at the gate as early as the night before it opens to them.
Hesperia Lake also started on time and other than a brief closure (less than two weeks) after the season started, trout anglers are killing it out there thanks largely in part to trout plants arriving at a 1,000-pounds-per-week clip. It also seems to have emerged as the "drop-shotting-for-trout" center of the universe (black or white plastic minnows…do it), but the classic stuff works there, too.
Lakes throughout the San Bernardino Regional Park system are also chugging right along with regular stockings that will continue well into spring. The top spots for filling stringers with rainbows in that neck of the woods include: Cucamonga-Guasti, Glen Helen, Mojave Narrows, Prado and Yucaipa regional parks.
In northern San Diego County, Dixon Lake had to cancel it's annual trout derby that has marked the beginning of the season for over three decades, but heavy stocking is ongoing and anglers are making impressive catches both in terms of regular-limits on stock weeks to double-digit class rainbows.
Up in Northern California, Lake Amador has been stocking obscenely-huge hatchery cutbows and "Amador Golds," which are basically NorCal lightning trout. Double-digit fish are not only relatively common there, but the lake record for cutbows has already been broken several times in 2020. It's safe to say, Lake Amador management is all in. That being said, while they have had some issues, Northern California trout waters seem to have got the long end of the stick in many cases thus far.
Trout anglers of both the spin and fly variety are getting the fishing situation they are used to in the Kern River, specifically the Upper Kern, also known as the "20 Mile Section" marked at the bottom end by Kernville, or Lake Isabella. This stretch has been regularly stocked, and the upper reaches are teeming with wild trout for fly guys. Flows are typical if not on the low end due to the lack of precipitation so far, and the water is clear and cold resulting in sluggish, spooky trout, but that's the norm at this point of any winter.
Down below the Kern in the Bakersfield region, Buena Vista Lakes has been overachieving as a trout fishery thanks to regular deliveries of quality trout. There are some holdover trout being caught in Lake Isabella but "BVL" is taking the lead among the local winter angling community right now.
Powering Through
Other fisheries are plugging right along but not without some restrictive speed bumps. At Dixon Lake in north San Diego County, quality trout are being stocked at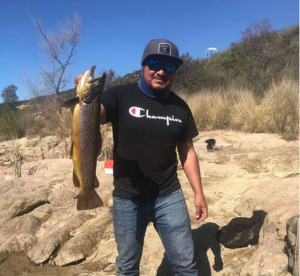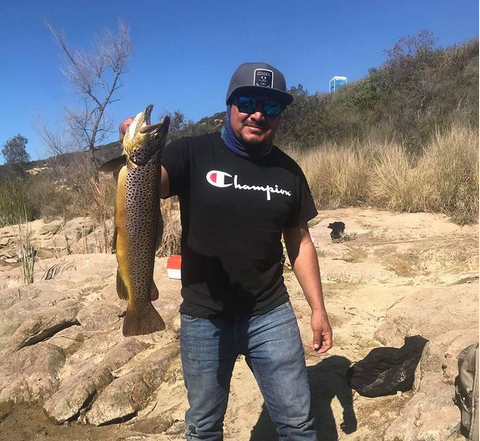 the same rate as usual, but as of press time boats are not being rented "due to staffing issues caused by the pandemic." Boats were rentable to over the first month-plus of the season, so the suspension is a headache, but it beats the alternative.
At nearby Lake Wohlford — also managed by the City of Escondido like Dixon — the trout opener was postponed less than a week before opening day through the end of 2020. An announcement went out indicating the lake would open on Jan. 2 with a trout stock, only to have another transmission from management saying it would remain closed at least through January with multiple sources familiar with the lake believing a closure into March is very possible. There have been rumors that all the trout earmarked for Wohlford would be redirected to Dixon, but that has not been confirmed.
A short trip south on Interstate 15 at Lake Poway, trout season is underway and a stock schedule (the next few are 1,500 pounders on  Jan 14 and 28) carrying anglers into May has been posted. The big news there is they are no longer getting Nebraska Tailwalkers, but that has nothing to do with lake management, as the Chaulk Mound Trout Ranch in Nebraska pulled the plug on stocking lakes for fishing to focus on supplying restaurants. Lake Poway was the last SoCal lake featuring Tailwalkers prior to this adjustment. That's the biggest change at that lake, as rental boats are currently available, fishing has been decent and the 26th Annual Youth Fishing Derby is still currently slated for Feb. 6.
Up in the mountains east of San Diego, anglers are getting on trout at Lake Cuyamaca without many headaches other than intermittent stocking that's hard to plan around. But if planning to visit a spot like Cuyamaca is based solely around a trout plant, you're doing it wrong.
Santa Ana River Lakes is another urban trout hole (holes for that matter) showcasing solid trout fishing with the rub being increased crowds due to fewer options. One thing is for sure, SARL has kicked out more double-digit trout than any SoCal lake this season, including the biggest thus far at nearly 16 pounds caught in late December.
Irvine Lake got a couple trout plants this season, but the deliveries there have been somewhat sporadic. This is a spot that really needs to get back online somehow as it's a very popular fishing hole, and its anglers are seeking trout elswhere for the most part and causing some crowding at other local lakes.
Cachuma Lake near Santa Barbara has been a stand-out trout fishery this season after receiving no fewer than 12,000 pounds of quality rainbows over the last two-plus months. Solid limits have been the norm here ever since the season's first plant, and there has been no shortage of larger model trout running 5 to 12 pounds caught.
Lake Hemet is also getting privately-funded trout plant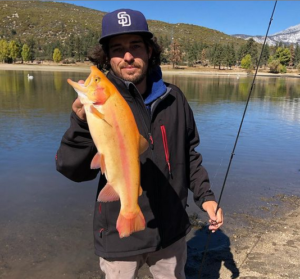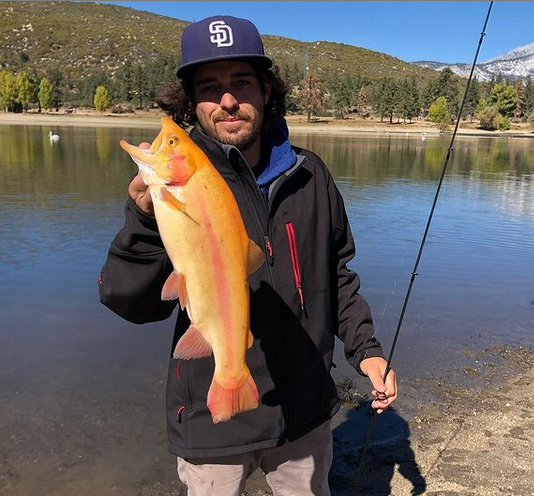 s consisting of rainbows and lightning trout while working past Covid-related measures that have limited certain lodging options typically available on site. Stocking here usually consists of large, sporadic deliveries from Mt. Lassen, and while it usually gets DFW fish, too, the premium trout it pays for have been plenty, and sitting at altitude allows trout to holdover from one season to the next.
Lake Gregory did take in its first trout plant in over a year in late 2020 as part of the San Bernardino Regional Park stocking program, but that will be it for that particular lake until at least springtime. There are currently two trout plants for Gregory slated for March.
A chunk of the issue
Back in June, three DFW hatcheries were shut down due to a bacterial outbreak, and that closure first affected the Eastern Sierra followed by a wide swath of locations — primarily in the southern half of the state. Basically, any lake solely dependent on DFW trout plants is very limited stocking (if they're lucky), if not none at all this season.
After attempts to treat the trout in the hatcheries failed, the full inventory at the affected facilities was euthanized and treatment of the entire systems began. Even when it is determined that trout can be raised in each without issue, it's going to take time to rebuild that inventory of trout from the bottom up and getting back to the point stocking can resume.
Silverwood Lake is a popular spot in particular that was hit by this issue, but it has received some DFW trout this season. State stocking is not completely shut down by any means, and their stocking schedule that can be searched by water, county or time period can be viewed at any time at nrm.dfg.ca.gov/FishPlants/.
Opportunities
Covid has resulted in a spike in participation of outdoor activities on a national level, and while that will bring a huge long-term payoff, there are opportunities being taken advantage of right now. Dixon Lake getting all of Wohlford's trout certainly would fit the bill should the rumor become the reality, but it has to be said, Western Outdoor News absolutely made lemonade out of pandemic lemons.
Big Bear TroutfesT sits among the most popular events on the WON schedule, and organizers and anglers alike were bummed if not shocked when it had to be canceled in the final stretch before baits hit the water. Sitting on all the resources banked for the event including the boat-and-motor grand raffle prize and a ton of sponsor prizes, WON staffers redirected it all toward an all-new event, Winter Troutcast at Lake Cuyamaca. It was set to go in mid-December only to have it shut down last minute, and while that was a huge bummer, getting that close offered a glimpse of the potential.
Winter Troutcast had a huge initial rush of signups followed by sustained registrations for weeks, and the WON office was buzzing with how impressive the participation was going to be for an inaugural tournament.
It would have been pretty cool to hold that event, and clearly a ton of people were fired up for it, the extra time created by its cancellation have only resulted in more ideas for Troutcast and a more robust tournament when it finally does go down, with new dates recently locked down for the tourney, slated for April 24-25.