North & CenCal Saltwater Fish Report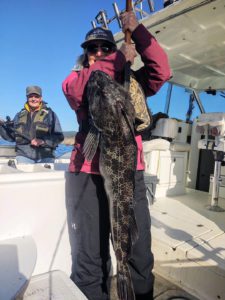 Updated November 23, 2020
North Saltwater
TRINIDAD – Early crab season reports were good. Boats were able to get out for the second half of the week and weekend and most reported getting limits. Rockfishing in the area has held steady, offering options for combo trips.
EUREKA — Seas came down and crabbers went out Thursday. Reel Steel pulled easy limits on Thursday and Friday. Over the weekend it was a different story because the crabs were mostly holding females and undersize. At last report, pots were being moved into deeper water with high hopes of big males. The north and south jetties fished well for black rockfish and a few keeper lingcod. Dry Lagoon and Big Lagoon put out some cutthroat.
FORT BRAGG — Boats enjoyed regular and repeated limits of both Dungeness crab and rockfish with some nice lingcod in the mix. Some of the best action on Sea Hawk was 7 miles above Fort Bragg off Ten Mile Beach. The crab were meaty and the rockfish were jumbo size, especially when deeper reefs were worked. Shore fishers worked Noyo Jetty, Jughandle, Mendocino Headlands and MacKerricher.
BODEGA BAY — New Sea Angler, Reel Magic and other boats got in some spectacular combo trips. Dungeness crab were not far from Bodega Bay Harbor and boats that ran enough pots were able to let them soak for a couple of days to fill with quality crab. Rockfish bit like wild dogs, with the best action to the south towards Point Reyes or up off Fort Ross.
SAN PABLO BAY — The entire San Pablo Bay fished well for striped bass. Mudsuckers were popular baits around Vallejo where the Waterfront was a popular fishing destination. At Loch Lomond Marina an angler using live smelt for bait caught 5 stripers to 24 inches while fishing from the dock. Boaters used anchovies to catch halibut from Paradise, Red Rock and Southampton.
SAN FRANCISCO BAY – Dungeness crab and rockfish were equally cooperative, which gave San Francisco Bay boats all the chance they needed to score daily limits of both. Some of the successful boats were Happy Hooker, Salty Lady, Bass Tub, California Dawn, Pacific Dream, New Huck Finn, New Easy Rider and Outer Limits. Marin coast to Stinson Beach was the crabby place. The Farallones gave up the best rockfish and most days afforded opportunities to make it to the islands.
HALF MOON BAY — There were days with large swells, but boats could get out. New Captain Pete, Queen of Hearts and Huli Cat had busy crews, Dungeness crab were plentiful and limits were no problem. Rockfish sacks were heavy after trips to Martins Beach, San Gregorio and Pescadero. Crabbers lined the jetty to cast baited snares for Dungeness and rock crab. Shore fishers caught barred and red tailed perch, plus a few stripers.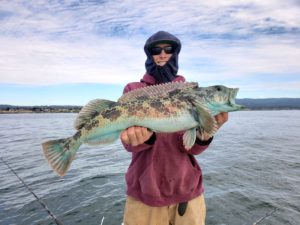 CenCal Saltwater
MONTEREY — The party boat fleet, led by Chubasco, New Horizon, Checkmate and Star of Monterey ran combo trips, rockfish only trips and crab-only trips. Focusing on just one species generally assured limits. On combo trips the results were half to three quarters limits of crab and rockfish from spots down the coast. Beach fishers above town had success with barred surfperch.
SANTA CRUZ – Miss Beth, Legacy, Mega Bite and other boats pulled crab pots out front in 150 to 200 feet of water, then went up to Davenport to put limits of rockfish onboard. Halibut were still a good option and a couple boats bounce-balled up near Davenport. Skiffs had success at local spots like Surfers Reef.
MOSS LANDING – Private boats ran crab trips and for those who soaked pots overnight it was a quick trip. Those who waited while the pots soaked for some hours tried local stones for rockfish or they ran up towards Capitola to jig some bait and drift for halibut. State beaches both to the north and south of Moss Landing were primed for perch and some nice units were caught with Gulp! Sandworms or sand crabs.