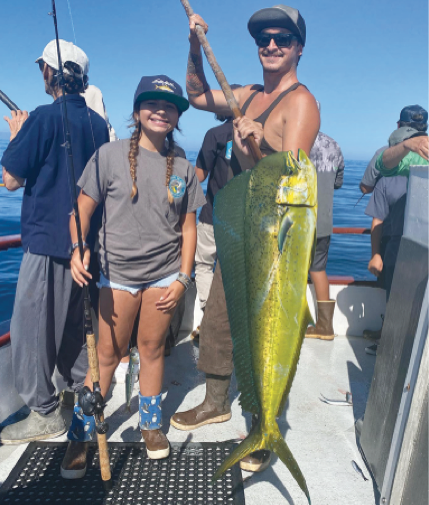 BY MERIT McCREA
SAN PEDRO/LONG BEACH — In the past couple weeks, big schools of dorado have been seen making their way northward deep into the heart of the SoCal Bight, but often being strangely reluctant biters. But this week saw the schools arrive in the Catalina Channel, and on occasion, chew a bit too. The fleet, from 3/4-day to multi-day boats went on the lookout for color spots, free-swimming schools and kelp paddies.
The dorado and yellowtail opportunities are just about everywhere, including within the Catalina Channel and around the island. Bluefin schools are also in the area, but drawing a strike isn't easy. Yacht guys have "yacht-ized" the fishery, trolling Nomad Madmacs and spreader bar gear around all over, with some success.
Party boaters found varied success, from a fish or two for a boatload of hopeful anglers to full-on chaos strikes on the lucky kelp. There were some neat scores posted – the Triton with 22 anglers getting a pile of bottom cods, 157 with 67 reds and 55 grouper, 5 bonito, a yellowtail and 27 dorado. The flatheads bit!
The Gail Force followed with 14 folks picking another 13 flats to go with 16 calico bass. The Sport King also got 'em, though the numbers never appeared anywhere. On the overnight run, the Toronado pulled 48 flats and 4 yellowtail. But the Enterprise 3/4-day kept it real and coaxed 16 barracuda, 21 bass and 98 bonito – the 3 Bs – plus spiced it with 4 yellows rather than churning the channel in search of dodos.
And while the sculpin hole finally backed down production from instant limits to fishing, the City of Long Beach took 44 folks to bag 185 and added 140 bocaccio and other rockfish. In contrast, the Native Sun 3/4-day spent Saturday struggling to get frothing masses of bluefin to bite something with a hook and line attached for a single fish. Then Sunday they were back at it again, but with different results – a 20-count of 40- to 50-pound class bluefin and 4 dorado.
The big game was less of a longshot on the longer trips and the overnight to 1.5-day runs made their efforts count much more consistently, the Freedom with 12 anglers on a 2-day getting 90 flatheads plus 21 yellows and a few bass, barracuda, bonito too. The Eldorado overnight also connected well with both dorado and yellowtail, while Long Beach Sportfishing's 3/4-day Victory and Ahra Ahn kept to basics stopping on the sculpin before heading on across for some island nearshore fishing. The Victory emerged with 125 sculpin, 21 barracuda, 44 calico with 14 keepers, a bonito, 43 sheephead, 25 whitefish and 10 rockfish on Sunday.