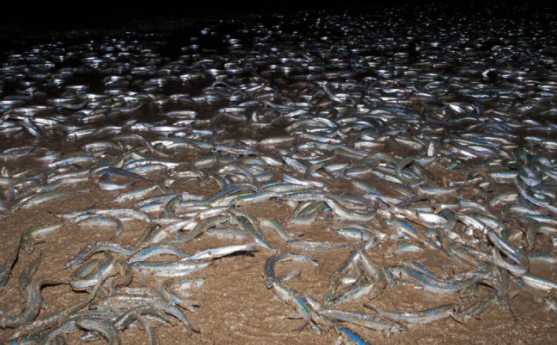 New grunion regs on horizon
 BY BEN HERVEY–MURRAY
CALIFORNIA – New regulations aimed at further preserving the California grunion population will likely be adopted for 2022, the Department of Fish and Wildlife have announced. Changes include new bag limits and an extended no-take season in an effort to counter declining grunion populations.
The changes, approved by the California Fish and Game Commission in mid-February, will likely be formally adopted in the coming weeks with an announcement from the various governing bodies confirming the amendments and implementation.
Under a Fish and Game Commission Notice of Proposed Changes in Regulations, the following is suggested for the 2022 season: The proposed regulatory changes will establish a bag and possession limit of 30 grunion for recreational fishers and close the month of June to take of grunion, shortening the open season by one month, from July 1 through March 31, for recreational fishing. The regulations will be adopted under Amend Subsection 27.60(b) and Section 28.00, Title 14, CCR, Re: California Grunion Limit and Season Changes.
Anyone interested in keeping up with the rule changes should visit wildlife.ca.gov/Fishing/Ocean/Grunion for up-to-date lists of no-take months, bag limits and approved methods of catching grunions. We will have further coverage of these developments as and when they're formally adopted.