BY DYLAN DEPRES
Rich Pusateri and John Montgomery at CCFC call targeting lingcod and rockfish in the waters surrounding Morro Bay the "Central Coast Special." John, in his early days of fishing the central coast, would take solo runs in his 16-foot skiff near Cayucos and quickly slay some lingcod before and after his college classes. Now though, since the start of their charter business, he and Rich typically take their charter groups to chase gamefish like halibut, salmon and bluefin tuna when they are seasonally available.
When the gamefish aren't on the chew, or if a group wants a (near) guaranteed haul of delicious white-meat fish, Rich and John are always game and equipped to circle back to the Central Coast Special for some rockfish and lingcod fishing. They usually skip live or dead bait and stick to artificial lures.
The week's trips leading up to the August 26 WON Charter had halibut slow to bite across several of CCFC's preferred stretches. On a stark contrast, lingcod were snapping full speed! With this intel at hand, our group was instructed that we'd likely stick to the bottom critters and we should bring 3-8oz. swimbait heads with 6- to 7-inch tails and/or heavy jigs of our choosing from 4 to 10 ounces. Our group was made up of some experienced fishermen who came armed to the teeth with the right lures!
Father and son duo Robert and Travis Groeber would both fish their lucky lure, the Lingslayer, made by the famous Capt. David Bacon. The lure is a spectacle – featuring a spoon-like appendage attached to a 6-ounce leadhead where a plastic is pinned on. If one didn't know better, they may see this lure and think it was a science experiment gone astray but on this day the lure proved itself as a verified lingcod slayer! Our third angler Juan Ramirez stuck to his tried-and-true lure of choice for lingcod: a diamond jig. Specifically, he stuck to an 8-ounce Ahi Assault Jig in mackerel color.
Blessed with flat-calm weather, Capt. Montgomery took us far up the line above Piedras Blancas to coastal Big Sur. We'd start our morning fishing a jagged reef from 80 to 150 feet and continue in these "shallows," for a while. The bite took a while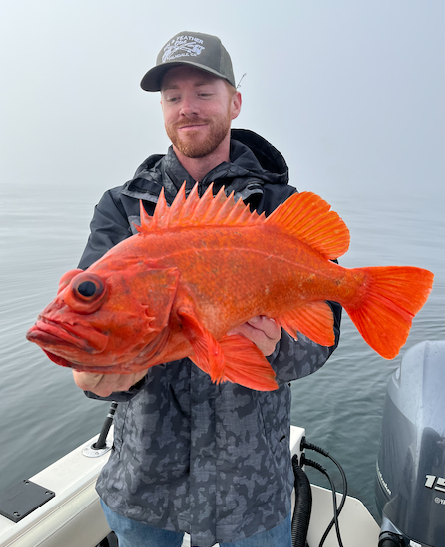 to pick up in the early morning, likely due to lack of current. As morning pressed on, aggressive olive rockfish, aka "johnny bass," started to smack the jigs along with the occasional monster-sized vermillion. The nicer quality johnnys were up-and-over 4 pounds. Overall, we had a relatively slow start to the day for central coast standards but our hopes remained high that as the day charged on, conditions would continue to improve. With the aid of a depth-finding sonar app, Capt. Montgomery skillfully placed us ahead of primo structure to drift over and locate some lingcod. We tried along rocky kelplines, huge reefs and some isolated pinnacles, still in the shallow water. Today, the shallows wouldn't be key for us but we were able to make hay out deeper.
Anglers danced their lures steadfast – plastics and iron, jigged with a rod-imposed action to clang and bang the bottom or repeated short retrieves with the reel followed by a free-spool to stay pressed low and near the fish. When performed correctly, a fish would strike and either knock total slack in the line or just plain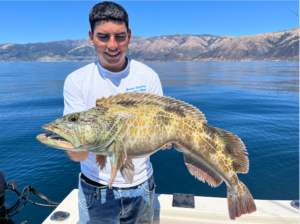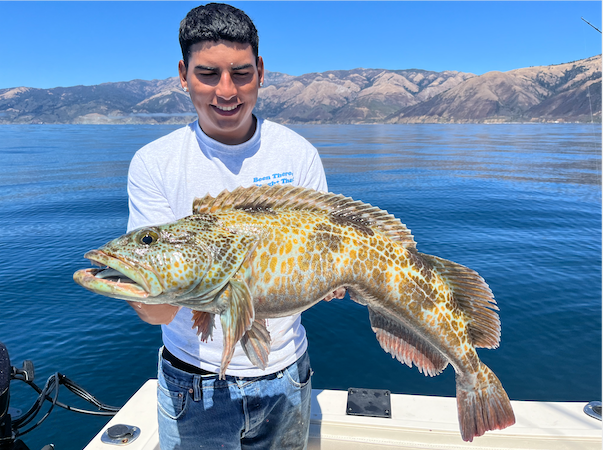 load up and turn into a hooked fish. With the swimbait and leadhead style baits, a baseball-swing hookset was the way to convert a bite and with a treble-hooked iron, just a wind-in was better. We began fishing some deeper water from 250 to 300 feet and were able to get away with assorted jigs from 6-10oz. Immediately in the deeper water, the quantity of vermilion rockfish showed themselves, with triples brought up 'round the boat of big reds to over 6-pounds. It also didn't take long for lingcod to join the party in the deeper water. Our drifts were lengthy with not much wind to push us along – and each 15-minute drift would produce a lingcod bite or two for our group. The swimbaits, diamond jigs and Lingslayer lures were all pretty equally bit up, however the Lingslayer would nearly exclusively get picked up by the gators.
With each drift, current picked up and so did the bite. Between lingcod bites, more vermillions bit hooks along with more olives and a stray greenblotched rockfish or two. Many-a-rockfish found their way aboard to be thoroughly bled and placed on ice in the killbox. Capt. Montgomery commented on how much of a difference it makes to bleed these fish which rang true later on, as while the fish were filleted there was very minimal blood or even sign of veins.
During this hotter bite window, it crept close to midday and we crept close to limits. We pulled on fish to our hearts' and arms' content. With such nice weather, on the ride home Capt. Montgomery pointed us offshore in search for some sign of pelagic fish to deploy a trolled lure in front of. Conditions were nice enough and we still had the strength to pull on a hooked tuna, but today wasn't that day. Great sign of whales, birds and bait in the area but we found no tuna. Since this trip, I have heard comms from CCFC's other captain that they are going to continue their search and crack a 2022 bluefin. If they don't bite, they can always tap back into the Central Coast Special.