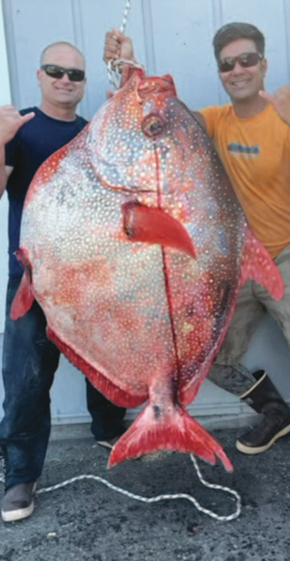 MORRO BAY/AVILA — Harold Davis reported, "Buddy got the unicorn today," alongside a photo of the largest opah this writer has ever seen, looks like a couple hundred pounds.
Downrigger slow-trolling live baits, whatever they could catch – sardine, mackerel or jack smelt Davis' hooked two bluefin, getting both to color and landing one.
He'd said it worked, and he proved it.
Private boaters out of Port San Luis Sportlaunch reported rockfish limits for launchers there all week long.
As of Sunday the Phenix fished a full-day down at Purisima with 16 anglers all getting a limit. There were 68 bolina in the mix.
The half-day on the Flying Fish found 200 fish for 20 anglers fishing off Pt. Sal, also limits.
At Morro Bay Landing, the party boats scored 6 to 7 fish per angler on their half-day runs and the Endeavor on a 12-hour run north had limits for 24 anglers with 7 lings to 16 pounds. The big fish went to Young Choe.
Saturday Virg's fleet had the Fiesta fishing half-day in local waters with 24 anglers getting 168 rockfish, topped by Robert Leyva's 2.5-pound red.
Both the Rita G and Black Pearl got out of Dodge for a full-day and 12-hour trips, respectively. The Rita was a handful shy of full rockfish limits but added 5 lings. The Pearl pulled 19 limits plus 8 lings.
Surprisingly it was Levi Stack's bocaccio taking big fish honors over the lings – a 13-pound super grouper.