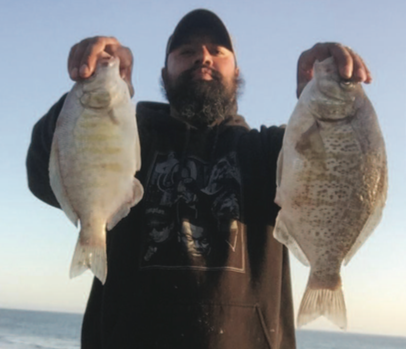 BY GUNDY GUNDERSON
There is nothing about a barred surfperch that strikes fear in the heart of a fisherman. The diminutive little fish with a flat, compressed body in a barred silver color is hardly a challenge for the typical saltwater angler. Most barred perch will hardly bend a rod. But there is a class of barred perch that is not to be overlooked; a larger, more powerful fish that commands the tumultuous feeding zone in the breaking surf. This wily denizen strikes hard and can put up a dogged resistance when hooked.
Big, trophy-size barred perch — or pie tins as the old-timers affectionately dubbed them — are a whole different class of fish. It is a world-class fighter when matched with light tackle. Anything over a pound and a half is a good perch. I would cate- gorize a trophy barred perch as a fish over 2 pounds. Catching a 3- pound perch puts you in a select club, and a 4-pound perch is hall of fame-type stuff. The world record is a 4-pound, 12-ounce, 18-inch fish, caught back in 2016. Wylie's in Malibu weighed one that went 5 pounds, 3 ounces in the 1950s. A 4-pound, 2-ounce fish, the California state record, caught by the surf fishing legend Fred Oakley, hangs on the wall of the fabled tackle shop. So the pedigree for big fish along the Southern California bight is there. The great challenge when targeting trophy barred perch, however, is not in landing one but in finding one. The big ones are not as common as they once were. Degradation of beach habitat, especially on urban connected beaches, has resulted in fewer and smaller catches. It should be noted that the largest fish are caught off the more rural connected beaches north of the L.A. urban sprawl.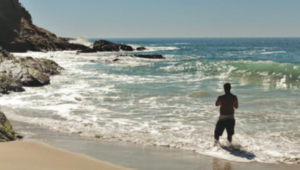 There are two parts to success when targeting big barred perch. First, fish the beaches where the trophies live. Certain beaches and habitat simply tend to hold more quality fish — better your chances by fishing where they live. Second, make bait selections and choose techniques and beach habitat that will aim for big ones and better your chances. A combination of big fish locales and trophy barred perch baits and techniques will check off a wall hanger barred perch on your fishing bucket list.
Where?
The best beaches to target trophy barred perch are the more northern beaches along the Southern California Bight, generally from Pismo Beach to Point Mugu. Year in, year out, anglers find more fish and larger fish along these beaches. You will always better your chances of landing a trophy if you fish the waters that hold the most trophy fish. Over the years, beaches like Emma Wood, 5th Street, Santa Claus Lane, Hollywood Beach and Silver Strand have consistently produced the largest barred perch on the coast. In recent years, many of those large barred perch seem to be showing with more frequency to the north, as far as Pismo Beach. The shift is believed to have occurred because of the warming ocean temperature trend over the past several years. Warmer winter water temps may have driven the fish up the coast where cooler waters are more ideal.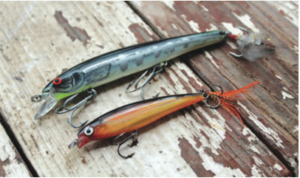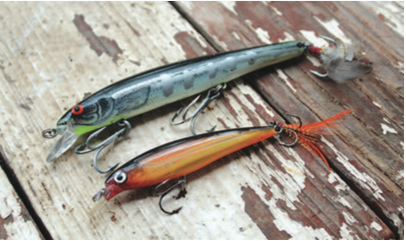 The chilly waters off these northern beaches are nutrient rich due to robust upwelling from offshore submarine canyons. Large expanses of kelp and reef environments add to the forage dynamics on the beaches. The current world record, caught by Burt Uyemura of Torrance, is an 18-inch, 4-pound, 12-ounce fish was that was believed to be taken near Guadalupe Beach below Pismo in June of 2016. The same angler also recorded a 4-pound, 7-ounce fish in 2014. Surf fishing legend Fred Oakley landed his state record 4-pound, 2-ounce barred perch right in front of Ventura Marina in 1975.
The first rule of trophy hunting is that you have to fish where they live. Spending your time on these beaches, despite how difficult some of them can be to access, is the key to hooking a true wall hanger.
The only other places that hold trophy barred perch are much less accessible. There are big fish populations off the Channel Islands reachable only by boat or plane. Many of the islands' beaches hold healthy populations. There are also concentrations of big barred perch off the northern Baja coast where cold upwelled water fuels a robust fishery. In years past, many Southern California surf anglers would make the road trip to fish these fabled Baja beaches — spots like Punta Santo Tomas, Punta San Jose and San Antonio Del Mar. Here there are miles off open beaches with little or no angling pressure.
As stated before, the places that hold the largest unmolested big barred perch populations are often the less accessible beaches. Most of these destinations involve traveling. Put some distance between you and the population and you will often be rewarded.
Fish for big ones
The first part of the puzzle is fish where they live. The second part is, fish for big ones. The second part involves big fish bait selections, technique and micro habitat. Conventional thinking when targeting standard-size barred perch has been down-sized baits. Some of the best artificials are 1.5-inch grubs and swimbaits or small Krocodiles. Best natural baits are small segments of bloodworms or lugworms, sand crabs, mussel, cut squid or shrimp. But when targeting trophy perch you have to think outside the box when it comes to bait selection.
The old adage stands: "big bait, big fish." The Lucky Craft Flash Minnow has become a go-to bait when targeting big pie tins. The preferred 110 size is a hard jerk-bait that provokes a strike from giant barred perch. The strike may be more defensive than predatory, but the lures have proved extremely effective over the years. This technique is somewhat of a recent development. The popularity of the hard jerkbait when fishing for larger species in the surfline in the past few years has crossed over in to barred perch fishing. Most longtime barred perch anglers never thought they would see the day this species would be targeted with such a large bait, but many a perch derby in recent years have been won with the large, aggressive bait.
Natural bait selections can also better your chances at a trophy. Soak the proven big fish baits like ghost shrimp, whole bloodworms, sidewinder crabs, nugget sand crabs and cut, salted anchovy — a favorite perch bait of many old timers. These larger or more exotic baits will draw strikes from better models on a consistent basis. You may not get the bites or the numbers of fish on these larger baits, but the strikes you get will be good ones.
The final element is where to deploy the baits in the beach environment. Big barred perch tend to orient around structure. Catches of larger fish tend to come from places where the surf interacts with structure like reefs, jetties, scattered rocks and pier pilings. Wave action dislodges food items that attract perch forage like crabs, shrimp, mussel, worms and sand crabs. The many foraging opportunities draw big fish. Structure can enhance your chances only if it exists. On open beaches, more subtle features like trenches, holes and rips will hold the fish. The fish will feed out of the subtlest contour.
So remember, the two most important aspects of hunting big perch is to fish where they live and target big fish through tactics and micro habitats. Combine this two-pronged attack with time on the water and you will bag your first trophy barred surfperch.