BY BLAKE WARREN
JULIAN – Turns out, it was well worth the wait. After being post- poned from mid-December until the last weekend in April, the inaugural Western Outdoor News Troutcast went off without a hitch as nearly 400 anglers from Arizona to Central California and just about everywhere in between descended on Lake Cuyamaca April 24-25 eager to wet a line in hopes of filling stringers and scoring some great prizes. The hefty stocking of quality rainbows from Mt. Lassen Trout Farms set the stage for the event, and the big plant certainly provided a fair share of fireworks over the two days of fishing.
Things got off and running in the grey light of dawn on Saturday morning as a sizeable flotilla of boats, kayaks and float tubes dispersed throughout the lake, the majority ending up in the Chambers Park area. Meanwhile, there was no shortage of anglers flooding the banks and setting up shop at their chosen spots around the lake in hopes of finding that lucky honey hole.
By just 7 in the morning, the recent fresh stock of Lassen rainbows was under a full-fledged bait assault from just about every direction conceivable.
It didn't take long to note the quality of the recent trout plant, as a steady stream of healthy rainbows began taking baits, including a fair share of trophy caliber 4- to 8-plus-pound fish that start- ed making their way to the three weigh-in stations set up around the lake. Among the many impressive catches throughout the morning there were two serious stand-outs: an 8.68 pounder boated by WON BASS angler Jimmy Huynh of Murrietta came first, followed by an eye-popping 9.39-pound 'bow brought to the scales right at high noon by lady angler Shannon Zigers — these two beefy trout would ultimately hold up as the biggest pair weighed in for the entirety of the two-day tournament.
Much of the field was opting for tried-and-true PowerBait offerings — garlic and salmon peach appeared to be the hot dough options — and nightcrawlers on Day One, with some anglers bucking the trend with jigs, spoons and the occasional fly-and-bubble rig.
By 4 p.m. the final of four weigh-in time periods had closed and the first-ever Troutcast had its first 8 winners crowned — 4 in the Adult Division along with 4 Juniors. Boats made their way in for the day and shoreline anglers packed up shop to re-rig and re-strategize in hopes of making some winning adjustments for the following day.
Sunday's conditions wasted no time showing themselves, with a stiff and steady 15- to 20-mph wind testing anglers' resolve and their warm weather gear on the brisk morning. Nonetheless, the majority of anglers weren't deterred and a handful more big 'bows began trickling in to the scales.
While a few solid bait fish were weighed early, the bite had clearly shifted gears some with the steady winds and it was jigs and Hookup Baits leading the charge through much of Day Two and scoring most of the bigger bites. The early afternoon saw the day's biggest catch, an 8.60 pounder banked by angler Nolan Purdy, while the Junior big fish for the tournament was still holding steady since the first weigh-ins on Day One — a 4.47-pound trout caught by 14- year-old Roman Webster, who claimed wins in the first two Junior weigh-ins of the event.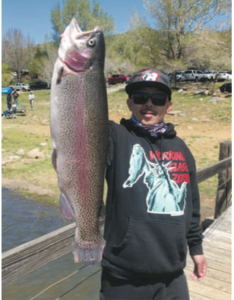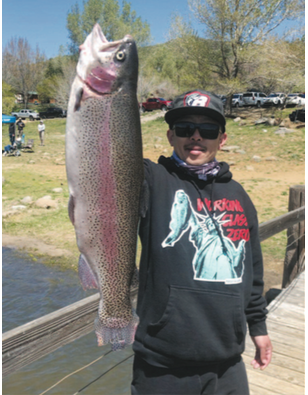 That all changed, however, as 12-year-old Wyatt Crawford of Yorba Linda connected for a ninth inning homerun, creeling a 7.56-pound 'bow on a Carolina-rigged 'crawler that hit the boat dock scales with less than a half hour to go in the competition. The late catch paid major dividends as young Wyatt would score quite the prize haul for the overall biggest Junior fish, consisting of a $500 Huk Performance Fishing apparel gift card, $250 in gift cards to Big 5, $50 to Sav-On Tackle in Santa Fe Springs and a high-end, hard-sided Engel cooler. The same hefty prize package also went to Shannon Zigers for the overall biggest Adult fish, the 9.39 pounder from Day One.
With the sounding bell of "lines out" WON staffers ran the final tallies, reconfirmed the 16 winning anglers for the two days and began laying out their smorgasbord of prizes they would soon be claiming. The plethora of gear included SKB tackle backpacks, Daiwa rod and reel combos, a healthy assortment of Berkley Gulp! Baits and Berkley jar bait holders along with four spools of Berkley Trilene, 30-quart soft-sided Engel coolers to the winning Adults and ample Big 5 gift cards dispersed among the eight Junior winners.
By that point, anticipation was at its highest for the soon-to-be- announced grand raffle prize winners that would have their lucky numbers called over the PA by tournament director Billy Egan. First up was Tom Holt of El Cajon, who was thrilled to learn he was the new owner of a Sea Eagle Fish-Skiff 16 inflatable fishing boat with an accompanying Suzuki 6hp outboard, a prize worth north of $4,000. "I can't believe it, this is awesome," Holt said taking a look at his new boat.
Then it came down to the granddaddy raffle of them all and the lone question the nearly-400 anglers all wanted answered: who would win the Klamath Advantage 15-foot aluminum boat and Suzuki 20hp motor sitting on an E-Z Loader trailer, all rigged to the
nines by the pros at Maurer Marine — a big time score valued at over $15,000 for one lucky angler for the modest $90 Troutcast entry fee.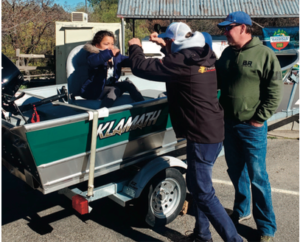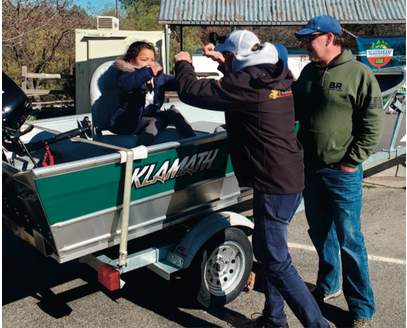 In short order the lucky number boomed over the PA speakers and just a few seconds later rousing cheering could be heard crackling over lake and WON staffers' walkie talkies as the boat winner appeared to be confirmed. The big rub and the reason for the abundance of cheers in lieu of disappointment? The owner of the brand new Klamath was none
other than a 6-year-old girl! Young Candacee Hoffman, accompanied by her father Zach and brother Caden, made her way to the Klamath to have a close-up look at the new family boat. Zach lifted Candacee up and put her on the seat at the helm of her new rig, and it was impossible to miss just how shocked and stoked the whole family was as they posed for celebratory photos and Candacee got double fist bumps and a hearty congratulations from director Egan — an undeniable "feel good" story to be sure, as the family from Phoenix made plans to get their new boat back to their Arizona driveway.
The kicker of it: New to trout fishing and originally from the Midwest, the family didn't find a trout bite over the two days of fishing but cashed in on the boat nonetheless. However, that's not to say they didn't experience an exciting fishing moment during the tournament. Far from it, in fact.
Knowing plenty of bigger trout were stocked for the event, Zach's game plan was to troll larger 6- inch Rapala Shad Raps on 6- pound test. Without a bite approaching midday with winds building on Day One and about to call it quits, a rod bends and the family heard that joyous sound of drag peeling off the reel.
"Whatever it was, it was swimming like nothing had happened, like it didn't even know it was hooked," Hoffman told WON. A long battle on the light line ensued and the excitement was palpable, but after quite a while of
trying to follow and tame the fish, the line finally gave way and snapped with the mystery fish just an estimated 8 feet from the boat. Was it a sturgeon? Big catfish? We'll never know.
And how's this for coincidence? After a few years of fishing from shore and renting boats, Hoffman had just purchased a 1990 Klamath with a 9.9hp tiller motor just a month prior to Troutcast!
"The kids were tired and waiting in the car, and I was kind of starting to space out when the numbers were called," Hoffman recalled. "Then after a couple moments I realized it. Number 261? That's us, that's Dacee's number! So I ran to the truck and told the kids, and Caden immediately got excited and jumped out of the truck, and Dacee couldn't believe it.
"We were just giddy and pretty much in disbelief," he added. "After years and years of wanting a boat and just four weeks after digging into some savings to buy a little used boat to finally get us off the shore, Dacee goes and hits the winning ticket for an awesome, brand new boat! We feel incredibly lucky and thankful to have won. A moment we'll be talking about for the rest of our lives."
Indeed.
After two days of strolling the banks of Cuyamaca and talking with a wide variety of Troutcast anglers, the overwhelming concensus opinion rang out loud, clear and often to this writer: "Great tournament, let's do it again next year!"
Well, all those folks wanting another dose of the Troutcast might just be in luck, as the message was heard clearly and chatter has already begun at WON headquarters about staging an encore for the event in spring of 2022. After all, what wasn't to like?
WON would like to thank all the great sponsors who made the first-ever Troutcast at Lake Cuyamaca possible. That stellar list includes: Klamath Boats, Suzuki, Berkley, Sea Eagle, SKB, Engel Coolers, Big 5 Sporting Goods, Sav-On Tackle, Thomas Buoyant, Rooster Tail and Frogg Toggs. Also a big thank you to Lake Cuyamaca Supervising Ranger Butch Paddock and his terrific staff for helping put on such a great event with very few (if any) hiccups. Stay tuned on for more on a possible return of Troutcast in '22…