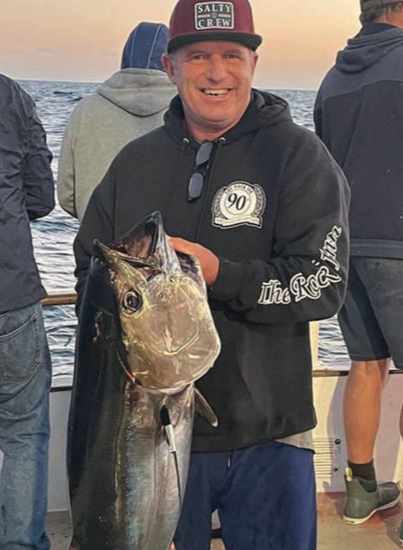 BY MERIT McCREA
SAN DIEGO/OCEANSIDE — Both the Legend and Top Gun 80 saw excellent yellowtail action offshore over the weekend. The 29 anglers aboard the Legend put on 120 yellows on a 1.5 dayer, while those 25 aboard the Top Gun 80 had 200 with time to go on a 2.5-day. These boats are both owned by brothers Bobby and Chuck Taft.
Bluefin tuna action was hard to nail down, as some trips scored big while others ran close to dry. It was about a 60/40 split on hero vs. zero, with little middle ground.
Outstanding results included the Intrepid with 73 bluefin and 38 yellows for 26 anglers on a 3-day. It was all about the night bite the evening of day two. Here are a few words from the wheelhouse: "The night bite we experienced on night two was nothing short of amazing. The guys that were on it were getting bit every drop for over an hour on the Flat-Falls and the Daiwa SK jigs on the straight-tied 100-pound. The grade of fish were 20 to 35 pounds."
The three top fish went to Dan McNamara with a 45.5-pound bluefin, Charley McGee with a 56.1 and Paul Flack with a 56.2.
The Shogun turned in limits of bluefin from 25 to 40 pounds for 28 anglers on a 3-day trip. That's 168 tuna.
The Polaris Supreme had limits on a 1.5 dayer too. "We saw a great sign of fish out there! Those small Flat-Falls and 4-ounce torpedo sinkers were working great," said Capt. Aliyar.
There were those who also connected with yellowtail instead. Aboard the Grande, 32 anglers had 44, and another day 35 had 58.
The Intrepid had a yellow day for 75 forks with 26 anglers. The Condor's 30 connected with 110 on a 1.5 dayer.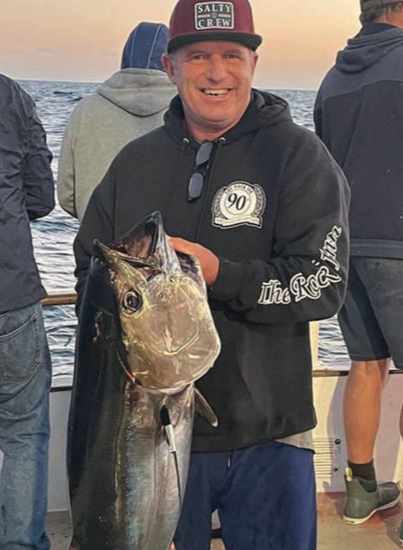 A full-day aboard the Liberty resulted in 39 fishers finding 97 yellow and a bluefin. The Shogun also had a yellow day with 27 anglers decking 61 and 4 blues.
The 20 fishing the San Diego on a full-day Tuesday took limits of the forktails (100) plus a pair of buefin. Friday found 25 aboard the Tribute tie into 54 forks.
While most local half-day trips took anglers to tackle rockfish, finding the best results out in those deeper waters, warming waters off La Jolla resulted on some bass ops aboard the New Seaforth. Friday afternoon found 41 folks fishing the weeds for 158 calico, 58 of which were kept.
Local half- and 3/4-day trips out of Oceanside Harbor again picked at a combination of rockfish out in deeper waters and inshore species like sheephead and such. From Helgren's Oceanside Sportfishing, just the Sea Trek fished.
Out of the Oceanside SEA Center the Southern Cal took 17 anglers out Sunday and scored limits (85) on the scorpionfish plus another 40 fish of other species — sculpin, rockfish, sole. It was a bit busier there, with 9 trips on 4 boats fishing for the week.