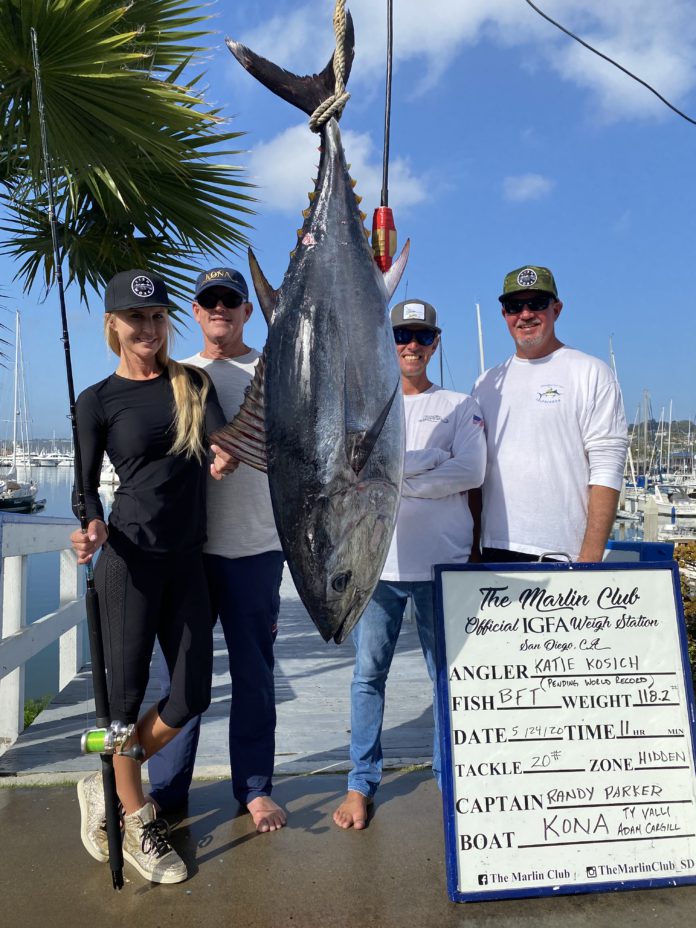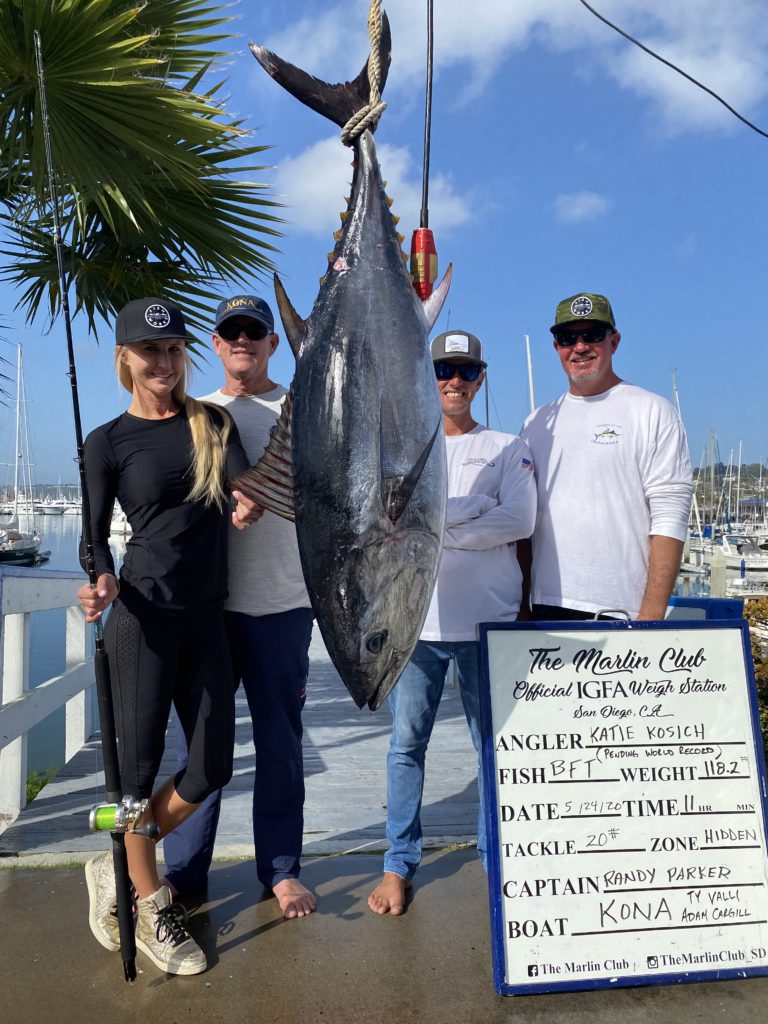 Her 118.2-pound bluefin the likely new women's 20-pound line class IGFA standard
SAN DIEGO – Eleven hours is a long time to fight a fish, but angler Katie Kosich never wavered in her light-line quest. Not in the early going when the boat was backing down in sporty seas, splash and spray constantly soaking her. And not when in hour 9 the bluefin she was battling circled towards the props, and hard-won line dumped as her 65 American Custom Kona maneuvered away.
She stuck with it until Captains Adam Cargill and Tyson Valli sunk two gaffs into the 118.2-pound bluefin caught on gossamer 20-pound line, securing her prize and the likely new women's line class record. The prior mark was only 49 pounds. Kosich looks to hold onto the record for a while.
This 11-hour marathon that started at 9 a.m. and didn't conclude until 8 p.m. wasn't Kosich's first chance at the record. She'd hooked 6 bluefin and broke some off. A sea lion mutilated a 114-pound bluefin she landed in two hours and 40 minutes just the week prior. She was not to be deterred.
Cargill says it only took so long because Kosich was hesitant to put as much pressure on the fish because she'd lost so many. The crack crew – it was just Kosich, Cargill, Valli of the Chupacabra, a Los Cabos Tuna Jackpot champion, and renowned Capt. Randy Parker on the boat – couldn't directly aid Kosich during the long battle. They could, however, coach, advise and give her their emotional support.
"We were taking care of her, feeding her snacks and ice cubes," says Cargill. "The first 4 to 5 hours it was rough, we were chasing the fish. She took wave after wave to the face and body, it was miserable. In hindsight, chasing the fish likely caused the fight to be longer than it had to be."
The fish sulked deep, sitting firmly at 45 fathoms for three hours. The crew could see it on the sonar. And then, an encouraging development. In hour 7 the fish came up to 20 fathoms.
"It was a big relief," Cargill says. "We knew Kosich actually had a chance."
Not until hour 9 did Parker stop the boat and Kosich, with the risk of getting spooled now out of the question, started lifting the fish. But then, disappointment, as the boat had to maneuver to avoid losing the tuna to the props.
As it started to grow dark, Kosich dug deeper and the fish came to the surface for a second time. This time there was no question. Cargill reached out with a gaff, and Valli immediately followed with a second. After 11 hours, the fight was over.
"It was fun, I've been wanting this record for 3 years," Kosich says. "The time went by pretty quick. I love fishing and I love being out on the water."
The crew weighed Kosich's bluefin at the San Diego Marlin Club. Kosich's weapons were a Shimano Tallica 10 on a Seeker Black Steel 6470M that Cargill says was a slightly lighter version than usual. Kosich used a small AFTCO shoulder harness.
She gives much of the credit to her talented crew. "Captain Randy Parker, Adam and Ty are super skilled and believe in me, and I will never give up." And to her husband RJ, who she says is super proud and excited for her.
Kosich says she's still a relatively new angler, but she makes up for it with time on the water and a relentless drive for success. In 2018, Kosich achieved a feat many would consider even more remarkable when she was honored by the Billfish Foundation for the most Pacific Ocean striped marlin tagged overall – man or woman, and Top Overall Billfish Tagging Angler, men or women.
"Every weekend I would fly down to Cabo, tag fish and fly home," she explains. Her Kona is a fishy boat. She recalls one two and a half day period in which they caught and released 100 marlin.
Now that the 20-pound women's line class record is in the hands of the IGFA, Kosich is onto the next mission. She's chasing the 50-pound women's record. With a heart of iron, there's little doubt she'll claim it.