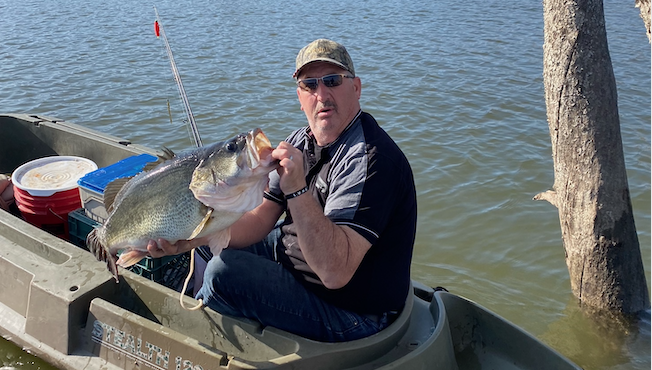 BY MIKE STEVENS 
LAKE ISABELLA – While it isn't news to the anglers most familiar with the lake, Lake Isabella is as capable of kicking out giant largemouth bass as any fishery in Southern California, and it gets a fraction of the traffic. The water level is way below normal, the weather can be unpredictable and the bass bite tends to fizzle down to nothing for weeks if not months on end, even here in spring. At this point in the season, those who know what's up at "Izzy" move into "any day now" mode, and a local angler just reminded everyone why.
Scott Flitcraft of Bakersfield hit Isabella to fish crappie from his canoe, and headed straight for some trees sticking out of the lake's low water. He had a crappie jig on one rod, and a plastic worm on the other, and he started working the worm through the trees when the connection of a lifetime was made.
"After about two dozen casts, I made another cast and started a slow retrieve, and the line went tight and it seemed as if I was snagged perhaps on part of the submerged part of the tree," said Flitcraft. "I pulled a little harder but there was no give, so I pulled even harder and the line started to pull back, and I knew it was a fish."
Flitcraft told Western Outdoor News it seemed like a solid bass but it was coming up without a lot of resistance. Then it broke the surface with violent head shakes and immediately freight-trained back down, ripping line off the reel.
"After what seemed an eternity, the big fish came along side of my little boat and I was able to reach down and grab hold of this massive bucket mouth," he said. "My whole hand easikly fit inside its mouth. I was in shock and really didn't know how big this fish was, and as luck would have it, a bass fisherman was passing by, and I asked if he had a scale and if we could weigh this fish."
The scale read 16 pounds, 12 ounces, and after some photos the pre-spawn bass was released.
"This was an experience I'll never forget, said Flitcraft. "How in the world was I able to catch this big of a fish with the pole I normally catch small bass and panfish?
The bass bite at Lake Isabella has been slow, but those familiar with the fishery know that's nothing new.
"The largemouth bass bite at Lake Isabella typically takes off later in the spring than it does at most other Southern California lakes," said Seth Mostero, Manager of Cope's Rod and Tackle in Bakersfield. "The cold Kern River flowing into the lake keeps the water cool into May when the bite typically seems to kick off. Anglers looking to catch trophy Largemouth should try dragging the bottom of the lake with slow-moving, deep-diving crankbaits, jigs and soft plastics. Crawdad- and shad-colored baits are always a good option to target the larger fish bulking up to spawn. Sandy flats, rock piles, and bases of Lake Isabella's famous tree stumps are always good structure to target."