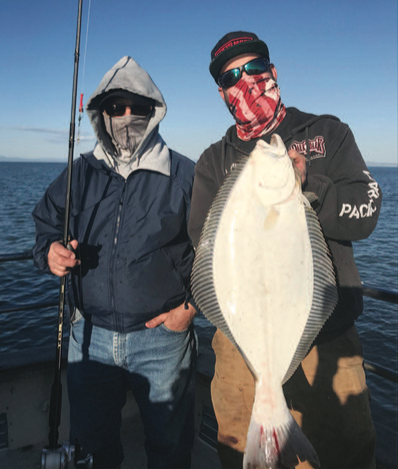 BY DAVID BACON
SAN FRANCISCO BAY AND SAN PABLO BAY – Where do the halibut of San Francisco Bay go during the winter months? For some, the answer is nowhere as was proven by catches above the Sisters by passengers aboard Happy Hooker out of Berkeley Marina. Third-generation Captain Jonathon Smith said, "We caught halibut and bass Saturday morning using live bait above the Sisters. My bait tank holds bait really well so I have some live anchovies left over. The halibut and bass love them." Joseph Trujillo of Lathrop was a lucky one who caught a keeper halibut. Tom Gee from Berkeley and Terry Gorr of Richmond caught hefty stripers. They started off sturgeon fishing but switched over to live bait after finding slow action for the diamondbacks.
Private boaters got into the mid-winter halibut action. George Lu at Bay Tackle in El Cerrito said he had a regular customer tell him he had caught keeper halibut measuring 26, 29 and 31 inches. The bait used was not reported, but chances are they jigged up live bait.
Most San Francisco Bay Area boats were tied to the dock, having some maintenance done, or operating up in the Carquinez Straits and above for sturgeon and stripers. Fish Emeryville and Berkeley Charterboats have boats at the ready whenever sufficient numbers of wintertime reservations make it feasible to get out.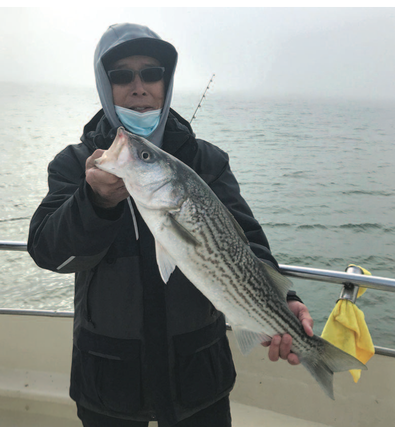 Herring spawns continued and provided excellent reasons for people to get their boats out or even try for them from shore. Using casting nets or Sabiki rigs, people caught the best numbers at Point Richmond and near AT&T Park. As always, the spawn activity moves around so savvy boaters watch for birds and pinnipeds to find the action. With spawns going strong, people are loading up on herring for eating and for use as bait during the fishing seasons ahead.
Perch fishing from shore is an ever-popular activity that gets people out of the house when the weather allows. Inside the bay, perch fishing is open through March 31. The main catches were pogey, rubberlip and silver on the east side of the bay. On the west side, barred surfperch are additionally caught. Most folks use Gulp! Sandworms although pile worms and lugworms are also effective. Good spots through the week and over the weekend were the Point Richmond rock jetties, Berkeley, and Alameda Rock Wall.
San Pablo Bay saw some good bass action and is expecting good sturgeon fishing this week. Sturgeon fishing in the Sturgeon Triangle has been decent, but the sturgeon are beginning to leave the southern herring spawns and returning. With strong minus tides ahead, plus some rain in the forecast, sturgeon anglers are chomping at the bit.