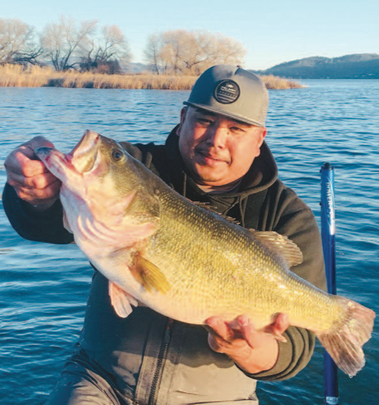 BY DAVE HURLEY
LAKEPORT – Clear Lake hosted a large tournament of 78 boats over the past weekend, and the bass bite was solid to spec- tacular for with the top twenty teams weighing in over 20 pounds. The bite wasn't fast and furious, but the quality of largemouth was excellent highlighted by an 11.03-pound largemouth landed by JP Gano of Phenix Rods on a swimbait. Gano partnered with Jody Jordan for the second-place limit at 29.15 pounds. The first-place limit was 32.86 by the team of Mark Crutcher and Brad Amodeo with an 8.47-pound kicker.
Gano said, "The big fish are chewing, but it is a grind overall. The double-digit bass came on a swimbait, and I had another at 5 pounds on my last cast of the day that propelled us into second place."
Clara Ricabal, columnist for Western Outdoor News, partnered with swimbait specialist, Alex Niapas, but she stuck with her tried and true finesse techniques with Senkos on a Neko- or wacky-rig for two of their keepers in their 21.54-pound limit for 14th place. She added, "There was a deep-crankbait bite over the rockpiles, but I was working the bottom with the Senkos."
Clear Lake Sports was one of the sponsors of the tour- nament, and they confirmed the improved bass bite with LV 500s, umbrella rigs, or dragging plastics on a Texas- rig. The crappie bite remains strong in the open water off of Rattlesnake with medium to large minnows along with crappie jigs on a 1/16-ounce head in salt/pepper, white, or chartreuse. The key is to be at least a quarter of a mile offshore and continue to follow the schools via use of electronics as the slabs are constantly moving. Jumbo, extra-large, large, and medium minnows are available in the shop.
Don Paganelli of Paganelli's Bass Fishing Experience has found his preferred jumbo minnows once again, and he said, "This is a really fun way to catch bass with plenty of action as you really don't have to possess the technique involved with us- ing artificials. Minnow fishing is always an enjoyable way to fish, particularly for beginning anglers, and the bite normally lasts through January into the first part of February."