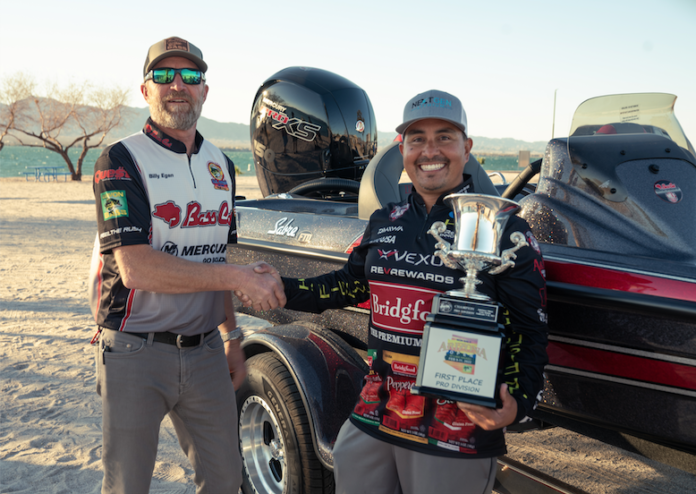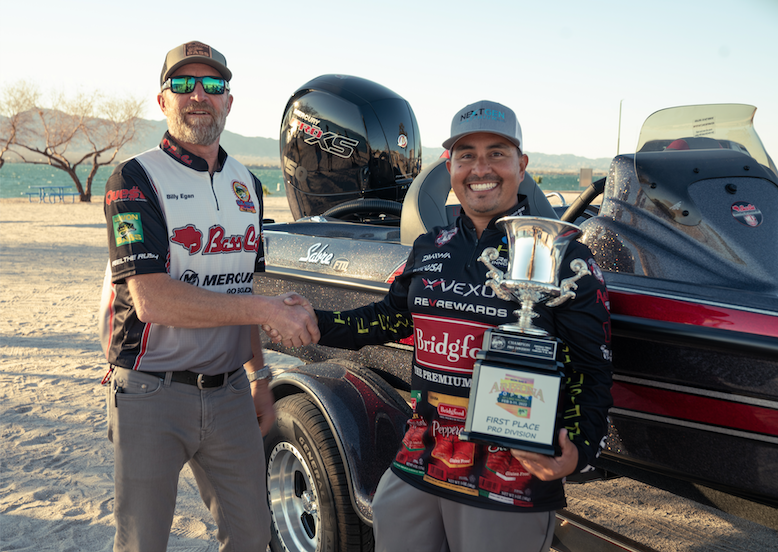 BY JODY ONLY
Lake Havasu City, Ariz. – The 4th Annual WON BASS Arizona Open took to the waters of Lake Havasu this past week with a 121-boat field. As the 2022 Open came to a close on Feb. 11, Arizona pro Joe Uribe Jr. held the top-spot on the pro leaderboard with 41.04 pounds as his tournament total, stretching his lead to more than 8 pounds over his nearest competitor.
With a Day Two high-wind advisory that canceled the middle day of fishing, the event that was originally scheduled for three days of competition was shortened to two days.
Uribe Jr. was the only angler to come to the scales on both days of competition (Day One and Day Three), weighing a five-fish limit that broke the 20-pound mark.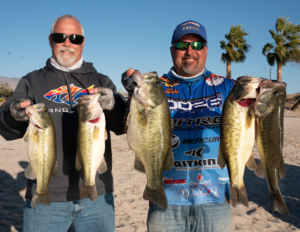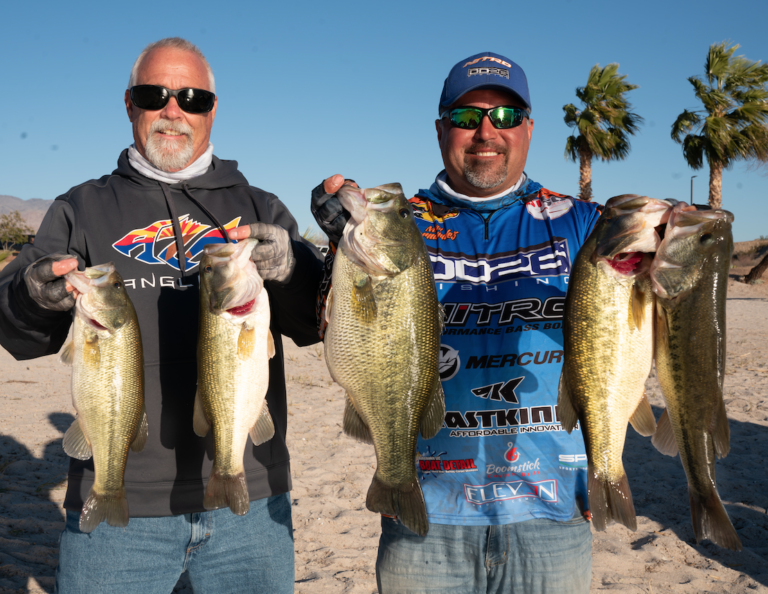 Standings on the first day of fishing revealed two teams that rose above the 20-pound limit, with Arizona anglers pro Max Hernandez of Queen City and AAA Gary Volpe of Payson hauling up 20.53 as the leaders and Joe Uribe, Jr., from Surprise, Ariz. and AAA Tony Witt of Orange, Calif. in second with 20.24.
Uribe Jr. returned with AAA partner Ty Crofts on Day Two, repeating the feat of five-fish for an average of four-pounds each, weighing 20.80.
The two days of 20-plus banked Uribe Jr. the pro grand prize package that included $19,000 in cash, plus a Bass Cat Sabre FTD, rigged with a Mercury Pro XS 150, 8-ft PowerPole Blades, NextGen Lithium Batteries, Electronics, and a Trolling Motor, worth $42,000.
"It has finally come full circle for me," said Uribe Jr. "I've finished 2nd twice now in this tournament and now I finally got the win."
Unable to practice prior to Day One blast off, Uribe Jr. returned to target areas that he found in last year's Open.
"The fish were set up the same," he noted.
He reported throwing his "magic swimbait" and focusing on pre-spawn largemouth.
"Fishing here, you're not going to get a lot of bites, so you've got to fish to win," he added.
The runner-up position went to Jordan Collom, of Canyon Lake, Calif. Fishing with fellow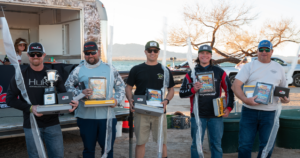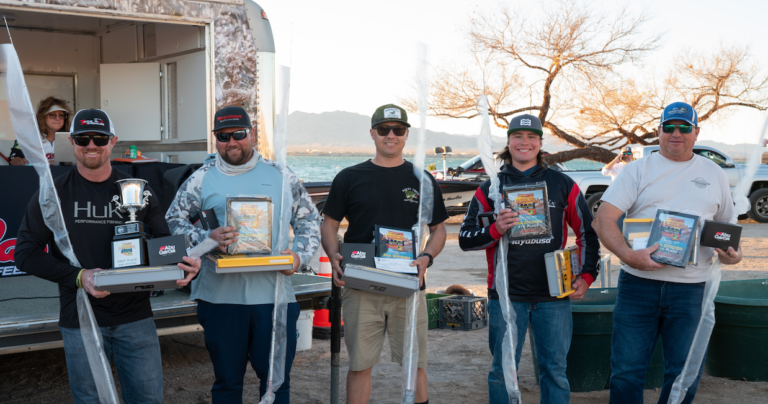 California angler, AAA Jason Atkins of Apple Valley, the team weighed 15.37 for 9th place on Day One.  Collom's Day Two limit with AAA John Romanin of Wolcott, Colo. went 17.60, pushing his tournament total to 32.97 and putting $10,500 in his pocket for his 2nd place finish.
"It was a grind," said Collom. "I knew it was going to be tough; so, after having one fish early, we decided to run into the river to finish off our limit."
Collom's strategy paid off and he and Romanin filled the box by 10:30 a.m.
"Then, we went back out to the lake and culled cranking," he added.
The top-three spot stayed in the Uribe family, as Joe Uribe Sr., of Lake Havasu City, Ariz. claimed 3rd place with 31.45. Uribe Sr. would have been poised to give Jr. a run for the win if he could've filled his limit the first day. However, weighing in only four on Day One, Sr.'s total only held nine of his potential 10 bass for the two-days of fishing. Uribe Sr. collected $6,500 for his finish in the top trio.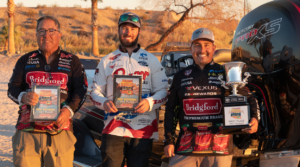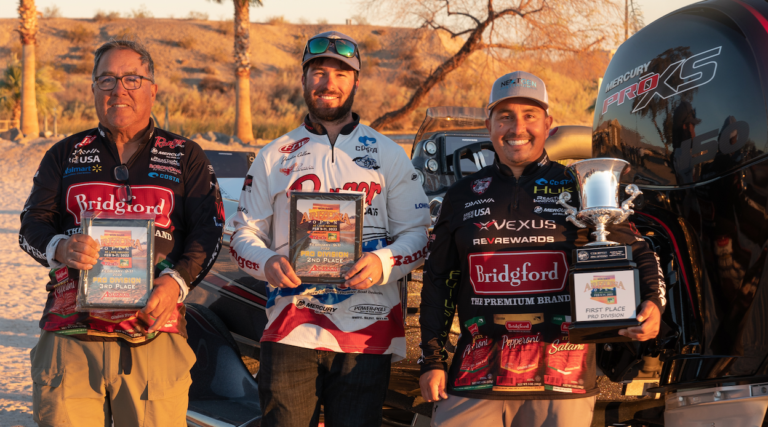 Utah angler, Ty Crofts of Cedar City, claimed AAA champion honors with a final weight of 32.91, that included the 3rd place Big Bass of Day Three. It went 5.60 and helped Crofts to the win and his $5,000 payout as part of a prize package that included an Abu Garcia Revo / Veritas combo, and Plano Edge Flex Tackle Box.
The top 24 pros and top 24 AAA's, cashed in the event. The top-3 Big Bass of each day – pro and AAA – as well as the Big Stringers of each day also claimed cash.
The payouts that were eliminated due to the cancellation of Day Two were used to sweeten the respective pots of Day One and Day Three Big Bass and Big Stringer recipients.
BIG BASS PAYOUTS
Day One Pro
$800 7.47 Max Hernandez
$400 6.58 Brian Nollar
$400 5.84 Bill Brown
Day One AAA
$400 5.18 Joel Chin
$200 4.95 Craig McCoy
$200 4.80 Christopher Dixon
Day Three Pro
$1200 7.04 Dylan Maxon
$600 5.67 Todd Kline
$600 5.30 Conrad Demecs
Day Three AAA
$600 6.74 Gus Hines
$300 45.93 Ellison Hubbard
$300 5.60 Ty Crofts
Daily Big Stringer Payouts
Day One – 20.53 pro Max Hernandez ($1200) with AAA Gary Volpe ($600)
Day Three – 21.70 pro Dylan Maxon ($1200) with AAA Hayden Metz ($600)
Complete final standings can be found at http://www.wonbass.com.
WON Bass anglers have three more opportunities to become Open champs for 2022.
Laughlin Open: Katherine Landing March 23 – 25
10th Annual California Open: Clear Lake April 13 –15
40th Annual U.S. Open: Lake Mead on Oct 10 – 12