BY GUNDY GUNDERSON
SAN DIEGO—The sign of quality tuna continued to be good for the long-range fleet as three boats put excellent catches of quality yellowfin tuna in the holds. A night bite component developed this week with several larger fish hitting the deck under the lights. Most of the day-time fish have ranged from 60- to 150-pounds. The nighttime fish have ranged from 150- to 210-pounds. This years campaign has been marked by more consistent fishing. The wahoo bite was decent but a bit scratchy. The big story has been the above-average tuna fishing.
Indy on the bank
The Independence was on the Hurricane Bank in a good position to take advantage of the recent good bites. The boat with Capt. Matt Kaullen at the wheel, sent this report after a good start, "We have maintained steady action down here for the duration of our trip. The bite gets going around 3 PM and lasts into the night with a chance at a trophy. We have tagged fish in the 100-to 180-pound class and we have seen some smaller throughout the day. The guys are getting a run for their money battling these big, beautiful fish. The weather has been up the past few days and we have had our share of rain to keep us cool. We have one more day at it before heading up and we are hoping for more of the same great fishing. All is well on this end and we will check back shortly."
After returning home, the boat filed this wrap, "We returned home this morning from our annual Soft Steel 15-Day trip with a nice catch of fish. Our jackpot winners are as follows: third place went to Bill Brown with a 150-pound yellowfin tuna, second place went to Colt Belmonte with a 190.4- pound yellowfin, and first place goes to Tony Garza with a 197.1-pound yellowfin. Honorable mention goes to Harlow Lockwood with a 210.5-pound yellowfin. Thank you to Tony Garza and Soft Steel for hosting another awesome trip. We look forward to this one next year."
Star on the bank
The Royal Star was the second boat on the trophy tuna grounds this week. The storied sportfisher was experiencing the same good fishing on mid-size to large fish. The boat with Capt. Brian Sims at the wheel, arrived at the bank and sent this report, "Today we got a little taste of the fishing we hope to have tomorrow. We scratched up a couple of keeper tuna and a few wahoo. We will hopefully get things rolling on Friday morning."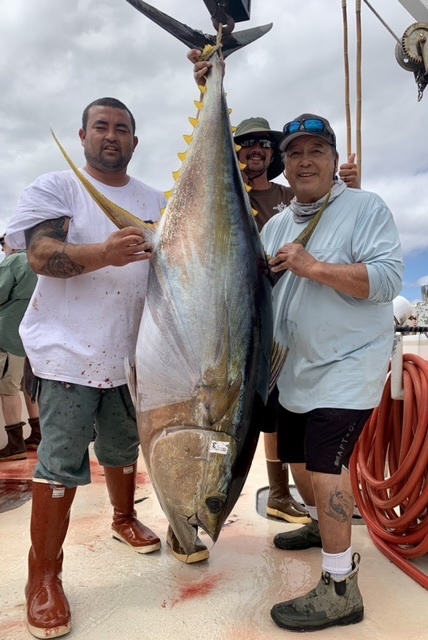 Friday proved to be a good day, "We had a good pick today on a mixed grade of fish from 30- to 201-pounds, about 35% of which was over 100. It feels good to stop the boat and fish after all of the travelings we've done. It feels even better to be caught. Our weather is spectacular today with just enough cloud cover and light breeze to keep it cool."
A few days later, more success, "Today we had good fishing on a consistently better grade of yellowfin tuna. The morning was good fishing, then we picked one at a time throughout the day. We now have beautiful 90- to 200-pound yellowfin tuna resting peacefully in our second RSW tank. The weather breezed up a little today, but it's still pretty nice for where we are."
After a good initial run, conditions began to change. The boat sent this report, "Today the conditions were a little different. We moved around looking to get established on the bigger tuna and never quite got them to settle in and bite. We put together a handful of stops on wahoo while moving around. By the end of the day we had 35 mixed fish."
Big X on the bank
The sportfisher Excel was also on the Hurricane Bank experiencing the good tuna fishing on an ultra-limited load trip. The boat sent this report after a nice start, "We are out on a 16-day ultra-limited load with just 18 anglers on board. We have been fishing for a few days now with steady action on quality tuna and some wahoo sprinkled in. A bulk of the tuna have ranged from 80- to 150-pounds with a few better. Let's keep it going.