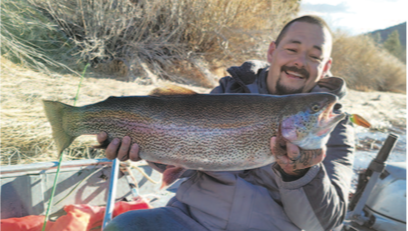 BY RACHEL VON FLECK
JUNE LAKE – After a difficult 2020, due to Covid-19 and the restrictions around opener, this year's "Fishmas" was highly anticipated. Although the forecast was a little rough, with Saturday's winds up to 30 mph and gusts over 50, many anglers who braved the weather were rewarded with both size and numbers.
In preparation of the opener, all four marinas and Ernie's Tackle & Ski planted trout ranging from 5 to 10 pounds. Trophy trout were also planted by the county stocking program.
In addition to providing opportunities for anglers to catch more fish, Ernie's also hosted their Monster Trout Contest with 11 different categories for anglers to win prizes, put on with support and donations from many local businesses and individuals.
On the day leading up to opener, the main street in town was abuzz with excitement. Costa Sunglasses was on the scene with exclusive offers for patrons of Ernie's Tackle & Ski, and the two businesses drew a crowd outside throughout the day — socially distanced, of course. As the evening wound down, many of the Loop visitors could be found at Boulder Lodge, gathering around the many grills, firepits, and heaters outside, recounting tales of past years and hoping for luck and better weather in the morning.
Unfortunately, the weather was exactly as predicted, if not worse. The dangerous winds caused rental boats to remain landlocked for the day. However, those expecting the crowds to hide out until the wind died down were wrong; every lake was bustling with activity and eagerness.
Gull Lake took home the honor of producing the winning "Monster Trout" in the contest; the lake produced two double-digit rainbows in addition to a long list of 5 to 9 pounders. It seems the fish were not shy at any of the four lakes, and they bit very well in the morning and decently throughout the rest of the day, despite the weather conditions.
GULL LAKE
An incredible number of large fish were pulled out of Gull Lake, including the top four largest rainbows caught in the Loop and the largest brown. Some areas of the lake were better protected from the wind, and many anglers had luck in float tubes, pontoons, and boats on the southwest side of the lake with a variety of jigs including Sierra Slammers and Ultralight Heavyweights.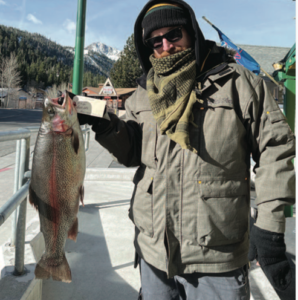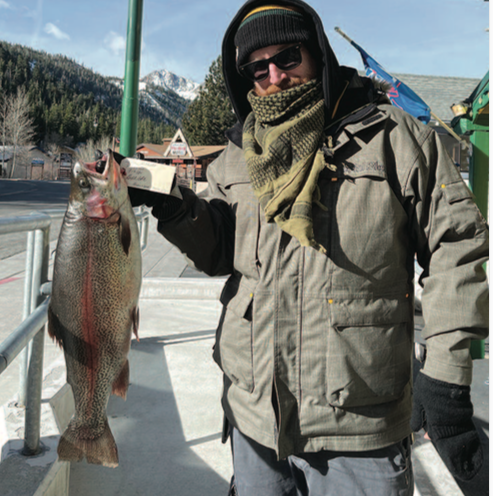 Carlos Rodriguez of Boise, Idaho, had the standout fish of the opener with a 10.58 rainbow trout caught on his own brand of lures, Character Lures. He was tossing out the colorway nicknamed "Marley," when he connected with the incredible 10.58-pound rainbow that took home the "Monster Trout" title.
Arthur Smith of Apple Valley came up with a close second with his 10-pound, 2-ounce 'bow he hooked on a Golden State jig. Another close contender was Jason Nichols of La Verne when he landed a 9- pound, 12-ounce beast on a green and gold minijig. As for the winner of largest brown in the loop, Tim Chadwick of Simi Valley took home the prize when he presented a Rapala and a 6-pound, 14-ounce brown decided to take the offering.
A few of the many other noteworthy fish of the day include a 9.63-pound rainbow caught by Gary Devore of Carlsbad, a 6.22-pound rainbow by Dan Cole of Los Angeles, a 6.4-pound rainbow by John Thune of Upland, and a 6.2-pound by Travis Tice of Orange.
JUNE LAKE
As waves pummeled the beach early morning, many anglers accumulated along the
shore. The early morning bite seemed to be the best, with most anglers holding stringers of trout as they made their way out of the cold mid-morning. The largest trout for June Lake was a stunning 7-pound 4- ounce cutthroat landed on a Kastmaster by Kyle Reiff of Lodi.
While some people had success throwing lures, the wind made it difficult to get a good cast, and a lot of anglers found fortune using bait, including PowerBait, Mice Tails and nightcrawlers.
A group of fishermen from San Fernando arrived shortly after sunrise and had stringers of fish within a few hours, including a few noteworthy cutthroat and rainbows. Jacob Dasilva of San Fernando won the cutthroat category in the contest with his 4-pound, 15-ounce beauty caught on PowerBait. Another angler in the group, Vincent Fino of San Fernando decided he would not only fight the wind, but also the terrain, as he powered his way down the rocky shoreline on his crutches and cast. His hard work was worth it, as he ended the morning with a stringer of trout. The afternoon bite slowed down a little bit past noon, but some were still able to pick off a few fish here and there.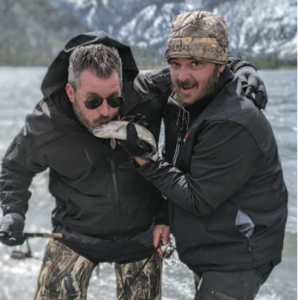 SILVER LAKE
As the waves lapped at the shore and tables and chairs blew about, many anglers waded out in the water trying to get any advantage they could in casting out their bait. Those who braved the wind were largely successful, with many limiting out by 11 a.m. on rainbows. The shoreline near the marina was speckled with anglers, pulling in plenty of trout up to 2 pounds and some larger ones ranging from 3 to 9 pounds.
The largest fish caught on Saturday at Silver Lake Resort was a 9-pound, 9-ounce rainbow, caught on a nightcrawler by Tom Peak of San Diego. Another beautiful rainbow weighing in at 7-pound, 3-ounces was landed by Ashley Ontiveros of Oxnard on PowerBait.
Back on the marina shore, father and son, Leroy Orozco and Leroy Orozco Jr. of Corona were all smiles as they caught their limit of trout on yellow and natural-colored PowerBait. Leroy Sr. said, "The fishing here is always good. We've been coming up together for every opener since my son was in sixth or seventh grade. It's our favorite place."
A couple guys next to them were killing it on the minijigs, pulling in a few rainbows on yellow and green Ultralight Heavyweight minijigs in a short amount of time. They said the bite had been great all morning.
GRANT LAKE
Grant Lake produced a lot of the browns caught during the opener. Fishermen gathered around the launch ramp and set up on the point to hide from the wind best they could and target the fish. Many groups left with full stringers of beautiful browns with some of the kickers around 2 pounds.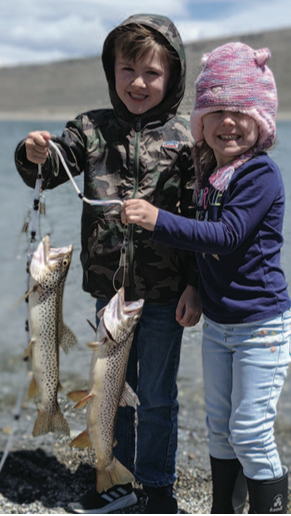 The winning fish of the day was caught by Mark Gray of Rancho Cucamonga, when a 5-pound 5-ounce rainbow attacked his Kastmaster. Another angler, John Omartian of Santa Clarita had a beautiful stringer of browns he caught later that day.
Logan (7) and Lila Wheaton (4) of Cerritos each caught their own brown trout mid-morning as their proud parents standing watch. The kids could not have been happier to show off their fish, paying no attention to the 30-plus mph winds that were nearly blowing them over. Logan caught his on Zeke's Sierra Gold and Lila caught hers on a nightcrawler.
Grant Lake Resort is now under new ownership, and they have opened a new tackle shop/store near the boat ramp. The owner Tony said they "are hoping to stock every two weeks during the season and are really going to focus on the incredible fishing we have here."