SAN DIEGO — It was Wednesday night when the San Diego 1.5- day fleet headed for biting bluefin in calming conditions at just 80 miles south. There along a rip, 6 or 7 boats gathered in the pre-dawn hours of Thurs- day morning and started to pick at 80- to 200-pound bluefin in the dark.
As daylight came, the bite slowed then switched to 50- to 80-pound grade, then built to limit-style, steady fishing on long drifts. By noon, several boats including the American An- gler had limits of bluefin aboard.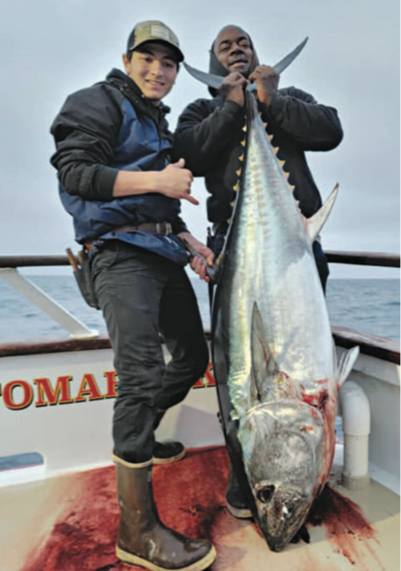 All said and done, the American Angler passed a bite off that finished off limits for the Tomahawk too. The Pacifica and the Polaris Supreme limited on bluefin as well. The bulk were 50 to 80 pounders landed in daylight hours plus a fair frac- tion of triple-digit fish landed mostly during the dark.
Bluefin being bluefin, the bite didn't hold at that pace through the weekend, but there were good grade yellowtail to be had on kelps in the region.
Sunday saw both the Excalibur and Ocean Odyssey break into triple-digit scores on the forktails as most of the offshore fleet did well on those teens- grade fish. The OO pulled 121 yellows for their 29 anglers.
There continued to be a wide area holding both yellowtail and bluefin, with the bluefin mixed sizes from 40 to well over 200 pounds.
Suggested gear for these fish was an 80- or 100-pound 2- speed set-up for fishing heavier glow iron in the dark hours for those larger fish. That's when they were most catchable. During daylight hours small- er, shiny Flat-Fall or knife jigs on 50- or 60-pound 2-speed tackle was the go to and 100- gram Coltsnipers and similar irons like Leadmaster's Snipper good choices. Biters held deep — from 180to over 300 feet down generally — and while most were hooked on the iron, the sinker rigs with live bait also worked.
Most bites on the iron were on the fall, but not exclusively and effective technique was varied. In fact, Hal Anderson, a Vagabond crewman fishing aboard the American Angler, had to leave his rod stuffed into the anchor locker for a few seconds on auto. His brown ahi snipper got bit just hanging there.
Fly-lined sardines worked best for yellowtail on kelp paddies.
At the Coronado Islands, limits of reds plus other rockfish continued to provide limit-style bottom grabber getting as the proper conditions for a yellowtail bite had failed to materialize over the weekend.
The local fishing from both San Diego and Mission bays stayed predominantly focused on coastal bottom biter spots. A combination of whitefish and rockfish dominated the scores, while a bit of effort was devoted to bass too but with limited results.
Saturday morning the Daily Double's 24 folks decked 48 whitefish, 12 sculpin and 31 rockfish.
The best bass score came from a 3/4-day Wednesday aboard the Pacific Voyager with 14 anglers getting 70 calico bass, 8 sand bass 3 barracuda and 32 whitefish.
Oceanside-based party boats saw a steady scratch on bottomfish with half-day totals averaging about 3 fish per person. Stand-out scores included one aboard the Southern Cal out of Oceanside SEA Center when 17 participants pulled 8 sculpin, 38 rockfish and 66 whitefish.
The Oceanside 95 fished offshore on a 1.5-day returning with 33 yellowtail for 20 folks Sunday morning.