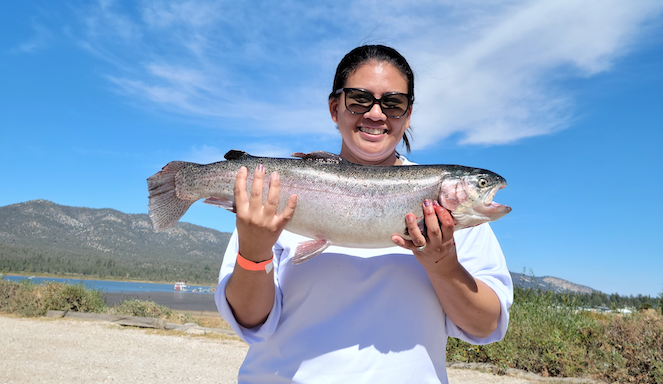 BY BLAKE WARREN
BIG BEAR LAKE – Nestled into the San Bernardino Mountains sits one of Southern California's few true alpine lakes, Big Bear, often referred to as "The Blue Jewel." Big Bear Lake has long been a favorite fishing destination for sportsmen throughout the Southland for its year-round trout fishing along with a number of other species that call the lake home, including largemouth and smallmouth bass, channel catfish and carp, but it's the rainbow trout that are the stalwart species atop the angling food chain here.
Up until the late 1800s, Big Bear was not much more than a small, marshy lake in the center of a heavily forested valley. But that all changed forever when a local citrus farmer from the San Bernardino Valley designed and financed the Rock Dam, which was completed in 1884 and spanned over 1,800 acres of land and held a water capacity of 25,000 acre feet. At the time, it was the largest manmade lake in the world.
That was until 1910, when a two-year project to complete a newer, larger dam began. Completed in 1912 with a unique multi-arch wall design, the new dam stood 20 feet higher than the original Rock Dam and doubled the size of the lake. When water levels come down low enough in the summertime, the top of the Rock Dam can still be seen just above the lake's surface.
With the new dam, larger lake and the completion of a number of roads into the valley along with the construction of hotels, marinas and a local village, Big Bear quickly became a popular tourist destination for sportsmen and non-sportsmen alike. The Bear Valley Land and Water Company made boating and fishing at the lake free to the public in 1916, and it has remained a popular destination ever since. It is also a major hub for an array of outdoor activities, from fishing and boating, to hiking and biking through the summer and fall months and a top SoCal skiing and snowboarding destination during the wintertime.
Today, fishing remains a top attraction at Big Bear. Numerous marinas around the lake with year-round slips available for rent, along with launch ramps at both the west and east ends make it a convenient location for private boaters, and there are plenty of rental boats available at the marinas from spring through fall. Shore fishing is popular here during the prime season as well, with the top spots for bank anglers being the north shore near the Red House, Juniper Point, the Observatory and around the dam.
Stocked well throughout the year via privately funded plants and supplemental stockings from the California Department of Fish and Wildlife, it's no surprise that rainbow trout are the main attraction here. It is among the most productive fisheries for trout trollers throughout the region while the lake is open to boating from April to mid-November before scuttling for the winter when the lake usual ices over to varying degrees.
Popular tactics for boaters include trolling Rapala and Flicker Shad plugs, various spoons or spinners, or nightcrawlers on Wedding Ring setups. The general approach is trolling in the upper half of the water column (2 to 10 feet) during the spring and fall months, and trolling deeper with leadcore line (12 to 25-plus feet) during the warm summers — the deeper waters at the west end of the lake near the dam tend to be the prime trout spot for trollers during the summertime.
Another deadly tactic for boaters is drifting with the wind and employing nightcrawlers. Slip bobber rigs are also highly effective at Big Bear, allowing both boat and shore anglers alike to get their baits to the prime depths where the trout are primarily holding at any given time of year. Spring, however, is usually the best time for trout fishing at Big Bear as the rainbows emerge from their lethargy of winter and tend to gravitate toward the shallows and feed voraciously coming out of their seasonal hibernation.
Your standard universal trout baits all work well at Big Bear Lake for shore anglers, including various flavors of PowerBait, inflated nightcrawlers, Mice Tails, Power Eggs and salmon eggs. At certain times of year artificial lures are also highly effective, like minijigs and plastic trout worms worked along the banks, or bombing casts and covering lots of water with spoons and inline spinners.
Big Bear is also home to a handful of fishing derbies throughout the season, the two largest and most popular being the Fishin' for $50K Derby in early June and the Western Outdoor News Big Bear Lake Troutfest the first weekend in October each year (sign up for this year's Troutfest set for Oct. 1-2 at WONews.com). Both trout tournaments offer anglers great chances at winning cash, tackle and gear and a host of great raffle prizes.
Moving on to the lake's other species, late spring and summer is prime time for Big Bear's warm-water denizens, namely largemouth and smallmouth bass and channel and bullhead catfish. With its colder, alpine waters, the annual bass spawn gets going later than at most SoCal reservoirs, usually kicking into form by around mid-May. The lake's population of Northern-strain largemouth and smallies begin perking up with a rise in water temperatures, and there is plenty of inviting structure to fish ranging from rockpiles and weed beds to lots of grass and plenty of docks to work thoroughly.
Top bass tactics here include tossing chatterbaits, crankbaits of various depth ranges and underspins around grass and weeds and working various Texas- or Carolina-rigged soft plastics around docks and rockpiles — jigs can work well in these areas at times, too.
Catfish tend to come around here in the late spring through the summer as well, and this year has been particularly good for Big Bear's whiskerfish anglers in terms of overall catch numbers, a positive sign for the lake's catfish population moving forward. Deploying a mix of mackerel, shrimp, stinkbaits, chicken livers or nightcrawlers on lightly-weighted Carolina rigs or simply fly-lined is the best approach to tackle the cats.
While catfish often bite throughout the day during the prime season, late afternoons and evenings tend to be most productive after water temps inch up after a full day's sunshine. Two of the main spots that tend to hold catfish much of the year are found on the east end of the lake near Stanfield Cutoff and the East Public Launch Ramp.
Last but not least is the lake's carp. While not targeted quite as often as its other species, Big Bear certainly has lots of them and they move into the shallows to spawn in the late spring and early summer. Considered an invasive species, carp have no bag limit and they are the only fish that can be legally targeted with bow fishing gear. For bow anglers, Big Bear is a carp haven this time of year and it's possible to rack up some big numbers when the large goldfish are up in the shallows.
Removing carp from the lake is also highly encouraged, as there is no shortage of the invasive species in the lake's waters. In fact, there is an annual Carp Round-Up every June with prizes and purses on tap hosted by the Big Bear Municipal Water District to accomplish this task. Both hook-and-line anglers and bow fishermen participate in this annual event.
All in all, Big Bear Lake is an exceptional destination for a getaway of any duration with plenty of great fishing and boating opportunities in a beautiful alpine setting. With everything an angler could need conveniently located either lakeside or throughout the quaint mountain town, it's an ideal place to escape the hustle and bustle of the city and wet a line for a few days. It is definitely one lake that every SoCal freshwater fisherman ought to experience for themselves.