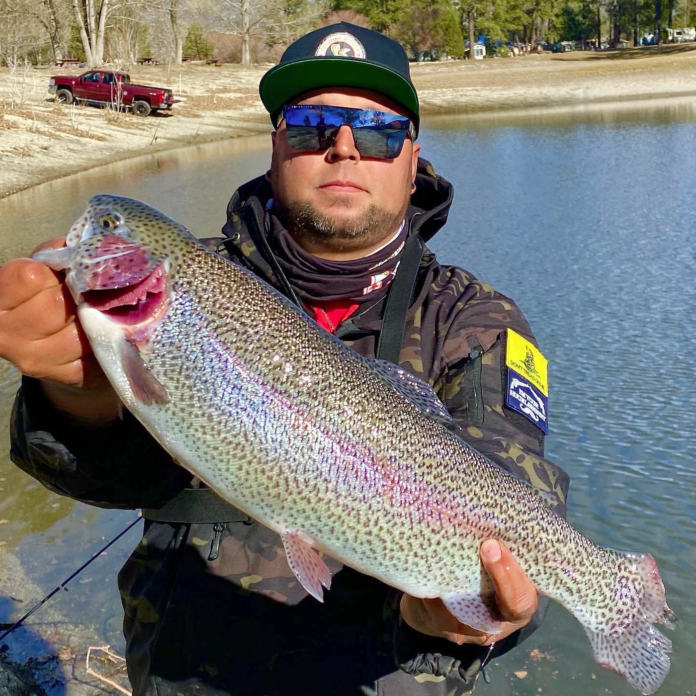 BY MIKE STEVENS 
HEMET – Sitting at an altitude of 4,340 feet, Lake Hemet gets to stand as a year-round trout fishery with water temperatures that allow trout to holdover from one season to the next. Along with trout plants from the Department of Fish and Wildlife, the lake is also stocked with premium Mt. Lassen rainbows and lightning trout, and a huge load was delivered on Jan. 25 which was followed by outstanding fishing that should hang around for a while.
The plant consisted of 4,000 pounds of trout, half of which were standard stocker size, but the other half were significantly larger fish. The bigger rainbows were sent in place of lightning trout this time, but there are still some holdover lightnings from previous stocking that still show up on stringers.
"These trout went into very cold water and started biting immediately," said Jeff Brown of Basecamp Hospitality which manages the lake. "They seem to have spread around the East End of the lake already, and a variety of jigs seem to be working well."
Estevan McDonald of Golden State Custom Baits was out there and taking advantage of the hot bite on quality fish in an alpine setting. He was able to limit on Golden State Fishing minijigs, and his haul included a 6.3-pound kicker.
"Lots of people were catching on plastics in marina cove and the surrounding area, and fish are still staying near where they were stocked," McDonald told Western Outdoor News.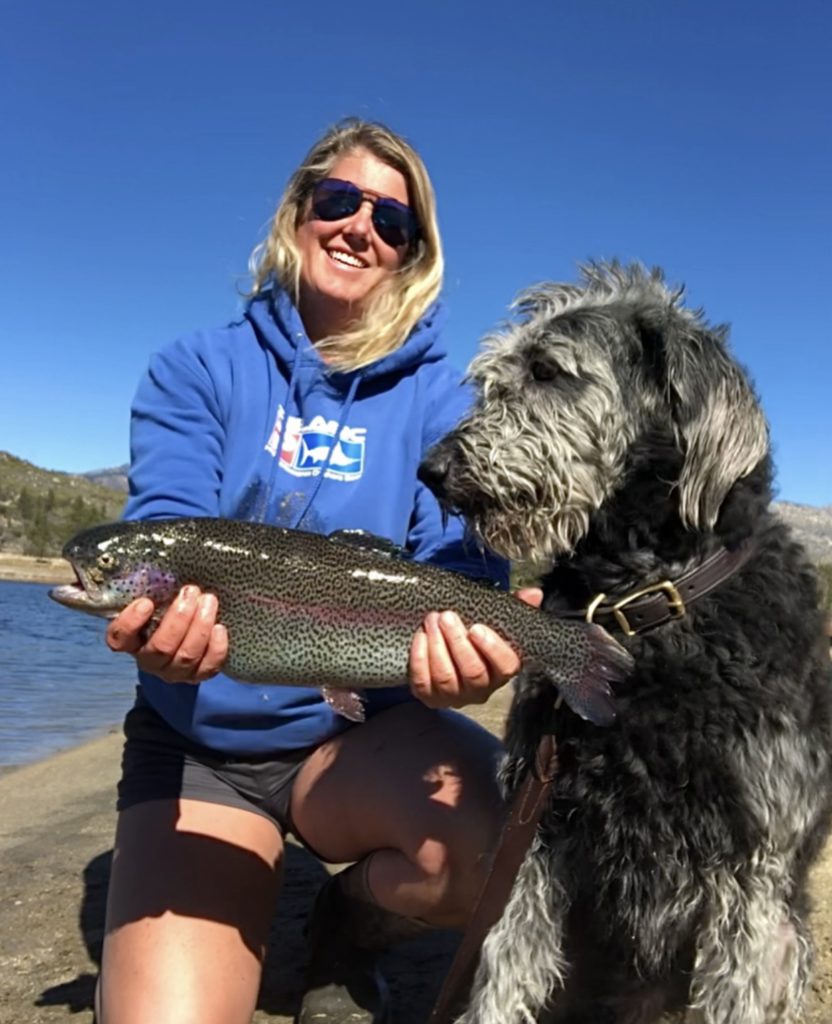 He's a regular on the SoCal trout scene, and in the Eastern Sierra for that matter just like Temecula angler Tracy Hartman who is also no stranger to contributing to WON's fishing reports whenever she hits the water.
"I got three trout from 3 to 6 pounds, all on spoons," said Hartman. "I actually missed more than I caught. It's a beautiful lake. I love that place."
Another notable trout that stood out from the overall-solid numbers put up by the whole field of trout anglers hitting Hemet of late was a 5.5 pounder caught by Gavin Archuleta who was drop-shotting One Eleven Custom Lures Trout Stix in white/yellow.
Part of what makes Lake Hemet so unique as a Southern California trout fishery is the bite tends to hang around for weeks if not months after one of these big stocks. Sure it tapers off and limits get hard to come by, but there are always fish to be caught at some level. The lake gets a fraction of the angling pressure in general than most SoCal lakes, and management also does a great job of keeping stock dates on the down low so truck chasers don't pound freshly-dumped trout into oblivion before anyone else gets up there.
Lake Hemet is open daily from 7 a.m. to 5 p.m, and entry is $25 per vehicle or $150 for an annual pass. For more information, visit GoLakeHemet.com.