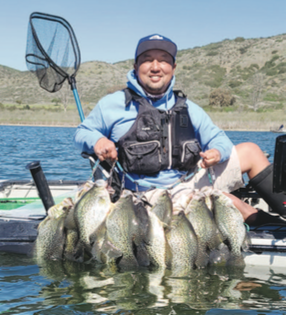 BY MIKE STEVENS
ESCONDIDO – The overall fishing scene at Lake Hodges after opening about a month ago has been classified by scratchy bass fishing but with a lot of positive signs of a solid spring, and panfish action with very high peaks and low valleys. The bass story remains the same and likely will for at least another couple weeks with a cold front blasting through this week, but slab crappie are blowing up for anglers running into them here in late winter.
On his first trip to Hodges, Jerry Yang of Notorious Custom Jigs set the lake on fire with one of the best crappie hauls the lake has seen in recent years. A kayak angler specializing in targeting crappie, he has fished for them on both coasts and already ranks Hodges near the top of his crappie lake pow- er rankings.
"When I got done rigging, I realize the water temp was 58
degrees, and it made me happy knowing the crappie will either be on or close to shore," said Yang. "I was just rigging my rod up for the day and noticed that I drifted over some brush and trees, and I saw fish markings on my Garmin 126sv fish finder in 2-D mode. I quickly got my Notorious jig in front of them and the first one committed. I measured it and it was a good 15-inch slab."
For the next three hours, Yang proceeded to cherry pick through the trees and brush to find crappie that were scattered but willing to bite when a jig was "put in front of their face." He said his jigs in pearl color did almost all of the damage, and he was absolutely glowing about the panfish prospects at a new lake for his California rotation. Yang also told WON with that water temp and seeing a lot of males caught shallow, the fishing for them could be "full blast" in a week or two if the weather warms up.
"I travel all over California for crappie fishing, and I did the same in North Carolina," he said. "I have been amazed by the quality of the crappie in Lake Hodges, and while this was my first trip there, it will not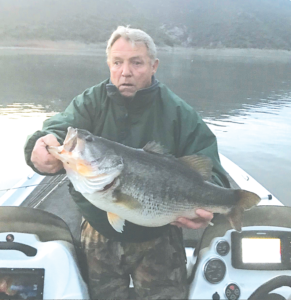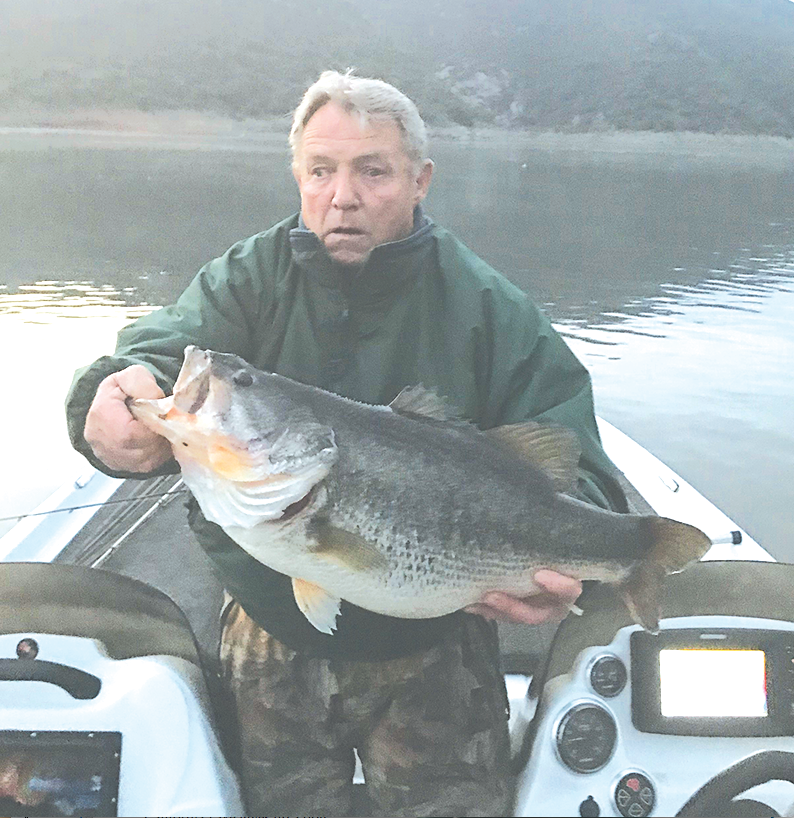 be last."
On the bass side of things, the theme remains low but improving numbers but very impressive individual catches popping up here and there. The latest was a 10.6-pound largemouth bagged by WON reader Clement Miner who connected to the toad on a chatterbait. Miner told WON fish was caught in about two feet of water on a chatterbait on his third cast of the morning.