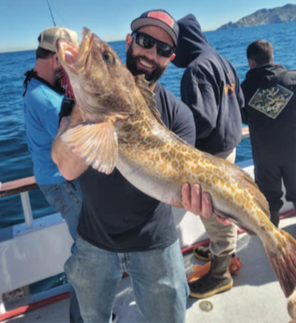 BY MERIT McCREA
SAN PEDRO/LONG BEACH — The Toronado, overnight boat at Pierpoint Landing Sportfishing, started the season with flat-out limits of both rockfish and whitefish – 560 outer island-grade fish for 28 lucky anglers. Friday saw them fishing out at San Nicolas Island with 27 folks fishing and limits of rockfish again, adding 8 lings, 10 sheephead and 48 whitefish. It's been good out at the outer islands.
But the coastal bite in deep waters also produced lots of island quality reds, big ones! The Enterprise fished outside the rigs to find 55 bocaccio, 22 reds and 125 additional rockfish of various species. In addition, they sacked 61 sculpin and 30 whitefish.
Monday was their top day with 380 rockfish, a pair of ling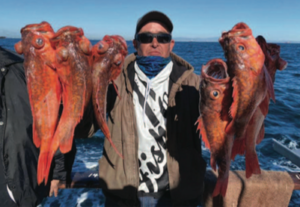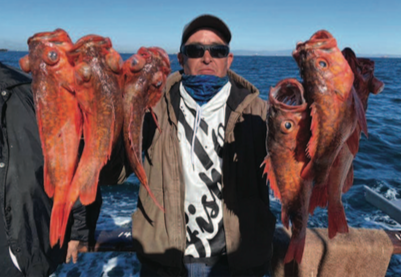 sand 22 whitefish for 38 anglers. It was excellent on the coast with the newly opened deep waters on tap now.
Over at Long Beach Sportfishing, Landing Manager Steve Phelps offered
the following advice in that regard. "The 3/4-day boat, Victory, has had great success fishing the new allowed depth of 600 feet when the conditions permitted, along with bouncing around in 180 to 300 feet as well. We have had wind issues this week, which made it impossible to fish that deep every trip, but Captain Phil had perfect conditions a few times this week, and on Tuesday his 27 anglers loaded up in the 600-foot zone, sacking up 135 vermilion rockfish (limits), 20 big bocaccio, 50 miscellaneous rockfish, 14 whitefish, and 1 sheephead.
"With the new depth allowance, for you anglers that do not own a 2-speed reel yet, or at least a 4/0 sized reel, now is the time to make that purchase. The spinning gear, or smaller conventional/bait cast reels are not made for this type of fishing. Spinning gear is geared more towards surface fishing, not for bombing down 300 to 600 feet. So I would recommend to go ahead and bring that type of gear for fishing the shallow water spots, along with either a good quality 2-speed reel, or at minimum, a 4/0 sized reel for the 400- to 600-foot stuff. Mount it on a rod that can handle 8 ounces to possibly up to 2 pounds of lead. Load it with 50-pound braid, and you will be golden and ready to load the sack up with quality rockfish, without wearing yourself out after 1 or 2 drops. We do have conventional gear for rent here at the landing, if you choose to go that route."
As for their overnight boat, Eldorado, it's getting closer to completion of it's repower project and Phelps was hopeful the new motors would be in, hooked up and buttoned up soon. He said, "For now, their schedule is up live on the website starting April 16 to the end of June if you would like to book a trip."
Over at L.A. Waterfront Sportfishing, the Sport King was on the water over the weekend. Friday Capt. Bruce Root ran with just 14 anglers on deck and they scored 90 rockfish, including 13 reds and 65 bocaccio.
The Triton was also out on the opener Monday and loaded up on rockfish plus a few lings out at the west end of Catalina Island.
It was a busy opening week over at 22nd Street Landing. Sunday's overnighter aboard the Amigo took 18 anglers out to slam full 20-fish limits, which included 180 rockfish, 154 whitefish, 7 sheephead and 9 lings up 151 rockfish with 63 reds, 5 sculpin and 7 sheephead.
But opening day was epic as 35 anglers hauled in a total of 545 total bottom biters, plus a perch.
The Native Sun scored on those island reds out deep too. Their season started with 35 folks getting a grand total of 328 fish.