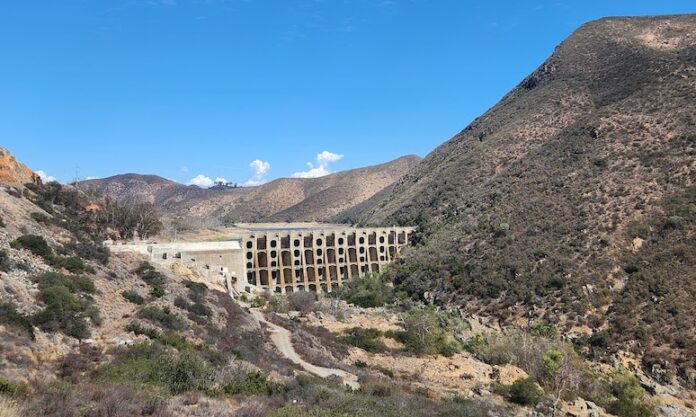 BY MIKE STEVENS
ESCONDIDO – Lake Hodges will reopen to recreation on May 31, just two days short of a full year since the lake was closed to allow repairs to be made on the lake's 105-year-old dam. Private boat launching will still not be available, but rental boats, float tubes and kayaks will all be allowed as will shore fishing. Since the repairs are still underway, the State-mandated water level must remain several feet below the launch ramp which is why private boats cannot be put in. That is not expected to change any time soon.
There was credible chatter as far back as March suggesting Hodges would reopen this spring with those limitations, and lake staffers have been preparing the docks, rental fleet and facilities for whenever that day came. Even the tackle shop at the lake has been seriously upgraded and heavily stocked with new bait and tackle including shiners.
The last couple bouts with heavy rains likely pushed the opening beyond the intended date, but local anglers are stoked all the same to have Hodges back on the fishing radar at some level.
According to an official City of San Diego press release put out last May, "During a recent inspection, the city identified areas in the dam that require repair and need be sealed. To access these areas, the water level of the reservoir needs to be lowered by approximately 18 feet from its current level to an elevation of 275 feet. The reservoir may need to be lowered below 275 feet if additional areas needing repair are identified during the project. The repair project is expected to continue for an estimated five months."
Fast forward to today, and they are 12 months into it with no end in sight.
In September of '22, more damage was discovered in the dam and pushed the timeline out to spring of this year. On March 23, Lake Hodges Dam was further downgraded to "unsatisfactory" condition, the lowest rating possible, and it calls for immediate action. The Department of Safety of Dams (DSOD) called for water levels to stay put until major improvements are made, or the dam is completely replaced with a new one. That second option is starting to sound like the more significant one, and the city has been working with state agencies to establish a timeline for a new dam.
"Based on the size, significance and complexity of the structure that big and complicated, 2034 is our most reasonable estimate at this point," said Juan Guerreiro, the City of San Diego's Public Utilities Director.
Considering the fact that the low water level required for dam repairs is what's keeping the launch ramp out of action, it's safe to say private boat launching won't be returning to one of San Diego's most storied bass fisheries for a long time