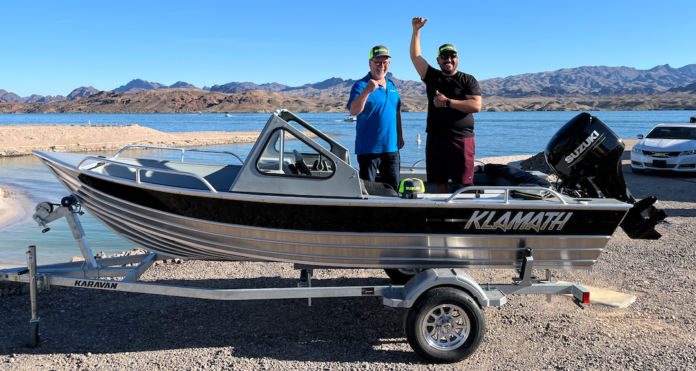 BY MIKE STEVENS
Return of Klamath/Suzuki prize boat, Suzuki Spin-to-Win cash wheel and new tourney headquarters highlight annual event
LAKE HAVASU CITY – As they saying goes, "if it ain't broke, don't fix it," and while there was nothing broken in the WON Lake Havasu Striper Derby machine, there's no reason to shy away from upgrades. For the 41st running of the event, Striper Derby anglers were introduced to an all-new tournament headquarters, Havasu Riviera Marina. Participants in the 2023 installment were already stoked for the return of a Klamath boat with a Suzuki outboard as the Grand Raffle Prize as well as the Suzuki Spin to Win cash wheel which was an instant classic when it made its debut in 2022, so the move to Havasu Riviera Marina was just the icing on the cake.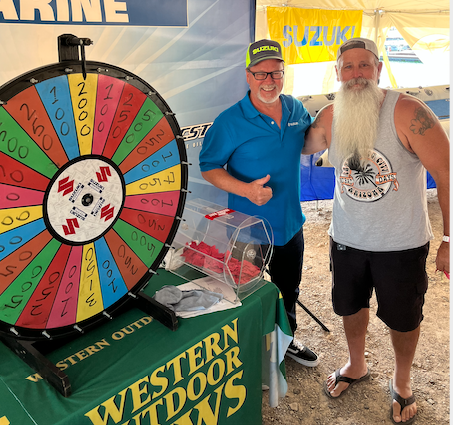 At the close of the 2-day fishing portion of Striper Derby, the team of Kyle and Jerry Thergesen had claimed the first-place trophy with a total weight of 89.21 pounds. That was nearly seven pounds more than the second-place finishers Ros and Russ Peterson who brought 82.57 pounds of Lake Havasu stripers to the scale. Third place went to Jamie and Martha Nunez (80.74) followed by Bobby and Michael Jones (80.02), and rounding out the top 5 was the team of Mark Bozak and Larry Nunez who stacked up 79.90 pounds of Havasu linesides.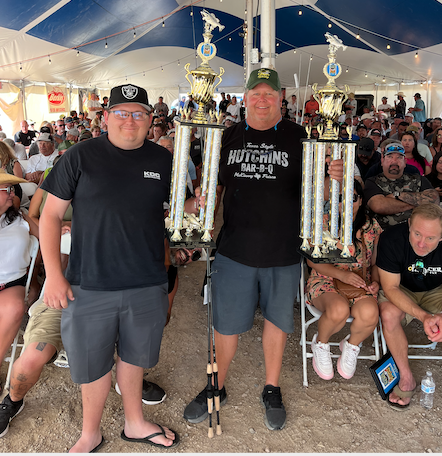 All those matching last names are nothing new to Striper Derby, which has made a name for itself as one of WON's top family-friendly events. A quick glance at the 116-team roster for 2023 – and all the others for that matter – shore even more of that with endless teams made up of father-and-son, husband-and-wife, grandparent-and-grandkids, brothers, sisters, and so on.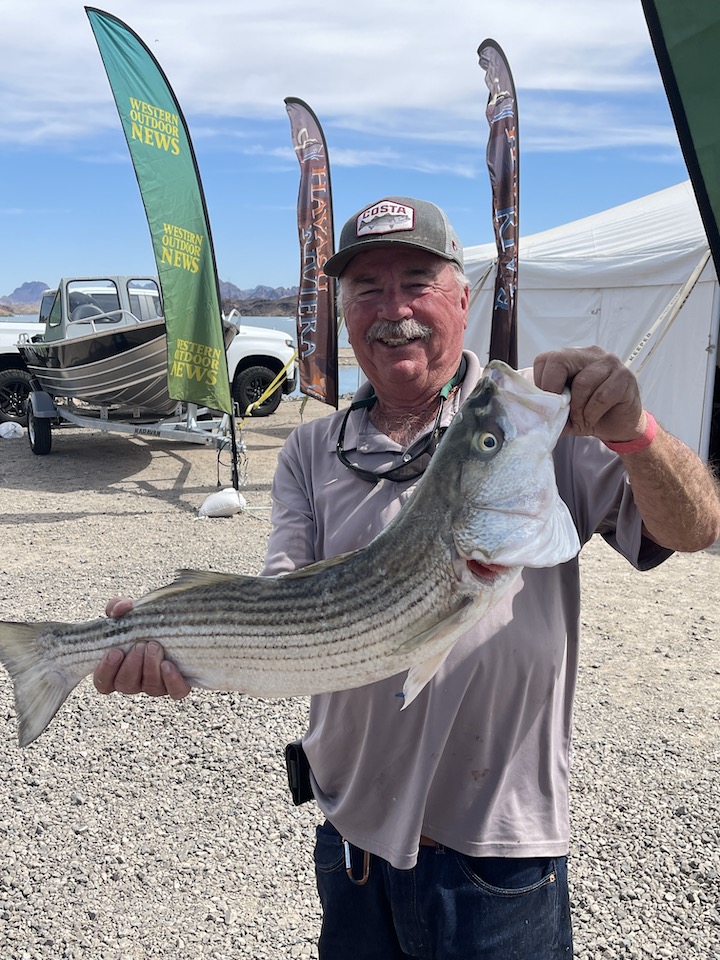 Among the whole Western Outdoor News tournament and derby schedule, none has an awards ceremony as raucous as Striper Derby. With a stage covered in sponsor prizes by the likes of Suzuki Marine, Costa, Daiwa, Sea Eagle, Furuno, Berkley, Abu Garcia, Spiderwire, Plano, Cancun Cards, Global Fish Mounts, Chevron Techron, P-Line and more, Striper Derby anglers waited to hear their names announced as top finishers or their numbers called in the drawing before claiming their prizes. Trophies are lined up for teams finishing in the top 10.
The Blind Bogey element of Striper Derby is another way participants can go home heavy handed. Ten teams for each of the two fishing days whose total weight comes closest to the 20 randomly generated weights grab checks for $440 per team, and with weights as low as 2.5 pounds, teams can, have and did score these checks even if they only caught one fish over the course of the tournament. That's 20 checks for $440 each distributed in just about the most random manner imaginable.
Of course, cash can also be earned at Striper Derby for catching big fish. A total of $2,180 is earmarked for the anglers catching the biggest 5 of the event, and this year it was Richard Macias with the overall-biggest striper at 15.66 pounds which was good for $872. Jovie Nievar was next at 12.27 pounds for $545 followed by Robert Jones who grabbed $436 for his 10.43 on Day 1 and another $218 for a 9.53 on Day 2. Jamie Nunez caught the fifth biggest fish of the event and picked up a check for $109.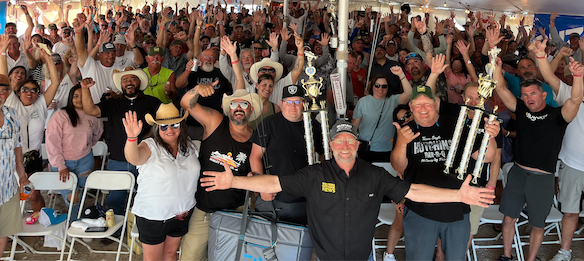 For some of those big fish anglers, the payouts didn't stop there. Nievar and Jones were both also entered as optional High Rollers which tacked on another $2,300 for Nievar and two more checks for $1,380 and $920 for the two big fish Jones brought to the scale. That adds up to $4,600 set aside for the High Rollers optional.
Crowd noise peaks when Striper Derby anglers lucky enough to have their number called in this portion of the awards ceremony come up and Suzuki Marine Spin-to-Win cash wheel for various portions of (or all of it, as there is a slot on the wheel for the whole enchilada) the $4,000 cash. Judging by the crowd's reaction that portion of the ceremony this year, last year and at other WON events where it's been showing up, the Suzuki wheel is here to stay.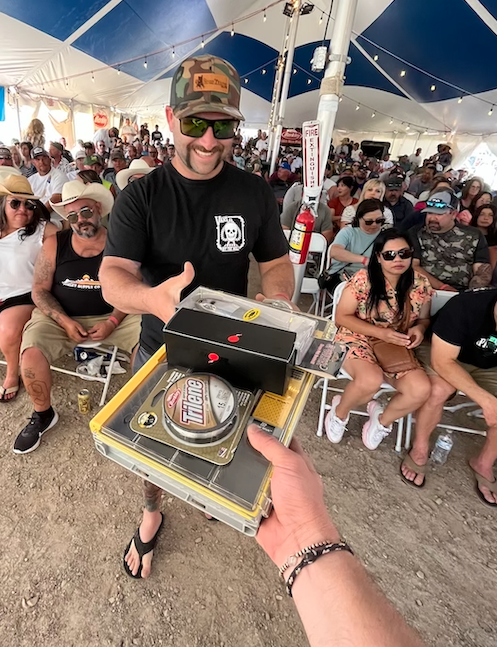 The grand finale is the Grand Prize raffle which finds an owner for a Klamath 16 EXW boat paired with a Suzuki 40hp outboard sporting a retail value of $26,000. Gonzalo Serrato was the lucky angler who had his number pulled for this prize of a lifetime, and he was fishing Striper Derby for the first time. Imagine what was going through his head between hopping into his new rig for the first time and driving home.
This year's Striper Derby had a new look as far as where all gatherings went go down. Registration as well as weigh-ins and the awards ceremony was headquartered at the new Havasu Riviera Marina. Along with ensuring a smooth-running weigh-in, this gave Striper Derby participants a chance to check out the new digs at Havasu Riviera Marina and take advantage of event-specific discounted rates for slip rentals and boat launching. Loco's Bar and Cocina once again provided great eats at registration.
"It was fun and the new place was so cool," said Striper Derby regular, Lizette Blanco. "It was better and there was not as much traffic. It was so easy to do everything there."