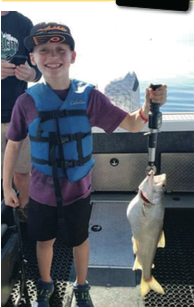 SOUTH LAKE TAHOE – Lake Tahoe is the jewel of northern California with heavy tourist influence throughout both summer and winter months. The 4th of July weekend is one of the heaviest periods of tourism experienced on California / Nevada's largest natural lake, but despite the number of ski and custom Chris Craft wooden boats touring the lake on the holiday, fishing has been excellent for both Mackinaw and kokanee.
Chris Ditter of HeadRush Guide Service is running a boat for Sierra Fin Addicts along the north shore this summer, and he said, "The full moon has gone away, and the Mackinaw bite has returned. We aren't marking the big schools of fish that we have in the past, but the lake is lower, and I think this has repositioned the fish. The Mackinaw bite has been great in the morning with 14 hook-ups resulting in 10 fish in quick order working depths from 120 to 240. A number of Mackinaw have been popping of as it seems that they are barely striking the lures. I almost went in after reaching out far for a Mack that bit off the line right at the boat, and while it was stunned on the surface for a few second, I scooped it up but almost got wet in the process. Ten-year old, Liam Bedell, from upstate New York landed a 7-pound mackinaw this week, and he was really pumped up after landing this fish."
Zach Gordon of Tahoe Sport Fishing in South Lake Tahoe has been targeting kokanee along the west and south sides of the lake, and he said, "The landlocked salmon bite has been really good, and the kokanee are starting to migrate south towards the Keys. There has been around 20 to 30 private boats trolling for kokanee around the Keys. The best mackinaw bite has been along north shore, and we had two boats out on Saturday morning picking up a combined 50 Mackinaw ranging from 2 to 5 pounds."
Boca Reservoir near Truckee is perhaps the best option for kokanee in the region with limits of fat, healthy salmon to the occasional 14 inches trolling Paulina Peak's Tahoe Krack spinners or watermelon hoochies behind a P-Line dodger at depths from 15 to 30 feet. Shaun Rainsbarger of Shaun's Guide Service said, "The lake is coming up 6 inches per day, but the kokanee have been scattered with great action one day where you can't keep them off your lures to struggling the next day. Both James Netzel of Tight Lines Guide Service and I were out with a group on Friday for a combined 34 kokanee along with two brown trout to 20 inches. The boat traffic has been high, particularly on the weekends, and if I could find a consistent bite of 12-inch kokanee at Stampede, I would head there to have more spacious trolling conditions."
Anglers are requested to complete the kokanee survey at https://bit.ly/kokesandkings upon the completion of every trip to provide accurate information to the Department of Fish and Wildlife.