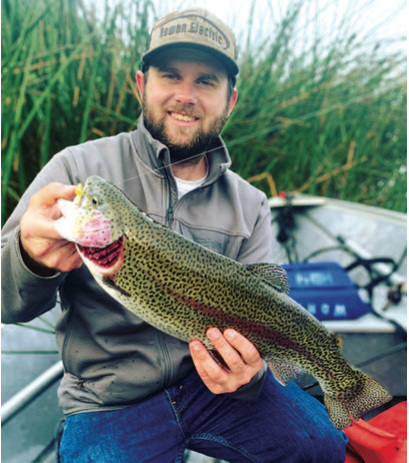 BY MIKE STEVENS
ESCONDIDO – Multiple delays postponed the opening day of trout season at Lake Wohlford from mid-December to last Saturday (Feb. 13), but local anglers showed up in force with a "better late than never" attitude. Ahead of the reopening of the lake was a 3,000-pound trout plant that arrived on Feb. 10, so those fish had some time to acclimate and circulate before the big day.
Mike Wolfe of Troutzillas (Instagram) did well working Hookup Baits tight to the tules along the south shoreline, and he was fishing from a boat with Mat Herrera, who also did well on his own Ghoulie Jigs in chartreuse/yellow.
According to Wolfe, there were "probably 70 cars in the morning" and anglers were not allowed to fish from the Fishing Piers in Boat Dock Cove to avoid crowding. Oth- er notable updates now that the lake is open to fishing again is Wohlford is credit or debit only (no cash), and prices went up (at Dixon Lake as well) after Escondido City Council voted to update rental and user fees at the lakes.
A 1,500-pound plant was also slated for Feb. 17, and that will only put a further jolt into an existing trout bite that should remain productive well into spring.