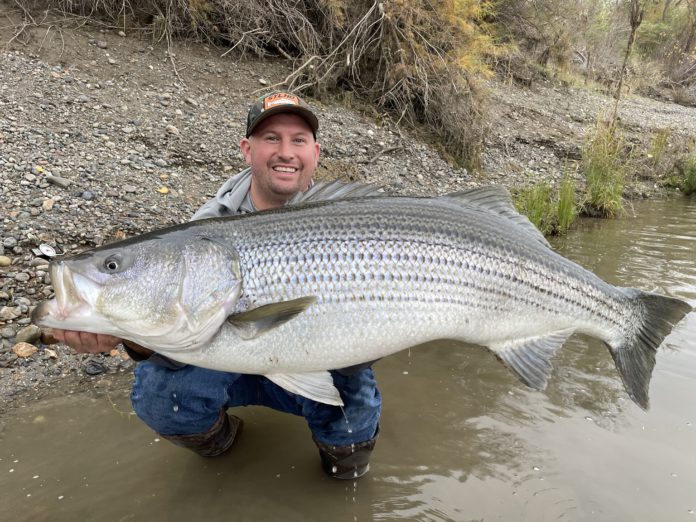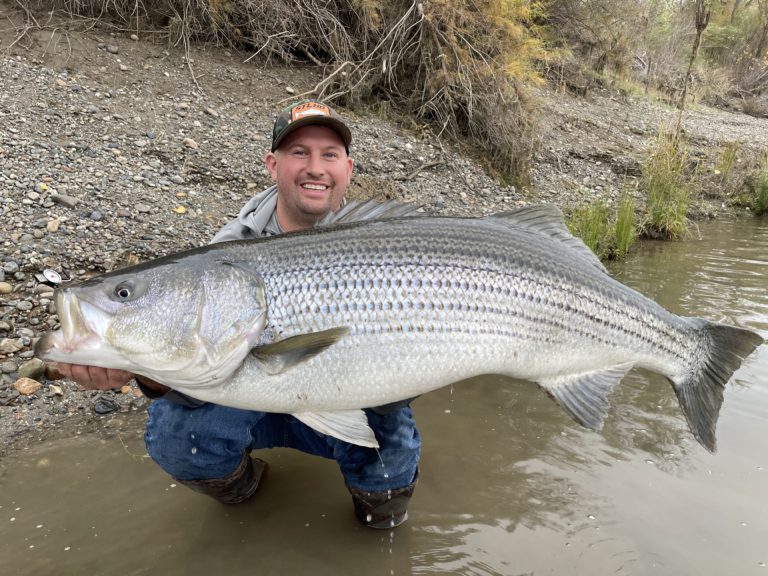 BY CHUCK WOLF AND DAVE HURLEY
Listen to Nathan recount the story of his 55 pound striper on the WON Podcast:
[buzzsprout episode='9567244′ player='true']
Billy Driessen also makes a triumphant return to the river
COLUSA – Nathan Barbour grew up hunting and fishing in northern California. He says that it wasn't till his late 20's that he really understood everything the Sacramento River, the Feather River, and other lakes and streams had to offer, and it wasn't until 2015 that he started hunting the fish of his dreams. In his words 'I became obsessed with chasing these West Coast River Monsters.'
On November 1 while fishing on a section of the Sacramento River north of Colusa, Nathan's dreams came true when he landed a 50-inch striper that weighed in at 55 pounds.
Barbour, an engineer with Cal Fire, is a Chico native and longtime resident. In 2015, while fishing with his big fish inspiration, Anthony Crawford of "Got Fish Guide Service", Barbour landed his first respectable glide bait fish of over 20 lbs. He said, "After that, I became obsessed with chasing these West Coast monsters. I gave up chasing ducks and birds and started gearing up to hunt big stripers. I knew that If I put in the time on the river, was persistent, learned all that I could about these fish, and if I paid attention to what the other trophy anglers were doing, I could probably get my fish of a lifetime."
Barbour was fishing his private boat with his regular fishing partner, Jake Dewey tossing G-Ratt Sneaky Pete glide baits and between them had landed only two shakers. They were getting ready to wrap up for the day when Barbour made one last cast to the backside of a riffle just above a drop off where he knew a striper could hold in ambush. When he connected, he said that he couldn't believe it, he and Jake just looked at each other like 'This is one big fish!'"
He spent some anxious moment battling the biggest striper of his life, saying, "The fish hit like a truck, realized it was hooked, started peeling off line down river as she tried to shake the bait. Jake maneuvered the boat and I was able to get back some of my line, but that this fish was hands down the hardest fish I've ever tried to turn.  All in all, I spent over 12 intense minutes before Jake was able to get her in the net. In the video of this catch you can hear Jake saying 'It won't fit' because it really didn't, and we almost lost her."
Barbour added, "After we landed his fish, I just sat down on the boat deck in disbelief. Once I was able to catch his breath, I held the fish over the side in the net as Jake maneuvered the boat to shore. The whole time I was thinking to himself, wow, what a beautiful fish!! A true West Coast giant. A fish of a lifetime! After weighing the fish, a couple of pictures and some measurements, we released her as I am a catch-and- release advocate, especially with these large females. I know that a long fight is hard on these big fish and that there is a high mortality rate even if released alive. We captured the release on video as that beautiful fish swam off into the deeper river.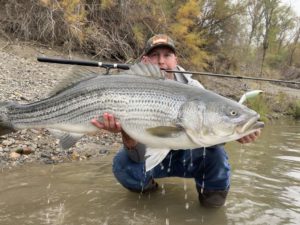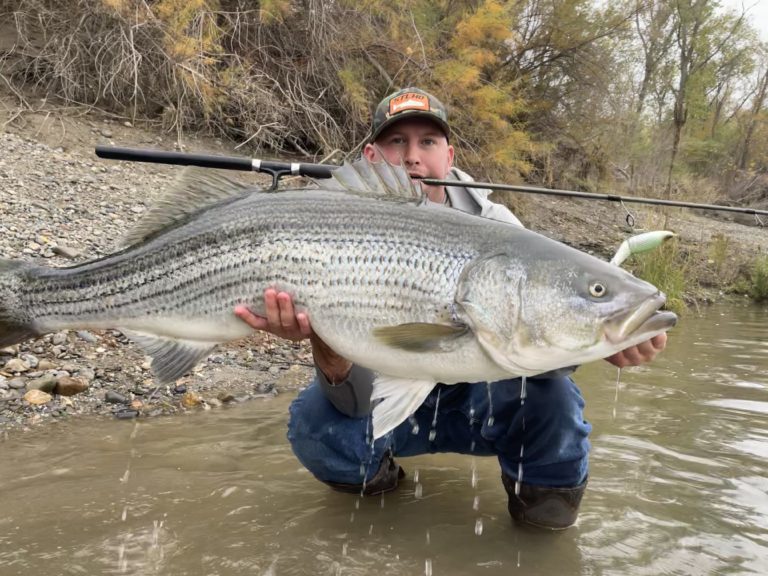 Nathan was fishing an 8-foot Douglass spinning rod rated from 12 to 20 pounds. He started out using a tuna rod but now enjoys a light tackle fight. The spinning rod combo allowed him to throw his baits as hard as he can, maximize cast distance, and not worry about back lash that might take away from time spent casting. He uses a variety of techniques and tackle including, Xtra Tuff A-rigs, glide baits, jerk baits, and Rapalas. He fishes all weather conditions and knows that this type of fishing isn't for everyone. Even on a good day, there are any number of things that can happen causing you to lose a fish.
The California State record belongs to Hank Ferguson of Soquel, Ca. who landed a giant 67-pound 8 oz striper while fishing the O'Neill Forebay on May 7, 1992. The largest striper confirmed as being taken on the Sacramento was another giant that weighed in at 57.10 pounds taken by Captain Billy Driessen who was fishing below Chico on April 7 of 2018.
Ironically, the same time Barbour landed his big fish of a lifetime, Driessen made his comeback on the river after a lengthy recovery from health issues. He said, "It's nearly impossible to describe the rush of emotions that I experienced in slow motion as I watched a 48-pound striper annihilate my 13-inch Hiroshima Customs glide bait on my THIRD cast in over 2 years. It was the culmination of all the struggles life had thrown my way that resulted in the profound realization of just how special the sport of fishing truly is, and by the time that monstrosity of a fish hit the net everything that I was forced to endure was 100% worth it…" After catching and releasing this huge fish, Driessen was back out with Josh St. John of JSJ Custom Swimbaits and world-class spearfisherman, Paul Young, for more trophy stripers to 30 pounds.