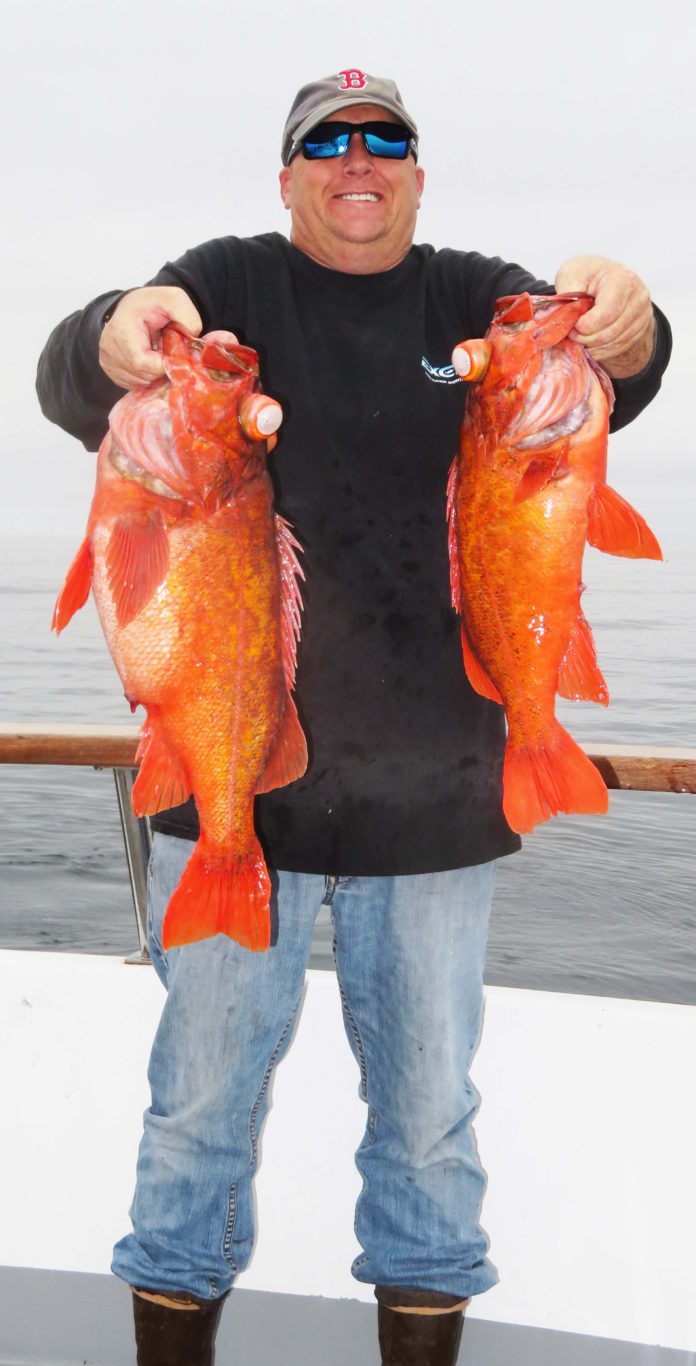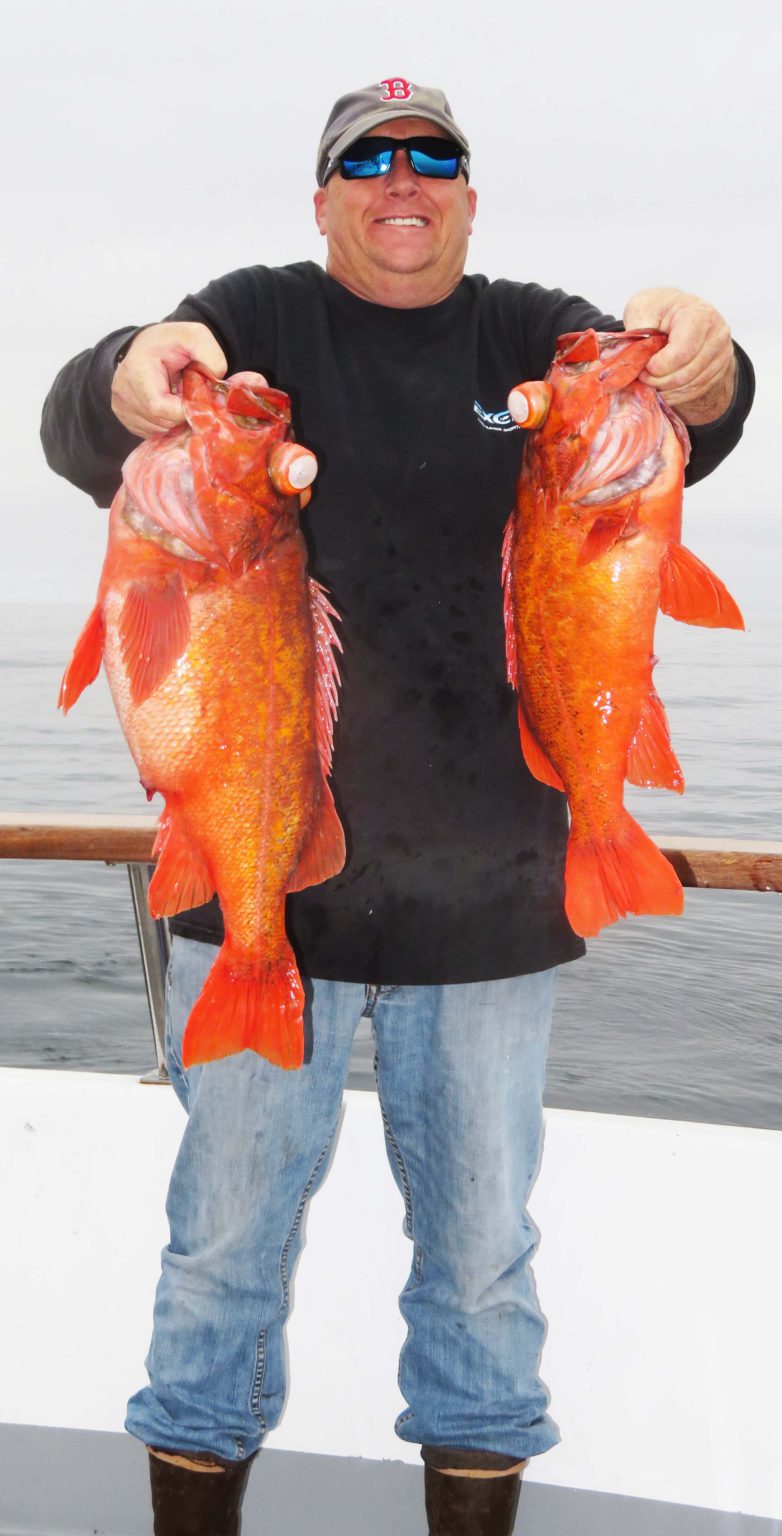 BY BOB SEMERAU
OXNARD — Fall fishing offshore is always full of surprises. Wind, rain and cold can put a damper on any offshore run, but Ranger 85 seemed charmed from the moment the charter left the dock at CISCOS, Channel Islands Sportfishing Oxnard.
To begin with, the anglers slated to make the trip all assembled dockside over an hour early and began to get acquainted. Old friends met up and strangers became friends.
The 19 anglers lucky enough to make this run boarded in short order and found staterooms and bunks of their choosing. A unique layout of Ranger 85, with split levels for galley seating and access ways, allows a more private and quiet bunk space than most other boats in the SoCal fleet.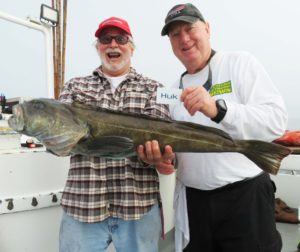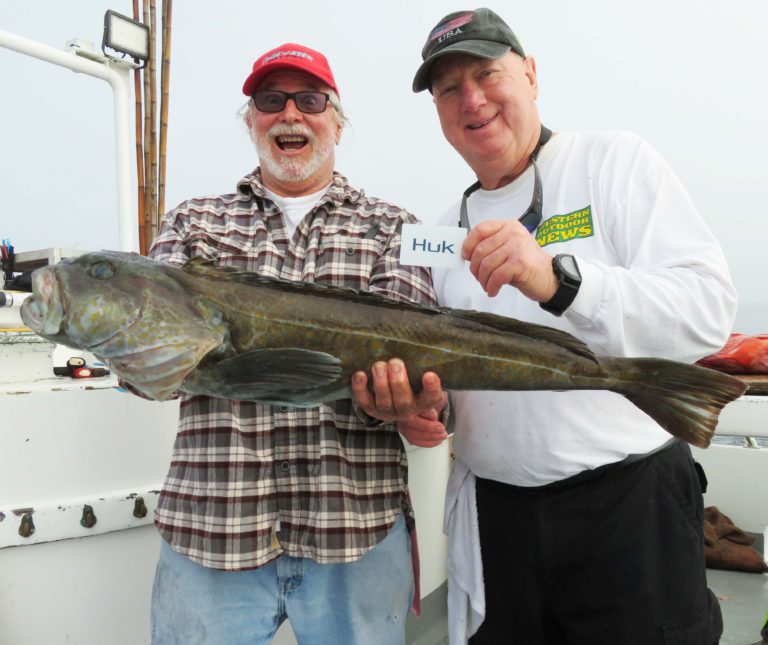 Once the gear was stowed, Frogg Toggs dry bags doubled as goodie bags containing a spool of Hi-Seas super-premium fluorocarbon and a Gamakatsu G3200 utility case holding a certificate for 20% off on HUK Gear given to each charter angler. To top off the prize package, a $100 gift card from HUK Gear would later be awarded to the angler catching the heaviest fish of the two-day charter. The only question was who the angler might be the one to show the right stuff by bagging the heaviest fish of the trip.
Owner/operator Captain Jacob "Jake" Hensley called everyone forward for the safety briefing and to discuss the plan for the trip.
"Welcome aboard," began the affable skipper. "Tonight, we'll head out to the west end of Santa Cruz Island to make squid and then try for gamefish at first light. It might be a little bumpy, but the boat will handle it just fine," smiled Capt. Jake, and with the plan announced, dock lines were thrown as Ranger 85 got underway at the scheduled 8:30 p.m. departure.
"The boat" is a 1944 vintage World War II vessel that over the years has changed hands several times to be reconfigured to suit its current intended purpose of getting anglers safely and comfortably onto the fish.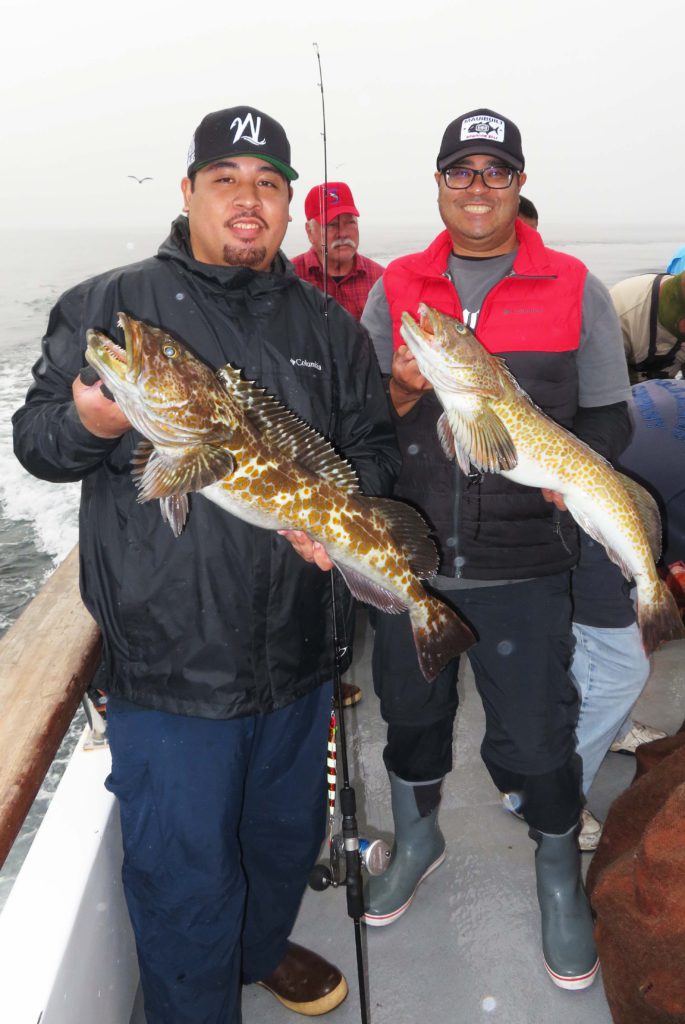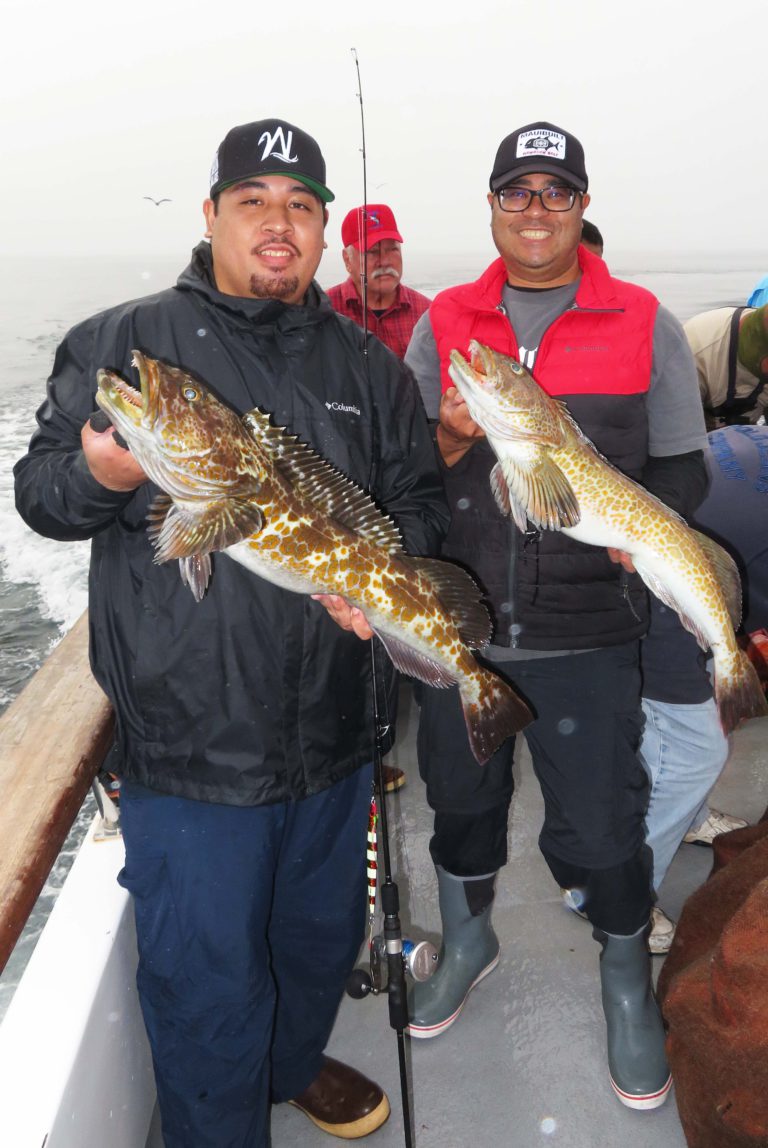 Despite choppy seas, the ride aboard the double-mahogany-hulled 85-foot sportfisher rolled along without incident and Ranger 85 dropped anchor around 3:00 a.m. off Christy Ranch, surrounded by squid boats sporting mega-watts of lighting. Once on the hook, night driver Captain Ulises Perez led the way by showing the half dozen hearty anglers how to make squid, some trying the task for the first time. The success demonstrated by the experienced Capt. Perez, could not be duplicated as the skipper banged out squid rigs hanging 3, 4 and even 6 squid at a drop.
The grey light of morning brought anglers on deck to try their luck for yellowtail and white seabass but only a lone soupfin shark took a bait, causing an electric buzz all around the boat. After another hour of trying dropper loops loaded with live squid run down to the bottom, Capt. Jake announced it was time to make a big move up to the far end of San Miguel Island.
Building special breakfast burritos in the galley, the ever-smiling cook, Roni "Tiki FishGal" Hanke, kept the anglers fed and happy during the run north. After a couple hours sliding over slick seas Ranger 85 slowed and Capt. Jake set up the first drifts of the trip.
Working the bottom deep into the 50 fathoms (300 feet) of water with jigs, two hook dropper loops and combinations of the two, while standing off some 10 miles from San Miguel, rockfish began to come over the rails.
First to draw blood at this new spot was longtime WON charter regular John Kasser of Long Beach, bagging a nifty starry rockfish. Alongside John, usually bringing up his own fish from the deep water, was another charter regular Fred Roberts, who started early loading up while fishing a Mag-12 swimbait. Paul "Albino Gorilla" Fanning kicked off his day with larger scale bocaccio and followed up with a couple of mixed rockfish.
A single lingcod was willing to take a bait for lucky Huntington Beach angler Pat Carrillo. The fish would stand up as the largest of the day, weighing in at 17 pounds to put Carrillo in contention for the $100 Huk Gear gift card.
Several moves in the offshore waters set up new drifts, giving other anglers a chance of success. John "Butch" Herweg usually fishes with his brother Joe, who could not make the trip. John worked hard to make up for his brother missing out and managed a rockfish limit early on day-one.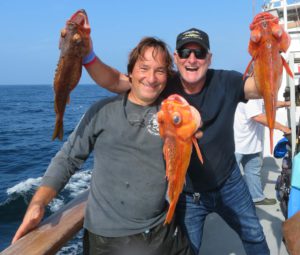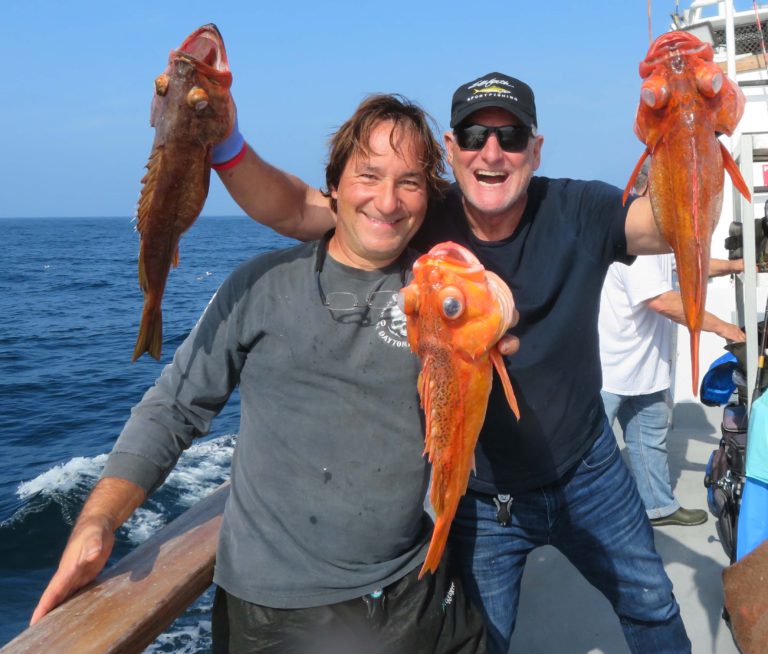 The deck crew, led by seasoned crew-member Paul Beyers, was kept busy untangling macrame and gaffing the larger fish coming over the rails. Ryan Stack, Shane Winton and Terry Barnes all worked the deck like pros, always at the elbow of anglers and ready to assist when needed.
Angler Greg Stiegler and his buddy Gianni Biasetti found several drops where they came up with rockfish doubles together. Oxnard angler Will Smith pulled his weight by bringing up a limit as well.
As time for lunch came near, anglers began to limit out and soon all aboard had their daily rockfish limits of 10 fish, with no more than 5 fish being vermillion red rockfish.
"My goal is to one day become a licensed captain and run my own boat," said the beaming young woman in the galley. With only five offshore trips under her apron, Ranger 85 cook Roni did a great job of taking care of the hungry anglers. A former schoolteacher, Roni said she had found her passion aboard fishing boats and called it quits at academia to pursue her dream aboard Ranger 85.
The hour-long run inshore to a spot known to Capt. Jake for an abundance of ocean whitefish gave everyone a rest and opportunity to refresh for the coming afternoon's fishing.
Rigs were changed out to dropper loops with small hooks — size one and two — as the Western Outdoor News charter approached the whitefish zone.
In only a few minutes, plenty of larger-sized whitefish began to fly into the boat.
"It's full-speed whitefish," laughed deckhand Paul while slinging fish into anglers' bags as quickly as possible. The bulging sacks filled as the sun began to set over the nearby San Miguel Island and with ocean whitefish limits achieved, Ranger 85 was once again on the move.
"We'll head back over to the squid zone off Santa Cruz to make more live squid, or maybe buy some from the squid boats there," called Capt. Jake as the boat got up to speed. A dinner of tri-tip with all the trimmings sent anglers to their bunks and staterooms early in the darkened night.
Captain Jake Hensley took ownership of Ranger 85 March of 2020, and immediately sportfishing was shutdown for the next two and a half months.
"My wife Jessica and I had worked on a deal to buy Ranger 85 from Frank Ursitti, owner of H &M Landing, for almost a year," explained Capt. Jake while night driver Perez took the helm. "Two hours after we signed the deal, Covid shut us down. Frank was very helpful throughout the process and the timing just worked out that way."
Jake and wife Jessica have a home in Riverside and Jessica handles the business end of Ranger 85 Sportfishing.
"We decided to use that downtime to upgrade the lighting to all LED, changed to a completely new anchor system, and added a new air conditioning unit," the skipper continued. Some more recent improvements include all new radio antennas and satellite television for both the main galley area and the lower mezzanine. Next a complete bottom mapping system will be installed to keep pace with the latest technology, something not often seen in the SoCal fleet.
Over the radio while heading to Santa Cruz Island, the captain found a squid boat offering several scoops to the boat, so no one needed to make squid during the hold over at the island. A move during the night set up an anchorage off the east end of Santa Rosa, where gamefish were targeted for a short while, but to no avail.
"Let's roll down to the Santa Rosa flats and a couple of pinnacles I know are holding big reds," called the skipper over the perfectly balanced p.a. system.
The deep-water, 400-foot drops immediately showed results with rockfish and reds building the day-two catch.
Chino Hills angler Chris Taufaao used an unusual style of fishing for rockfish, along with his uncle, Rey Salanga. The pair could be found bringing up all manner of rockfish while dropping knife jigs on lightweight rods and reels, using the "slow-pitch" fishing style favored for other species in recent seasons. Towards the end of day-two the pair scored a nice set of ling cod using the specialized technique, as well as rockfish limits for both days.
Orange County angler Jim Beck came out with his son BJ, and the father-son team pulled limits on both days of the charter.
With a long ride home ahead, Capt. Jake called one last time for, "Lines up, reel 'em in," before turning for home over glass smooth waters. Anglers cut down their rigs and cook Roni served up a lunch of perfectly done chicken stir-fry before most of the charter group headed for the bunks and staterooms to wait out the time to Channel Islands Sportfishing.
The boat performed beautifully, as did the crew and the fish. Two-day limits of rockfish, plenty of whitefish, several barracuda and 4 lingcod made up the trip totals giving the crew lots of fillet work to do on the way back to Channel Islands Harbor.
The determination of heaviest fish of the two days came down to a weigh-in that included several large reds, bocaccio and lings, but the day-one lingcod taken by Pat Carrillo held up, earning the angler the coveted $100 HUK Gear gift card.
Ranger 85 has a long-standing legacy as a top-grade sportfisher. With Captain Jake Hensley as owner/operator and his professional, considerate crew, the top is where it will remain.