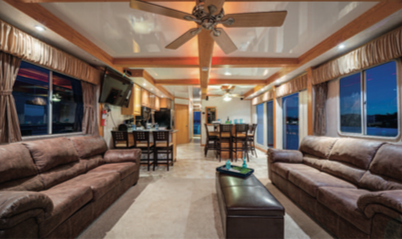 Early Bird Raffle prize in 2021 a 'bucket list' adventure on Lake Berryessa or Lake Don Pedro Marina
LAKE HAVASU CITY, ARIZ. — The WON-Lake Havasu Striper Derby has a new, high-end and unique prize in the 2021 hopper, but the only way to win it is via the event's Early Bird Raffle, and with the deadline to enter coming up on May 7, time is running out.
Raffle prizes for "Early Bird" entries are nothing new at the WON Lake Havasu Striper Derby, but this year's prize brings it to a whole new level. Each team's Derby entry received by May 7 will be entered into the raffle for an incredible 3-day houseboat stay at either Pleasure Cove Marina at Lake Berryessa or Lake Don Pedro Marina valued at $2,000. Blackout dates and restrictions apply.
Choose your lake. Grab your fishing gear, the boat, family and friends, and get ready for a dream houseboat vacation on Lake Don Pedro or Lake Berryessa in beautiful Northern California. Look forward to great fishing and memories that will last a lifetime! Whether you're a first-time visitor or a "seasoned Captain" there is no greater adventure so close to home, with an easy drive from NorCal and SoCal. Don Pedro and Pleasure Cove Marinas offer one of the largest selections of houseboat rentals in the country. They offer a variety of houseboat sizes and options to suit any adventure style and vacation budget. Lake Don Pedro Marina offers six different models of houseboats, and Pleasure Cove Marina offers four. While the features and sizes vary, all of the houseboats are pet friendly!
Suntex – Pleasure Cove Marina on Lake Berryessa
Lake Berryessa is one of California's largest bodies of fresh water, and with over 165 miles of shoreline boast year-round recreation opportunities for the whole family. Nestled between Blue Ridge and Cedar Roughs, and just east of the Napa Valley, with beautiful temperatures making Berryessa the perfect escape for family, fishing, and boating destination for water sports. Pleasure Cove Marina provides houseboat rentals as well as other marina services. With an assortment of activities that the Lake and surrounding area has to offer, you'll find exactly what you're looking for at Pleasure Cove Marina on Lake Berryessa. Visit GoBerryessa.com
Suntex – Don Pedro Marina on Lake Don Pedro
Lake Don Pedro Marina is a recreational gem located in the Sierra Nevada foothills of the Stanislaus National Forest, near
the communities of Moccasin and La Grange, and bordering the northwestern corner of Yosemite National Park. This beautiful reservoir is situated in a canyon carved out by the Tuolumne River with several tributaries draining directly into the lake. You'll find nearly 160 miles of shoreline to stretch out with excellent fishing opportunities year-round, so what are you waiting for? Visit LakeDonPedroMarina.com
Both marinas are Suntex Marinas which means premier amenities and service. If you don't have a fishing boat or a family cruiser? Rent one!
Don Pedro Marina and Pleasure Cove Marinas both offer a variety of boat rentals including: Tritoons, deck boats, party barges, and fishing boats, kayaks and jet skis.
Check out how easy it is rent one for yourself. Visit LakeDonPedroMarina.com or GoBerryessa.com for full details and available dates.