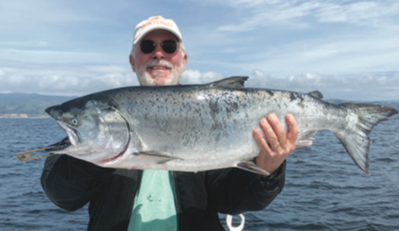 BY DAVE HURLEY
EL GRANADA – The weather kept boats either tied up or close to the harbor at the start of the past week, but when the weather window opened up at the end of the week, limits to near-limits of salmon were the rule south of the Pigeon Point line.
Captain Tom Mattusch of the Huli Cat, a recent inductee into the California Outdoors Hall of Fame, said, "It was limits of salmon below the Pigeon Point line as second captain Michael Cabanas took 9 anglers south for 9 limits to 13 pounds. We are excited about the opener above Pigeon Point as Chris Chang of the Ankeny Street was down at the Deep Reef and he reported great conditions with dark water, birds and bait. Captain Cabanas was back at it again on Saturday with 23 salmon to 23 pounds for 15 anglers in 240 feet of water with straight bait. Cabanas said that there was plenty of action with more than a fair share of missed opportunities."
The Riptide and Queen of Hearts out of Half Moon Bay Sport Fishing were also finding good action below Pigeon with the Riptide returning with 15 salmon to 15 pounds for 10 anglers while the Queen of Hearts loaded up with near-limits of 22 salmon to 14 pounds for 12 anglers.
Rockfishing remains solid at the Deep Reef with the Ankeny Street scoring 16 limits along with a ling on Saturday.
The Coastside Fishing Club is once again coordinating the net pen salmon project, and the deliveries of smolts from the Mokelumne River Hatchery will occur on May 23, May 29, and June 5 while the club's members are preparing the pens.
Captain Dennis Baxter of the New Captain Pete is finishing up the final touches on the vessel, and he will be ready to head south for salmon within a week. The portion of the Pacifica Pier that runs perpendicular to the shore has been reopened with the second at the end running parallel to the shoreline remaining closed. Crabbing has been decent with snares when the swell is down.