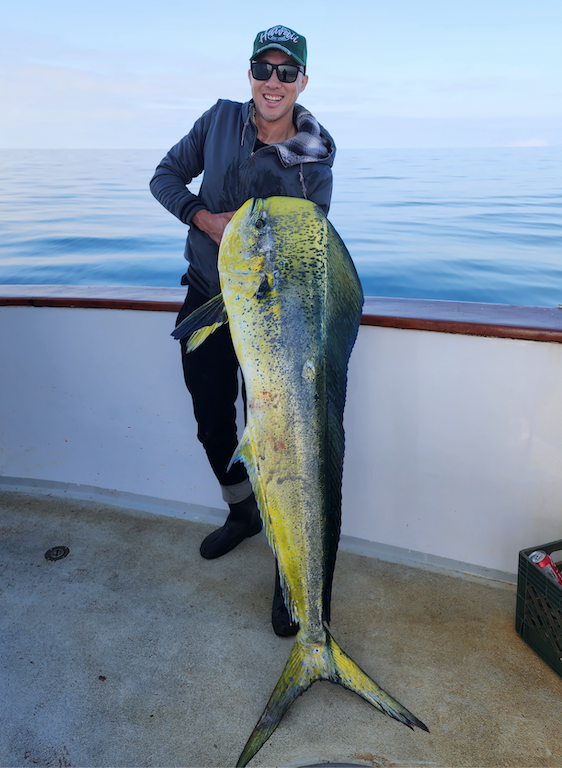 BY MERIT McCREA
SAN PEDRO/LONG BEACH — All of a sudden the dorado were back in range for the 3/4-day fleet out of the Harbor area, Long Beach and San Pedro. It started Monday when the Native Sun connected with 37 flatheads on a 3/4-day run. By Sunday the top scores surpassed the hump with the Enterprise taking 44 anglers out on a full-day for 122 mahi. That was the scene for the weekend.
Perhaps the fish of the week – and star of this week's cover – is a huge 53-pound dorado caught by Davis Truong on the Triton out of LA Waterfront. David takes up the story: "I caught it on straight 20-pound test using a flylined, nose-hooked mackerel. Took me around the boat 5-6 times and nearly an hour to reel up. Also, my luck continued and I caught a 40-pound yellowfin afterwards. Amazing day."
"My father passed earlier this year so it was quite an emotional feeling. I know he was smiling, cheering and watching over me," added Davis, who used a Daiwa Saltist 20 reel to catch the fish just off Catalina.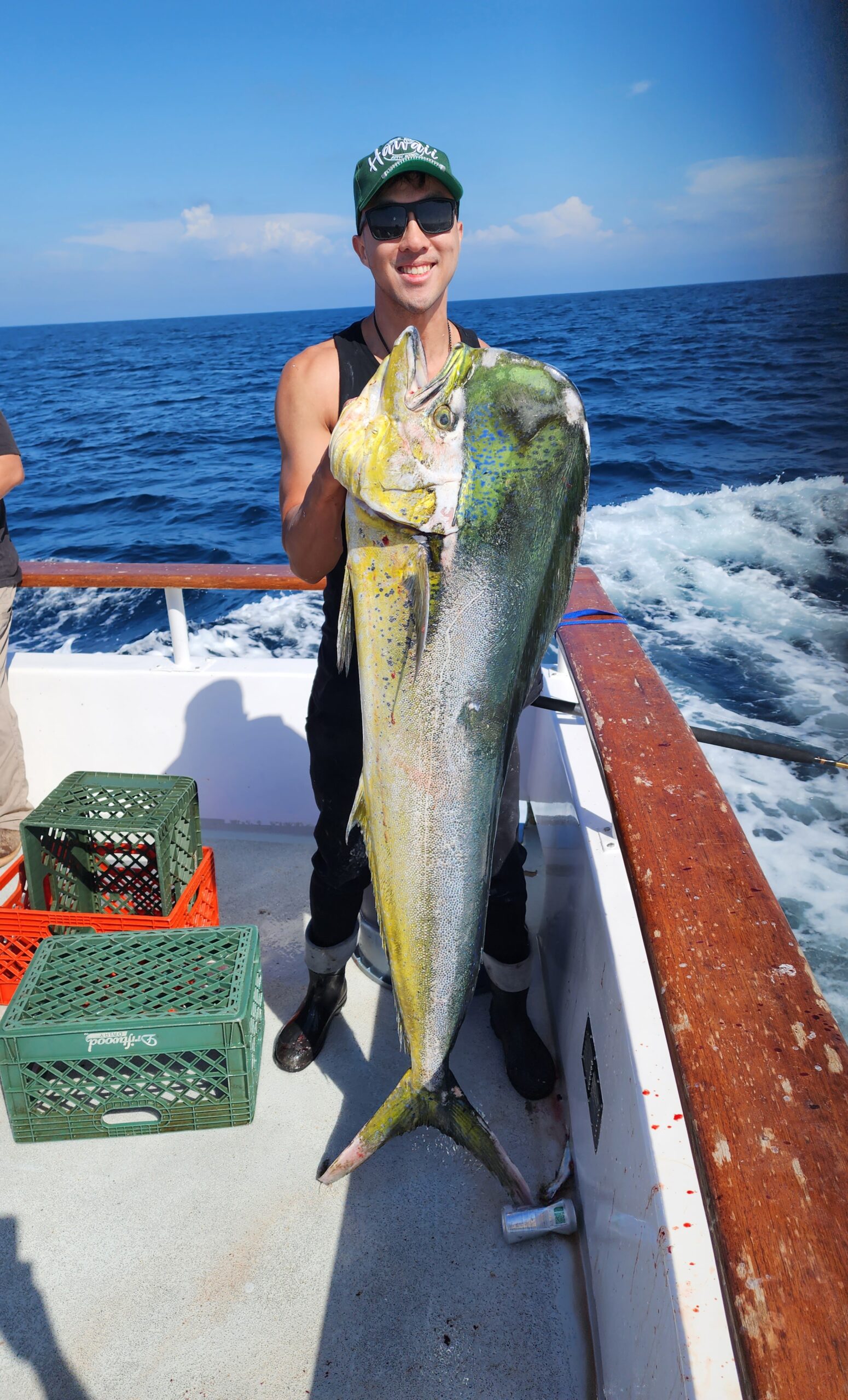 For Long Beach Sportfishing, Landing Manager Steve Phelps reported, "On the local scene, the dorado have come back in full force after they seemed to disappear for a couple weeks, and the Victory will be fishing offshore for dorado, as long as the fish remain within our range."
"The Victory departs daily at 6:00 a.m. for freelance fishing, and returns between 4:00 and 5:00 p.m.  For further information, availability, and prices, please check our website, longbeachsportfishing.com."
Saturday the Victory posted 47 dorado, a bluefin tuna and 22 yellowfin tuna as their day's results for 34 fishers. There were a few kelps floating around with tuna too. But, before that the local Shelf fishing had been pretty productive too, with good numbers of bonito adding to the mix of rockfish, bass and sculpin, etc.
Phelps also pumped up fall options aboard their overnight boat Eldorado, having the better shot at the pelagics and those bigger bluefin between the islands. "Currently, for the entire month of October, we are running a $200 special when booked thru the website, and until further notice, will be targeting tuna, yellowtail, and dorado."
"Also, the annual BOGO (buy one, get one) special is starting early this year, and all weekday overnight trips qualify for the special starting December 1st.  For each ticket purchased aboard the Eldorado, you will receive a free pass good for any overnight trip aboard the Eldorado for 2023 when checking in for your trip, Long Beach departures only." If you're looking for a fall fishing deal this is a good one.
Things were heating up at the old Ports O' Call location and L.A. Waterfront. Both the Triton and Gail Force were successful putting the pelagics aboard, dorado daily with anglers averaging close to 2 per rod.
Sunday the Sport King ran with just 8 anglers and had 13 flats landed. Friday afternoon they'd encountered schools of bluefin tuna including some huge fish, but didn't manage to get one aboard.
The Pursuit was there with them, but same deal on those wily tuna. Also out of 22nd Street Landing the Native Sun was in dorado mode Saturday, but also added a few yellowfin tuna, and a striped marlin, which was released!
At Pierpoint Landing the 6-pack boat Options was on those big bluefin, and took a swing at some outer island fare, including some big whitefish and a pair of nice halibut. Their overnight boat Toronado will be on the offshore run as well.
Meanwhile the Freedom, fishing open party overnighters from 22nd Street Landing was on a weekend 2 dayer when their 24 folks boated 88 dorado, 24 yellowfin and 7 bluefin, too.