BY BLAKE WARREN
LAKE HAVASU CITY, ARIZ. – For the second consecutive year, the WON BASS Arizona Open trophy is in the hands of a Lake Havasu local, as Mike Williams prevailed over a 178-boat field amid a challenging winter bite in the desert.
Williams proved the ultimate model of consistency over three days of fishing last week, tallying a trio of solid bags of bass to top the field with a total of 53.11 pounds (17.84, 18.35 and 16.92 each day, respectively). Ultimately it was Williams' Day Three limit that pushed him over the top, edging out Day Two leader Todd Kline of San Clemente, Calif. by just under 3 pounds on the final day — Kline being the only other angler to crack the 50-pound mark for the event at 50.24 pounds.
Williams scored a sweet pay-day of over $25,000 plus a brand new Bass Cat Sabre FTD and Mercury 175hp ProXS outboard valued at around $42,000 for his big win.
Rounding out the top 10 for the event was third place finisher Bryan Grier with 45.81 pounds, followed by Josh Bertrand (45.32), Clayton Meyer (44.53), David Valdivia (44.29), Justin Kerr (44.20), Max Hernandez (42.77), Joe Uribe Jr. (40.47) and Williams' brother Mark, who tied for 10th with fellow pro Sean Coffey with 40.38 pounds.
On the AAA side it was Kevin Cheeley of Phoenix who claimed the title, needing just 11 fish for the event to top the co-angler standings with 39.74 pounds. Cheeley was followed by young gun Hayden Metz in second (37.40), Jefferey Woods (37.25), Aaron Bartelt (35.92) and Craig Klatt (35.49) to make up the top 5 on the amateur end of things.
TALE OF THE TAPE – PRE-FISHING
By the majority of accounts and reports, pre-fishing was tough sledding for most anglers, despite a few pros sticking some quality fish in practice and hoping they'd still be there come tournament time. As expected,most anglers were tight lipped a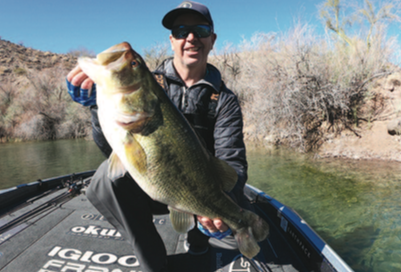 bout the bite but a number of pros predicted winning weights in the mid 50-pound range, an estimate that would proved to be particularly accurate once the dust finally settled.
The general word in practice was mostly fewer bites to be had but a good percentage of those that were committing to eating were good ones. Conditions on the lake weren't exactly optimal either, as steady sunny weather heading into the 3rd annual event didn't appear to be making things any easier for the anglers.
DAY ONE
Water temperatures sat around 53 degrees in the dark of last Wednesday as the Open kicked off with the national anthem. Bass boats headed out into just about every direction as the tournament got underway in the dawn. The WON BASS camera boat found anglers fishing just about every type of bait in every type of depth and varying structure, from working super shallow along the banks to trying to finesse a few big bites from down deep. It was clear it was going to be somewhat of a grind.
By the first day's weigh-ins things started to take shape. Arizona pro Justin Kerr set the tone with a 16.77-pound bag of bass, followed by local Mike Williams and his rock solid 17.48-pound Day One sack, who added that he thought he lost what was a fish in the 8-pound range that would of even further solidified his first-day total weight. Parker Wright posted 18.68 pounds with a bag of smallies taken on DRT Klash swimbaits, while Todd Kline and Bryan Grier checked in with 18.12, and 18.20, respectively. However, it was Joe Uribe Jr. who checked in 20.44 pounds on Day One, a bag that would ultimately stand as the top stringer of the event, while Jay Wright boated a 6.95-pound largemouth which would hold sway as the tournament's big bass when all was said and done.
DAY TWO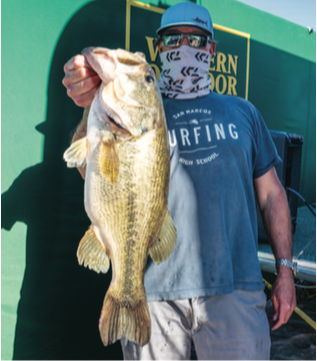 With many anxious and somewhat frustrated anglers, boats set out on Day Two looking to either reverse or solidify their fortunes. Again the fishermen ran far and wide in search of that right bite, and the second day's results varied wildly.
Uribe Jr.'s stout bag from Day One dropped to just a 3-pound sack on Day Two with only two fish, and Kline continued to ride the quality smallmouth bite he was on to the tune of 19.05 pounds, putting him in the driver's seat heading into the final day of fishing with over 37 pounds. Local Mike Williams – not to be outdone – scored 18.35 pounds of bass, while former U.S. Open champ Johnny Johnson follo
wed a similar route in stacking up 15.69 on the heels of his nearly 18-pound Day One bag.
Kline opened up a bit about the pattern he was following the day after the event.
"Throwing the COOLBAITS underspin is one of my favorite techniques and I have a ton of
confidence when they're eating it," he said. "I was mainly throwing a 3/16 with ei- ther a 2.8 Keitech or
Basstrix Flashtrix on it on 10-pound Sufix braid and 6-pound fluoro. I would go a couple hours without a bite but never really questioned what I was doing and I was able to get 5 bites the first two days – not a lot of 'em but they were all good 3- to 5-pound smallies."
Things were definitely about to get interesting on the final day of fishing with quite the congested mix of legitimate top sticks vying for contention come Day Three. A number of top-shelf anglers were right there in the mix heading into judgement day.
DAY THREE
Slightly cooler temperatures greeted anglers on Friday morning and tensions and anxiety were running high. Anglers loaded up on a variety of different baits at local tackle shop Bass Tackle Master the eve before the final day to pull out all the stops and hope they found the magic bullet, from crawdad cranks to topwater stuff and a wide variety of darker worms (among plenty of other baits as well).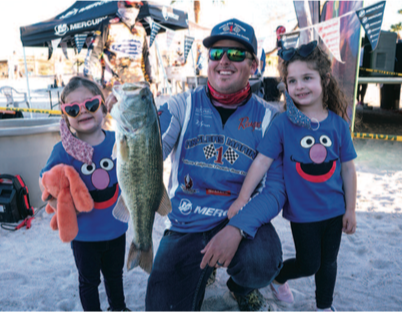 Many anglers opted to immediately stick close to the ramp and get right to fishing in hopes of getting a few decent early bites, while others made the trek to try and swing for that final home run of a standings-climbing bag.
It was a classic late-winter Havasu "junk fishing" shootout, with anglers bringing fish to the boat on a wide variety of approaches, baits and techniques in the scratchy bite: Squarebills and chatterbaits in the grass, flipping jigs both shallow and deep, a reaction bite in isolated areas on jerkbaits, underspins and swimbaits, low and slow spinnerbaits, drop-shot worms worked around trees and deep-water cages and structure and wacky-rigged Senkos upriver… it was truly a smorgasbord of ways that anglers brought 'em to the scales for the three days.
Mike Williams, among Havasu's top local bass sticks, was trailed by a number of other boats and decided to shift gears and run out to some less pressured water, ultimately working deeper structure spots after the lake had been pressured heavily by tournaments the previous few weeks, hoping to rely on his electronics and find a few good bites that others weren't necessarily targeting. That move indeed paid off, as Williams found a few quality largemouth down deeper that helped reinforce his Day Three bag, which ultimately put him over the hump and vaulted him to the top of the leaderboard.
"The first two days with the sunny, calm weather I targeted both largemouth and small mouth with a chatterbait and a few different crankbaits in the morning, then when the sun got high I used a few different worms and colors for largemouth and a homemade jig for the smallmouth," Williams told WON BASS. "I fished man-made structure and brush for largemouth in 15 to 35 feet and fished main lake points with sharp drops for the smallies. On the final day I only fished for largemouth using crankbaits early and going to worms for the rest of the day, fishing a different rotation of man-made structure and trees in 13 to 35 feet."
Those moves turned out to indeed by the right ones for Williams on the final day, bringing a solid 16.92 pounds to the scales on a challenging day in which no angler posted a heavier weight that David Valdivia's 17.89.
Kline, however, wasn't able to reproduce his first two days of success to quite the same degree on Day Three, not getting the bigger largemouth bites he thought he might pick up early on Day Three and instead falling back on the solid smallie bite he'd been on, putting two good ones by 10 a.m., only to have no bites at all for the next 3-plus hours. Running south, he put 3 smaller largemouth in the well to round out his limit, but ultimately it proved to fall just short of Williams' 16.92-pound bag with a total of 13.07 – clear of the third place finisher Bryan Grier by nearly 5 pounds and good for a rock solid silver medal finish and a heck of an effort.
"I got those 3 largies in the well then ran my smallmouth water for the last three hours but only got one more 4-pound smallie on a Rapala BX Brat," Kline told WON BASS. "I knew at that point I would most likely stay in the top 3 but probably not win. Sure enough I fell short and Mike got the W, and certainly congrats to him. But looking back I wouldn't change a thing and was very stoked with the result. Clear Lake can't some soon enough," he concluded, speaking of the upcoming April 12-14 WON BASS California Open at the legendary NorCal big bass factory.
POST-GAME
Coming down to the wire tensions were high as the final bags made their way to the scales, with anglers eyeing each other's limits wondering just exactly how much each pro had at the top of the congested leaderboard loaded with some of the West's best bassers. With weigh-ins winding down, WON BASS Tournament Director Billy Egan knew it was coming down to just Kline and Williams for the title, saving those two's limits as the final ones to be weighed to further heighten the drama.
As the dust settled and Williams realized he'd just claimed the championship, he was utterly stunned and at a temporary loss for words. It was clear as day to anyone in attendance that it meant a whole lot to him winning such a big event with a full field of top pros on his home lake.
The limited awards ceremony was a festive one as last year's Open champ and another Havasu local, Shaun Bailey, jogged down to congratulate Williams and pass him the coveted trophy, while a number of young local anglers who Williams often takes fishing were there to support him and cheer on his victory. Williams was still somewhat in shock. After being presented his new Bass Cat Sabre FTD prize boat, in relative disbelief he said, "Wow. I can, like… take it home?" Indeed you can Mike, indeed you can.
WON BASS would like to congratulate Mike Williams on his impressive Arizona Open victory and thank all of the circuit's great sponsors for their support and making the tournament possible. WON BASS title sponsors are Bass Cat and Mercury, along with support from Gamakatsu, St. Croix, Berkley, Abu Garcia, Power-Pole, Daiwa, Phenix, Sure-Life, Bass Tackle Master and Go Lake Havasu.
WON BASS Field Reporter Kristopher Stahl contributed to this report.