BY GUNDY GUNDERSON
SAN DIEGO— The long-range fleet fished near and far this week making catches on the bluefin grounds and on the traditional cow tuna grounds. The good bluefin fishing locally has been steady eddy and the wahoo fishing on the Hurricane was as good as it gets. The volume of bluefin is impressive promising a good summer of fishing.
Indy goes short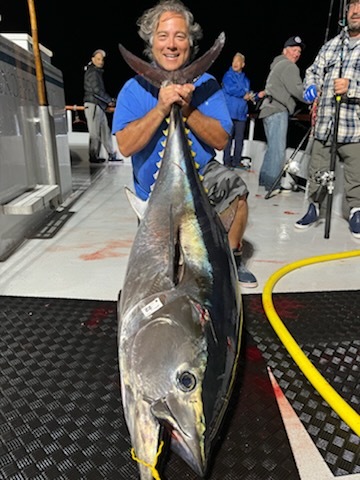 The Independence returned from a 3-day trip that saw excellent bluefin fishing, especially at night. Capt. Matt Kaullen sent this report, "We've been grinding away at this bluefin the past couple days and nights and have put together a nice catch thus far. Best fishing is in the dark hours and we are starting to see the 100-pound-plus fish. We had a busy night last night with fish up to 185 pounds and 17 over 100- pounds. We are gonna give it another shot tonight before heading in and hoping to end on a bang." 
            The Independence returned from another 3- day trip that saw more impressive bluefin fishing with limits of schoolies and a visit from the big boys. The Jackpot winners were, 1st place, Sean Gebauer with a 174-pound bluefin tuna, 2nd place was Norbert Preijers with a 163-pound yellowfin and 3rd place, Joe Torres with a 161-pound bluefin tuna.
Intrepid fishes short
            The Intrepid returned from a Hoo's 3-day trip with a nice catch of bluefin. Capt. Bill Cavanaugh was at the wheel and filed this detailed report, "We returned home this morning with a beautiful load of bluefin tuna. Yesterday was a good day for us and we kept busy all-day long. We spent our day catching one to ten fish a stop on Colt Snipers and sinker rigs on 30-pound test. Most of our fish yesterday were 20- to 30-pound fish. As our day came to an end chef Brian prepared a beautiful prime rib dinner followed by a celebration of a good friends birthday, long-time Intrepid angler, Joe Fitch. The jackpot winners for the trip go as follow, 1st place, James Han with a 92-pound bluefin, 2nd place, Bill Montgomery with a 90.7-pound bluefin and 3rd place, Joel Hewatt with a 90.6-pound bluefin tuna."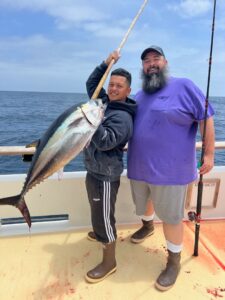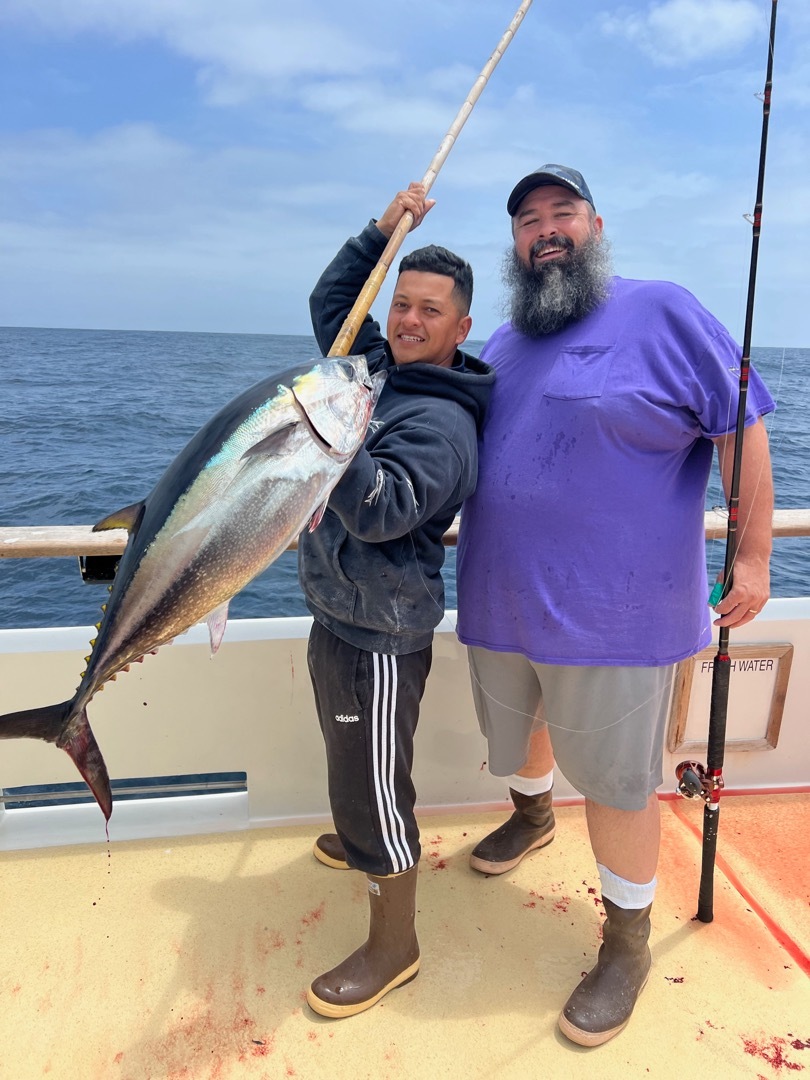 The boat returned from a 1 .75-day trip with a nice catch made largely at night. Cavanaugh filed this report, "We returned this morning with limits of bluefin for our 1.75-day trip. We had scratchy daytime fishing but when the sun went down on both of our nights we went right to work. We had a variety of different sizes from 25-to 50-pound fish to a few samples of some just shy of 200-pounds. West Coast knife jigs or Mustad Rip Rollers seemed to be working the best for our nighttime action and ColtSnipers and fly-lined sardines for daytime action. Our jackpot winner for the trip goes to Kyle Hall with a 171-pound bluefin. We are out again on a 3-day trip and we are excited to get back out there."
Supreme start
            "It's been an incredible start to the year. The bluefin fishing has been as consistent as it gets. We returned from a 3-day with limits of bluefin for our group. The larger fish are starting to show, so be prepared with the heavier setups."
Big X has a good starting
The Excel departed on the Okuma 16-Day with high hopes. The cow grounds were unmolested for a few weeks and the boat, passengers and crew were chomping at the bit, ready for action. Immediately, the boat got on a good wahoo bite and sent this report, "We departed on our annual Okuma Reels 16-day arriving south. The weather has been very nice down here and the wahoo fishing has been spectacular. We've had over 100 wahoo in two days and are still getting them."
The report continued, The tuna aren't cooperating very well at the moment, but we have plenty of time and will keep at it."