Boat lands 370, followed by a 380
BY GUNDY GUNDERSON
SAN DIEGO — The local bluefin bite in outer waters has been a godsend for the long range fleet. With the schedule shuffle and the shortening of many trips, the outstanding fishing has given the fleet a first rate alternative to the typical fall grounds on the lower half of the peninsula. In fact, the size of tuna out West has eclipsed what has been caught on the southern cow grounds in recent seasons. For the boats that have been fishing on the Ridge and Rocks, there were a few good wahoo bites to go with a mix of yellowfin, yellowtail, grouper and pargo.
Angler on the big boys
The American Angler has been on a roll as of late. The classic Poole sportfisher with the Portuguese bridge has been putting the wood to the big bluefin in local outer waters all summer and fall. The revamp of the schedule, opting for shorter length trips in the wake of the COVID pandemic and historic numbers of local trophy bluefin combined to put the boat in the right place at the right time resulting in outstanding trophy bluefin catches.
Capt. Roy Lopez was on the bridge on the most recent trips and filed this report after a successful Penn-sponsored trip. "The guys returned this morning with a nice rounded out catch — yellowtail, dorado and bluefin.  A huge thanks to Steve Carson. The jackpot winners were 1st place, Rob Mitchell with a 100-pound bluefin tuna, 2nd place, Joel Golding with a 98-pound bluefin and 3rd place went to Steve Wann with a 94-pound bluefin. Big fish honors went to Gordo with a 265-pound monster, Joe Bailey with a 172, brother Walt Bailey with a 157 and Steve Weber with a 179."
The boat was right back out again with Capt. Lopez at the wheel, "Incredible opportunity at big ones today. We had 14 fish for the day including 5 cows from 209 to 248 and a giant super 370 caught by local Tennessee bass fisherman, Tim Messer. The rest went 150 to 170 pounds."
The following day, an even bigger one. "We've been trophy hunting the last few days and it hasn't been easy to hook them, but when we do they are extra large size.  With a couple more days left we are going to try and keep the ball rolling. Today's jackpot? Another super cow at 380 pounds."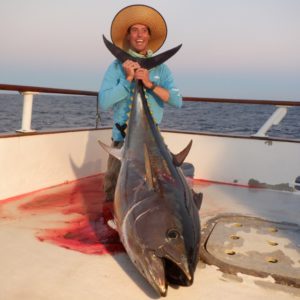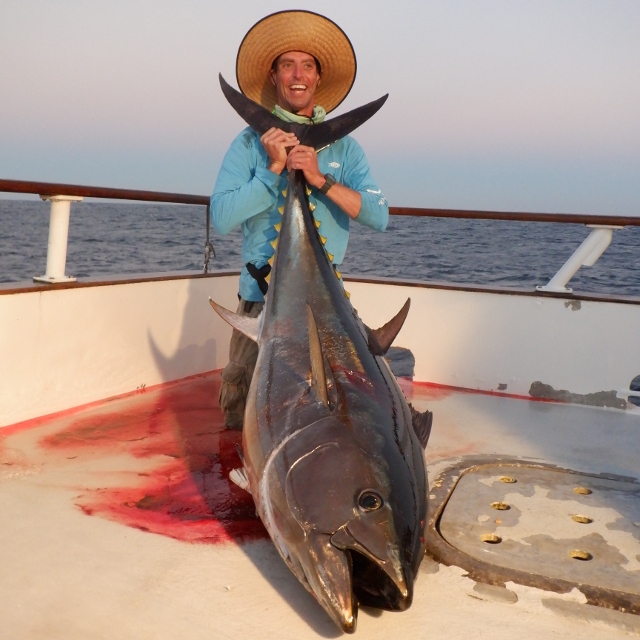 Indy out west
The Independence also made the move out west and was rewarded with some quality bluefin tuna. Capt. Brian Pifer was on the bridge and sent this report after a good trip. "Ended our trip in style. Stuck around the bluefin tuna zone. Had a slow morning but we finished strong, just a few shy of limits for our trip. We had a sundowner for a few bigger models — one at 130 pounds and one at 93 pounds. Great way to end the trip."
Big X out west
The Excel was another long ranger on the trophy bluefin grounds. The boat had a good day but failed to connect with the big ones. Capt. Justin Fleck sent this report: "We ended the trip up in the tuna zone where we picked up 53 bluefin and 8 yellowfin. Never got the hit on big ones that we were hoping for but still fun fishing on the smaller grade. I want to thank everyone who made it out this year. We appreciate you."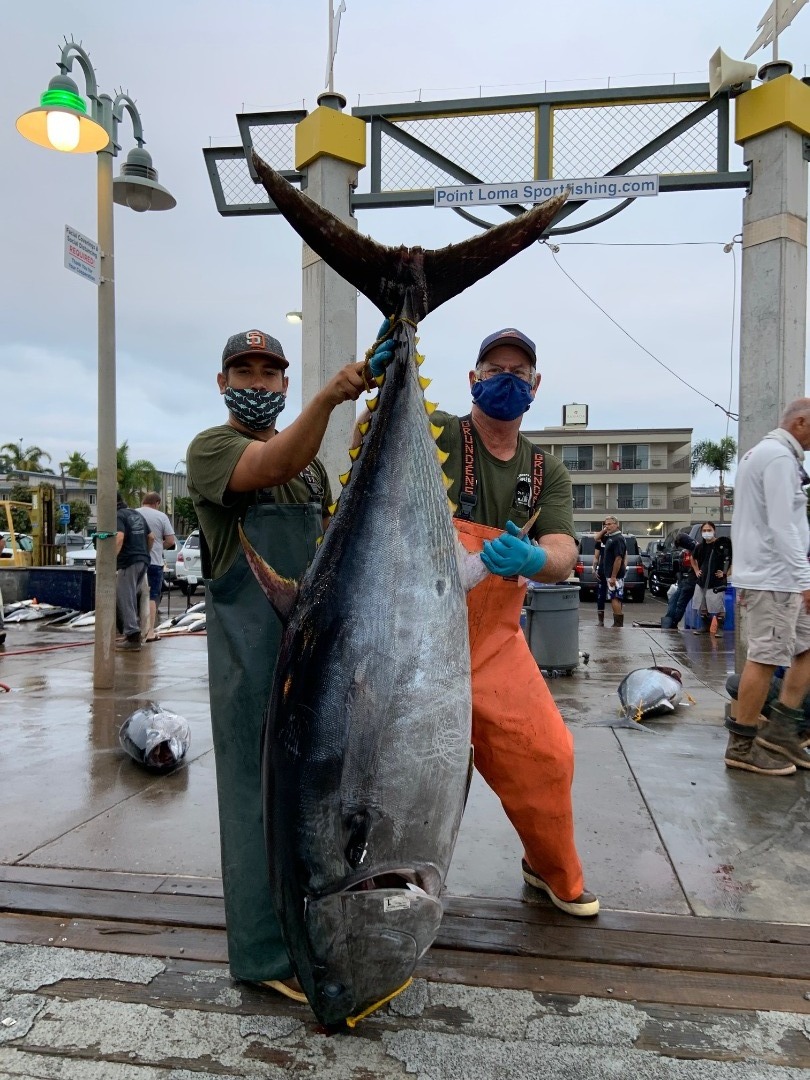 Supreme out west
The Polaris Supreme was on the bluefin grounds and found good fishing on school grade fish and a sample of big ones including a cow. The first strikes on the trip, however, were on the dorado. The boat sent this report, "Today we had a full speed bite on the dorado. One kelp we stopped on had a good hit, but later that day we found an eager school free-swimming in the water. The dodo fishing has been awesome the past couple weeks. I hope it stays this good."
The next day, bluefin tuna and yellowtail, "Today we had an excellent day of fishing for both yellowtail and bluefin tuna. The yellowtail were all excellent grade 15 to 35 pounds. Most of the tuna were 12 to 20 pounds except for two standouts — one close to 100 pounds and one well over 200 pounds."
Star out west
The Royal Star was on the annual Bight 7-Day Trip and pointed the boat out west to target bluefin and yellowfin tuna. Brian Sims was driving the boat and sent this message, "Today we enjoyed another day of good bluefin fishing on 30- to 50-pound fish with a couple handfuls of 55- to 70-pound yellowfin mixed in. Our weather continues to be good and the forecast is favorable. We got a nice shot at bigger fish after dark on the Flat-Falls."