BY DYLAN DEPRES
I joined an open party trip aboard the Black Pearl for 12-hour 5am-5pm trip out of Virg's Landing in Morro Bay, venturing up the coast with our sights set on quality rockfish and lingcod. Upon departure, Captain Brian Walker informed us we were in for a four hour journey before we would go lines-in. The weather couldn't have been better; we had nice visibility along the coast, almost no wind and flat seas. As we chugged along and made our way up and beyond the lighthouse, our happy anglers ate burritos and shared fish stories and recipes.
Captain Walker instructed us to rig a 16-oz sinker with two hooks for strip squid or a heavy jig with a single shrimp fly. Anglers also had a variety of large plastics and vertical jigs rigged up. Soon enough, right before 9 a.m., we approached our first spot and everybody was told to bait up. We were in deeper water just up to 300 feet.
A slow download of quality reds, miscellaneous rockfish, and even our first few lingcod began in short order. Plain hooks with squid along with smaller plastics tipped with squid were strong producers on this 45 minute stop. Those who fished bait diligently finished at least half their limit. Those who committed to purely artificial lures got fewer.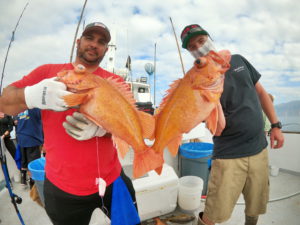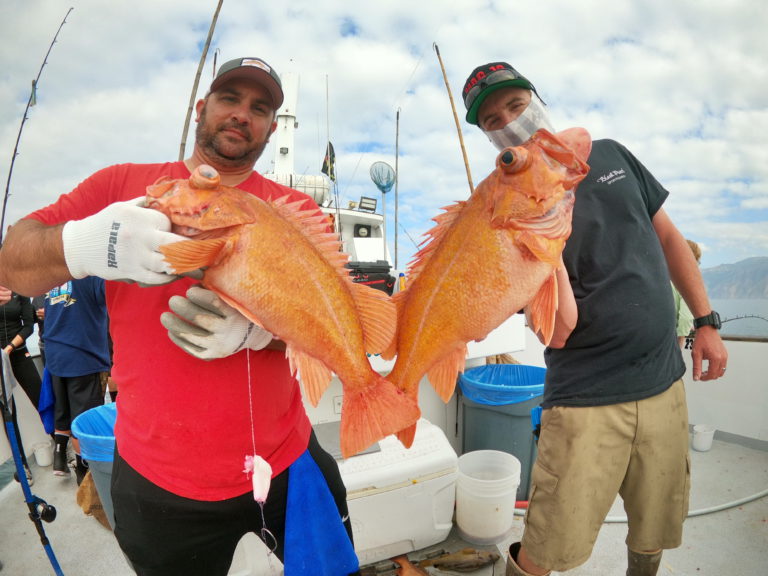 Our captain then announced we would be making a short 10-minute jog to a shallower zone to find some lingcod. In this zone we were fishing from 170-250 feet. Quickly, the bite picked up and we began catching quality lingcod averaging 10 pounds or better. Shouts of "gaff!" were exclaimed from all sides of the boat as the dragons were welcomed aboard, along with plenty more quality reds. It's worth mentioning that the average red was between 5 and 6 pounds, with the better quality fish in an honest 8- to 10-pound class.
Deckhand Aaron Neeley explained this was some of the best lingcod fishing they'd had since the opener. Our more experienced anglers landed one or more using a variety of offerings – large plastics, trap-rigged mackerel, and the old reliable dropper-looped squid. After a few go arounds on the medium-large fish we heard screams on the bow as a much larger fish came aboard.
Dino Martinez from Glendora caught the jackpot 22.8-pound lingcod on a Mag-12 swimbait. It was likely the biggest ling caught this week caught out of Virg's, almost certainly qualifying Dino for Virg'a annual Invitational dubbed John Rowley's Biggest Baddest Lingcod Tournament. Black Pearl owner operator Lisa Cox chimed in that she opened up a number of 12-hour trips on Thursdays giving anglers a great shot to qualify between now and the end of November.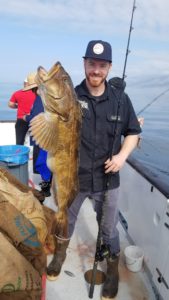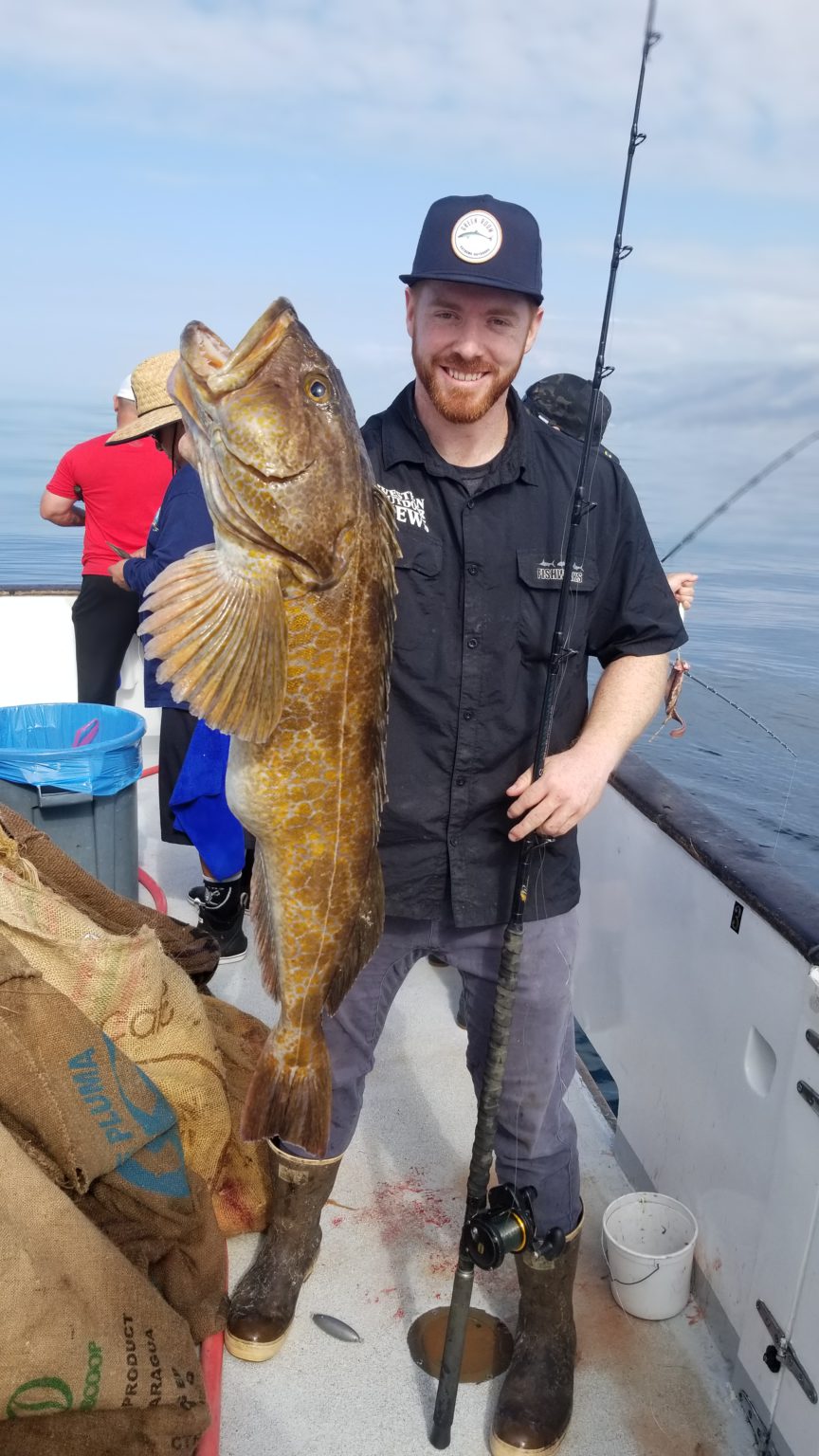 We bounced around this latter zone and plunked away at the quality rockfish and lingcod. A handful of no-take cowcod and yelloweye rockfish were caught in this area and our crewmembers diligently released them with a descender device. The time passed quickly for our anglers as they strove to fill their limits of cod and try their luck at the elusive lings.
One of our more successful anglers of the day, Delray Dias, shared some tips of what worked well for him. He fished a traditional double dropper loop armed with large hooks and whole squid. He absolutely did damage to the reds catching an easy limit of 10 that must have weighed collectively over 60 pounds. He also managed a nice-sized ling, our second of the day, on a whole squid. Dias is qualified for the invitational event in December so other competitors better be ready for him.
As far as my personal report, I definitely struggled at the start of the day. On our first stop I fished my slow-pitch jigging outfit steadfastly and only managed two bites. The first was a huge double-digit grade bocaccio that shocked anglers as it came over the rail. My second hookup was a larger fish that found its freedom on the way up. After fishing a few different vertical jigs with limited success, I switched to a 12-ounce weighted plastic octopus jig tipped with squid and a single squid dropper. Almost instantly my luck changed as huge reds found their way to my line.
When we moved to the lingcod zone, I tried changing my luck by rigging a "Morro Bay locals' secret," the trap-rigged mackerel. This rig uses a large j-hook through the nose of your bait, attached to a treble hooked pinned along the side of the mack. The fish were far more eager and wanted to play with both the squid rig and the trap rig far more than any of my metal jigs.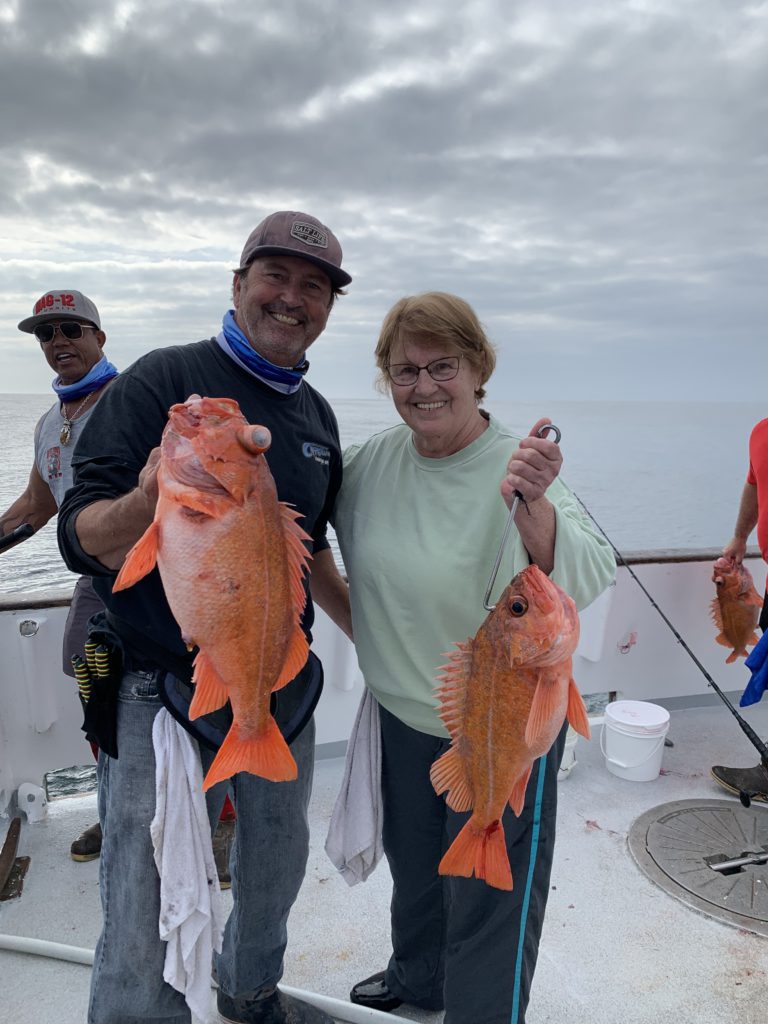 In my first few drops I brought aboard a single cowcod and yelloweye rockfish, both in the legitimate 12- to 15-pound class on the trap-rigged mack. I was impressed by the deckhands' efficiency in descending and releasing these fish. After several missed bites and shaken fish, I connected with the right kind. The violent head shakes all the way up made it evident I had a good lingcod hooked up. After a short and sweet battle we got the fish to gaff, and it would eventually weigh in at an even 15-pounds. Success!
I didn't manage a full limit of rockfish but that's largely due to lack of effort. I stuck with the fun method of jigging, and the big-fish method with the trap rig and I was still rewarded plenty. My gunny sack full of 7 rockfish and a single lingcod was easily between 60 and 70 pounds. Legit monsters! This trip was another great reminder of the epic fishing available in Morro Bay. If you're a SoCal angler who hasn't yet experienced it, do not hesitate! There is still some time to get after it this season.
Final fish count: 25 anglers, 23 lingcod and 250 rockfish, most of which were giant reds.
To hop aboard the Black Pearl for one of its 12-hour "long range" trips or other offerings, visit www.blackpearlgofish.com. To book a trip aboard the Virg's Landing fleet of boats, visit virgslanding.com.