8- and 10-day trips shine with stellar fishing
BY GUNDY GUNDERSON
SAN DIEGO – Many years ago, Alijos Rocks was a premier yellowfin tuna spot on the long range itinerary. It did not hold the big cows and teenagers like the tropics but there were plentiful schools of quality fish ranging up to 100-pounds. The meat ranged from 25- to 50-pounds. Those quality school fish have returned and the fleet is putting together good scores of yellowfin not seen in years.
The wahoo fishing was a scratch showing signs of weeks of relentless pressure. The yellowtail fishing was another bright spot.  From the Baja Coast to the high spots on the Ridge, boats found excellent yellowtail fishing with good topwater action. Mix in shots at marlin, grouper and dorado and you have classic fall long-range fishing.
Intrepid at the Rocks
The Intrepid was another boat down below, this time at Alijos Rocks. Capt. Bill Cavanaugh was on the bridge and sent this message, "We made our way out to the Alijos Rocks after a very successful day of yellowtail fishing inside. When we arrived, we got the anchor down and immediately started picking away at premium-grade yellowfin tuna. Once our tuna fishing slowed down we picked it up and trolled around for wahoo. We were able to put together a really nice day on wahoo keeping busy for several hours."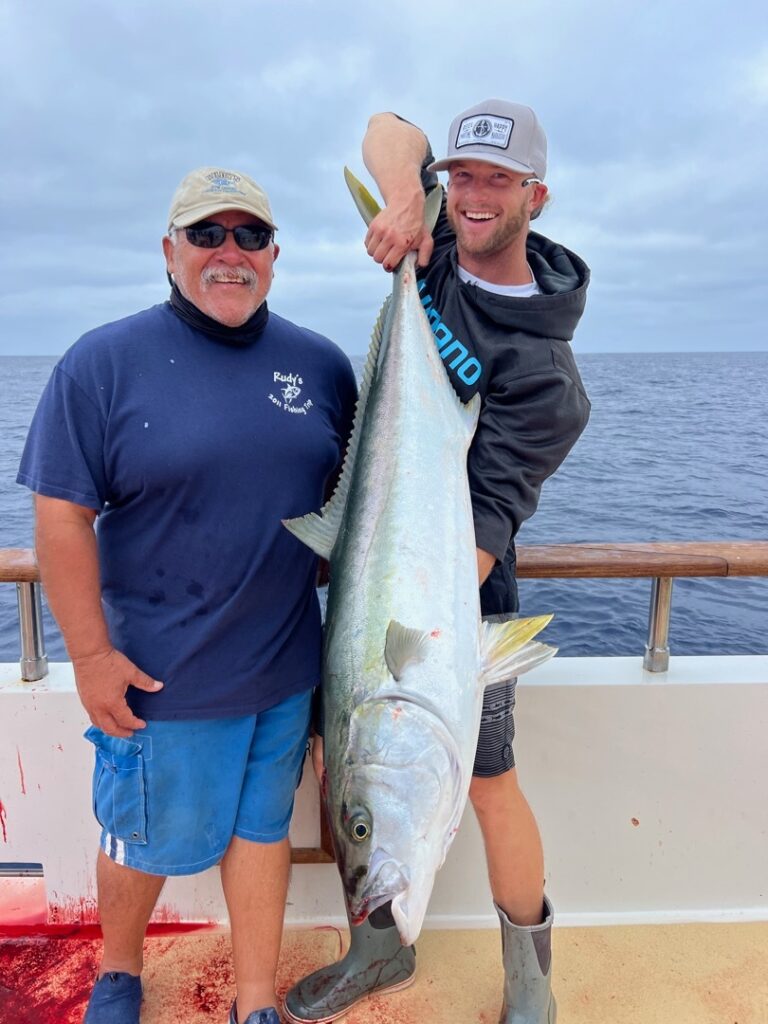 The good report continued, "When we got our anchor down for the afternoon it was game on. Beautiful 25-to 45-pound yellowfin tuna made a showing for our sun downer resulting in quick daily limits. Yesterday was spent with similar results on the wahoo but the tuna fishing was slower. We are making a move to the inside to try for a few more wahoo and top off on tuna."
When the boat returned to San Diego, Cavanaugh filed this final report, "We returned home this morning with a beautiful catch of yellowfin, yellowtail, wahoo and a few dorado. We started our trip on the beach with incredible yellowtail fishing. Most of our Yellowtail were 18-to 25-pounds.
Afterward, we made our way out to Alijos Rocks and had excellent yellowfin fishing and scratched some wahoo. We finished our trip on the Ridge with excellent fishing on yellowfin to top it off. Most of our yellowfin were 25-45-pounds. Jackpot winners were, 1st place, Miles Callison with a 43.2-pound yellowfin tuna, 2nd place, Rudy Ruiz with a 42.8-pound yellowfin tuna and 3rd place, Mike Brady with a 40-pound yellowfin tuna.
Angler down below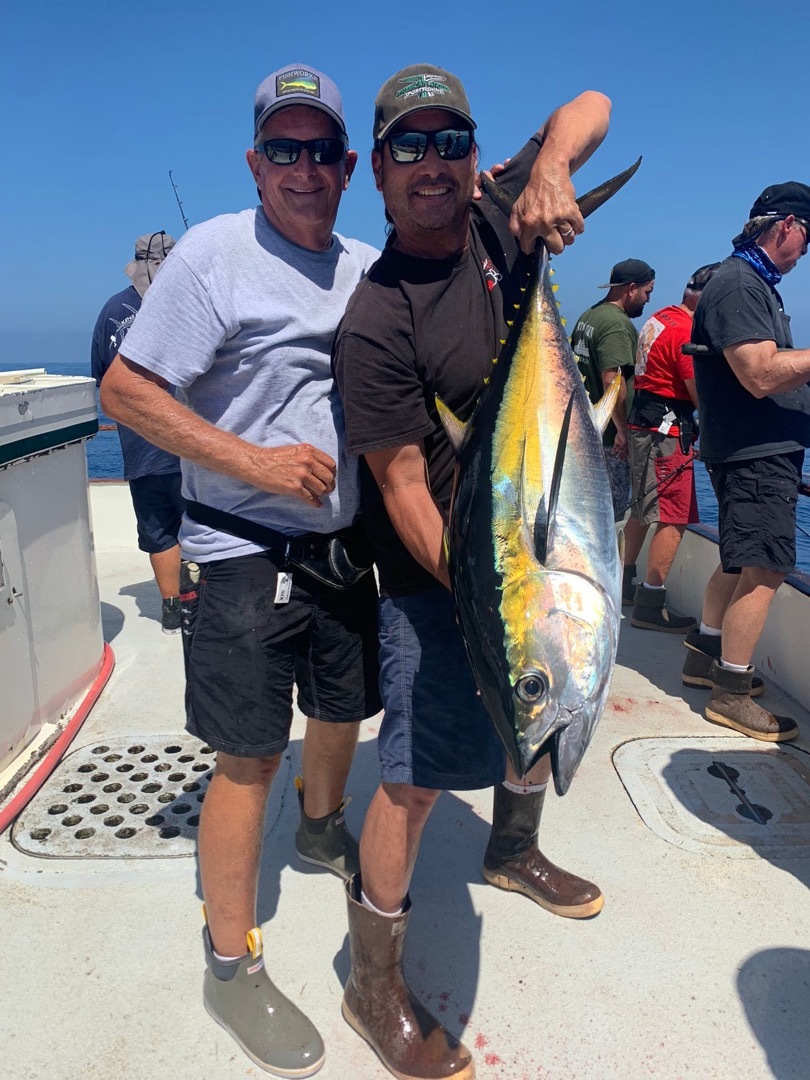 The American Angler was down on the Ridge and Rocks enjoying excellent fall fishing. The sportfisher was on a nice school of yellowfin tuna and sent this message, "A lot happening over the past couple of days. We have had excellent yellowfin tuna fishing. The fish have been ranging from 18-to 30-pound average with standouts and a sprinkling of wahoo to boot."
The next day, the yellows were on the bite, "Fantastic yellowtail fishing.  Gorgeous weather and old friends spending a week together. Its the best."
Excel and Phenix
The Excel was on the annual Phenix Rods 10-Day Trip prospecting on the Ridge and Rocks.  Capt. Jason Gross was in the wheelhouse and sent this brief message, "Pretty incredible fishing going on down below right now. A great time to be on the water."
Indy returns
The Independence returned from the annual Kimura Charter with an excellent  catch from the southern half of the peninsula. The boat with Capt. Matt Kaullen at the wheel, posted some quality catches of yellowfin tuna. The JP winners were as follows, 1st place, Joe Ruiz with a 40.5-pound yellowtail, 2nd place, Jim Vanhouten, with a 38.5- pound yellowfin tuna and 3rd place,  Mike Hagan with a 36.5-pound yellowfin tuna."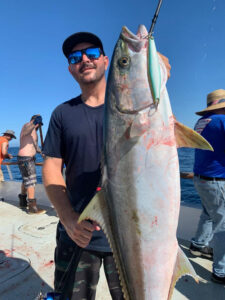 The boat was right back out on the annual Fall Classic Charter. Capt. Matt Kaullen managed to send this report, " Sorry for the lack of update. We were busy. Had good fishing on yellowfin tuna, yellowtail, and wahoo on the Ridge and Rocks. We are heading up the line."
Rooster down below
The Red Rooster was also on the southern grounds enjoying the good fall bite. The boat began the trip with a shot at yellowtail on the trip down, "Excellent yellowtail fishing all morning. Flat calm conditions with great current and topwater fishing."
The boat continued south and sent this report after arriving, "A start up today on wahoo and a nice grade of yellowtail. Not much sign of keeper-size tuna but maybe tomorrow."