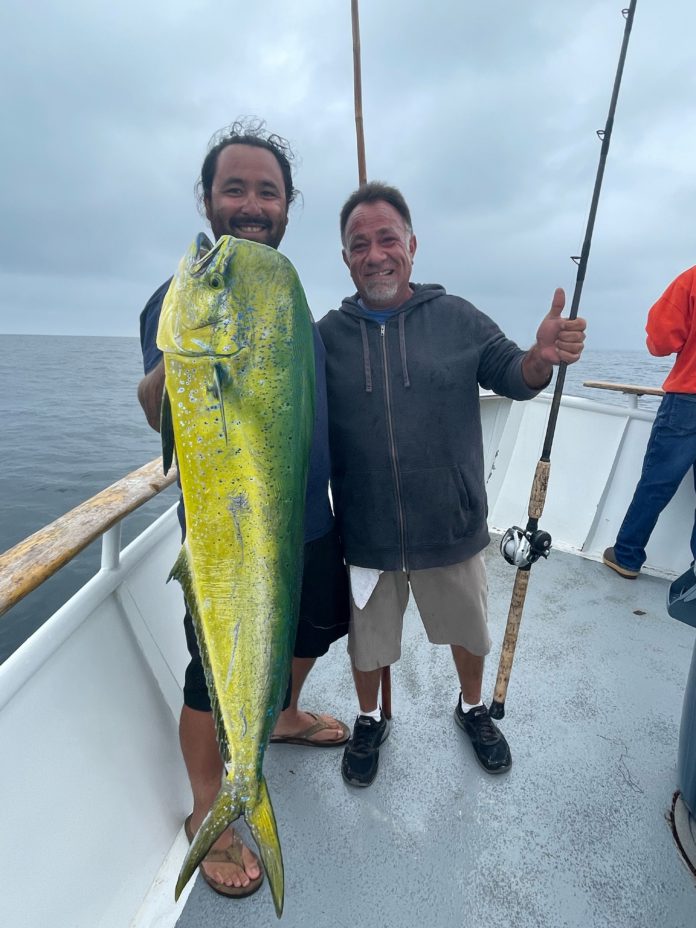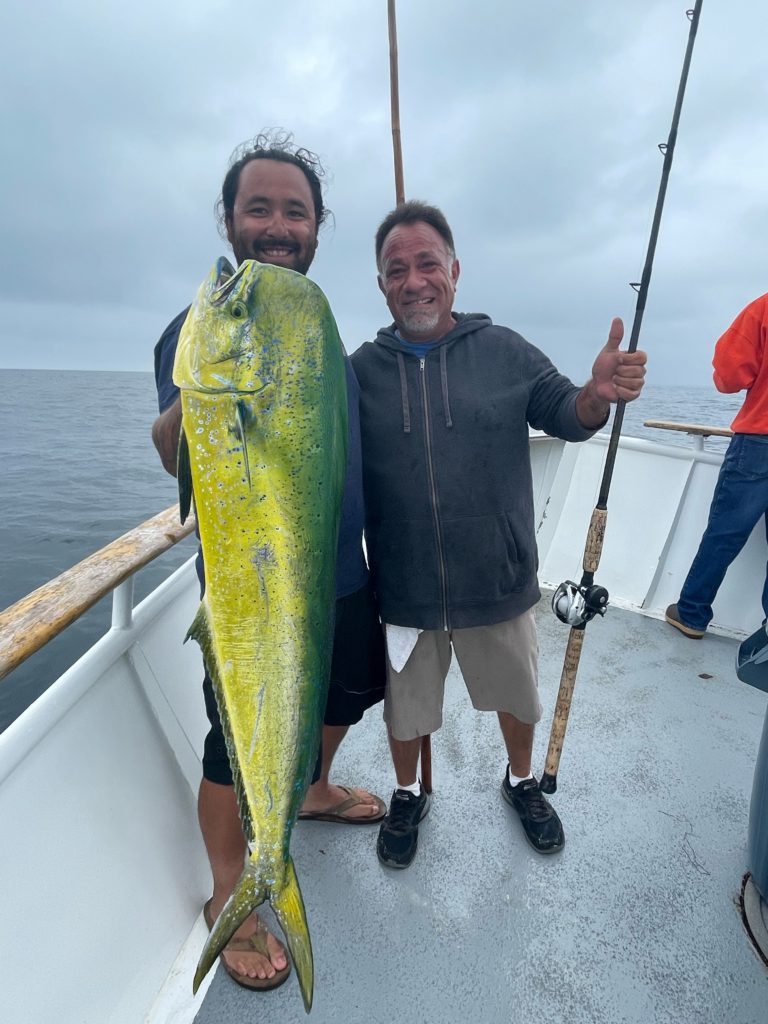 BY MERIT MCCREA
DANA POINT/NEWPORT — The week's tropical influence and grease-calm conditions brought with it dorado bearing kelp paddies into the half-day zone, here in a region where sculpin and catch-and-release calico bites typically set the local summer pace.
Capt. Brian Woolley's weekly WON report included, "Off the beach is where we saw the real improvements this week. A bit of a change instead of targeting the bluefin tuna we've been kelp paddy fishing. We're seeing a great mix of yellowtail and dorado on kelps as close as four miles. Mixed grade fish with the dorado we saw small fish of a few pounds on up to 15- to 25- pound stuff. And the yellowtail came with some of the small firecracker 3- to 5-pound fish up to nice grade of 15-pound fish.
"We also caught a few bluefin and a few yellowfin on these kelps as well. Just about any size kelp has been holding fish too. On our all-day trips it's been all offshore right now. As far as our regular 3⁄4-day trips go, we've been out in the mornings trying to find kelps off the beach, spending a bit of time looking, and then moving into the beach for a few hours to bass fish.
At Newport Landing Capt. Mike Thompson reported, "Well on the Thunderbird's 2.5-day Thursday-Friday trip they caught 100 yellows on the Cortes on Friday and had a night bite off the west end coming home for 10 fish from 70 to 200 pounds. Left them biting to get in for a morning 3⁄4-day trip."
The final total turned in for 22 anglers was 117 on the forktails, 69 dorado and 37 bluefin.
Overnighters earlier in the week knocked the fins off the fish. Tuesday: 2-day, 30 anglers, 53 bluefin, 130 yellowtail, 67 bonito (10-pound-plus class), odds'n ends. Wednesday: 1-day, 28 anglers, 45 bluefin, 21 bonito, 5 barracuda.
Local excerpts Sunday include Bongos 2 with 6 anglers getting 25 flying dorado. Freelance 3/4-day with 48 fishing: 12 dorado, 12 yellowtail. Bluefin tuna were in local waters too. The 3/4-day on the Patriot pulled 9 on a 3/4-day Thursday.