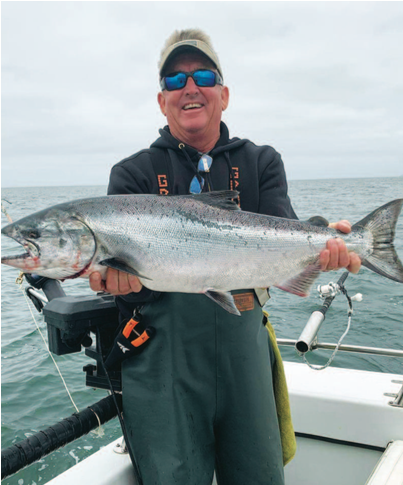 BY DAVE HURLEY
BERKELEY – If you are going salmon fishing outside the Golden Gate, break out the heavy lead as the trollers are out-fishing those mooching, but things could change up once again in the coming weeks. The salmon are starting to stage north of the Golden Gate, and they should start to move into San Francisco Bay in increasing numbers within days.
Captain Trent Slate of Bite Me Charters out of Loch Lomond Marina followed up a slow day mooching on Friday with three salmon to 28 pounds with 6 limits of big fish with six between 20 and 30 pounds on Saturday. He said, "We had limits by noon, and we found our best action at near Duxbury Buoy. We also lost some huge fish within sight of the boat with one that I estimate was close to 40 pounds. It dwarfed the 28 pounder that we landed on Friday. The bait is stacked up at Muir Beach with plenty of hard marks, but we haven't had a single day where the fish have bit at Muir. The hatchery salmon seem to be changing habits that have occurred over decades."
Captain Steve Mitchell of Hook'd Up Sport Fishing has returned to trolling after a slow day mooching last week, and he has been consistently scoring over a fish per rod of big salmon all week. He said, "We had 7 salmon for six anglers on Sunday trolling from the Middle Grounds to the Channel Buoys, and they were all big fish. The salmon are holding deep, and we had to use 3- and 4-pound balls to get off of the bottom." Mitchell was north at Double Point on Friday before moving to Duxbury for 7 big salmon and a bonus halibut for six anglers.
Captain Ron Koyasako of Nautilus Excursions out of San Francisco posted trolled for salmon over the weekend, and he said, "I ran up as far as Arch Rock about Double Point on Sunday to see if there were any more salmon coming down, but there wasn't much going on up there. The salmon are moving south, and the fish that were at Double Point on Friday were at the Channel Buoys on Sunday. We ended up with three big salmon, dropping another 6 along with a sea lion snatching a 20 pounder at the net. We had a similar score on Saturday, going 8 for 5 with several cases of the 'dropsies' as we had two truly-large salmon at the net. The big fish are sporting red bellies, and they are no long for the salt now. The Channel Buoys are holding a lot of fish, but the salmon are getting dark as they look ready to make their move. Trolling has been the ticket, but there were commercial fishermen mooching off of the North Bar on Sunday, and one boat had three on at the same time." Koyasako ranged from Double Point to the Channel Buoys on Friday for 8 limits of commercial-grade salmon.
A single big fish per rod has been the standard for the large party boats, but Captain Jerad Davis of the Salty Lady posted a terrific score of 23 salmon to 32 pounds for 13 anglers from Double Point south on Friday.
Rockfishing remains very strong, and the best quality for the rockfish along with higher lingcod counts are found further away from the harbor. The winds kept the boats from making it to the Farallon Islands until the end of the week, but the New Eldorado III took a charter from Turner's Hardware to Drake's Bay to fish the shallows for limits of rockfish and a healthy ling count. Johnny Wang, Turner's manager, said, "We were in the shallows from 40 to 80 feet as it was blowing out of the south at 20 knots s o they moved into more protected waters. The rockfish and lings bit 2- to 3-ounce swimbaits along with P-Line Laser Minnows within sight of Point Reyes."