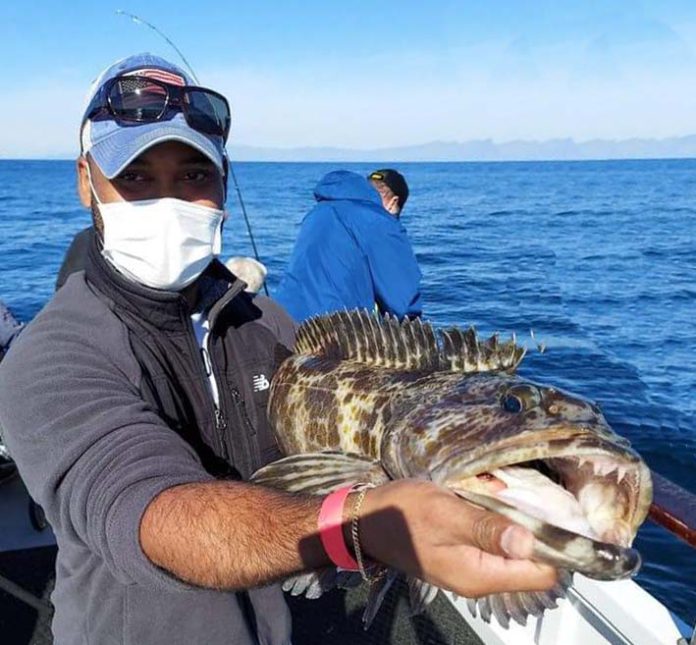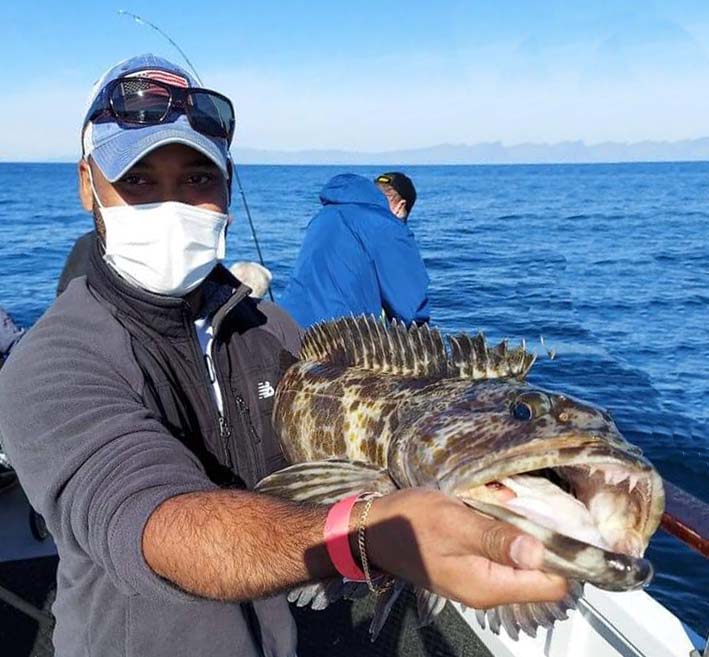 BY BOB SEMERAU
VENTURA —Veterans Day celebrations and remembrances this year fell on the auspicious date of 11-11-2020. One local, grass-roots non-profit organization, MissionFISH, made it the best of both with a day on the water for some 52 anglers with the "America's Brave and Courageous at Ventura" event.
Today the United States stands ready with nearly 500,000 active duty military personnel and almost 200,000 of those deployed overseas. Once their duty has been served and it is time to return to civilian life their stories often become difficult, and their circumstances tragic.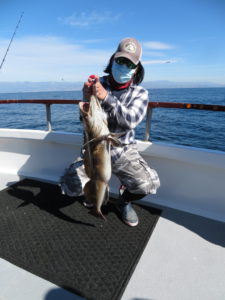 The wounds are not always inflicted in battle. Some come from accidental injury or loss of a loved one, and others from neglect upon returning to the world.
"We pay homage to any and all veterans, active duty military, first responders, and Gold Star families, to thank them for their selfless sacrifice they made to this great country of ours," said MissionFISH President Barber before the boats loaded up.
The rising sun beamed across the water as the sky showed clear and bright. The honored guests and volunteers began arriving at Ventura Harbor Sportfishing, with the conditions promising a beautiful day on the water.
Volunteers and sponsors set up tables for check-in, and hot coffee and donuts provided by the Navy Federal Credit Union kept the anglers comfortable while everyone got signed in.
Two boats, the 65-foot sportfisher, Island Spirit, with Captain Cody Rogers at the helm, and the 60-foot New Hustler, owned and operated by Captain Chris Volaski, carried the assembled group out to mid-channel between Santa Cruz Island and the coast.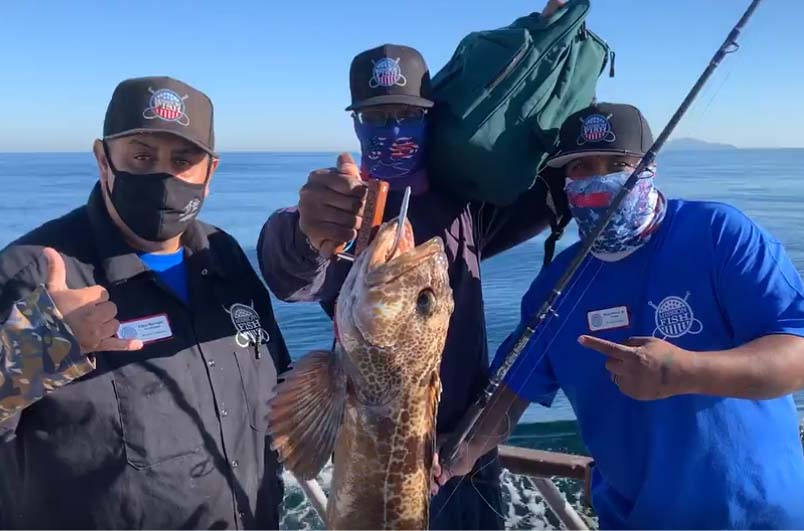 "The healing power of spending a day out fishing with people that have experienced what you have, and made the sacrifices required to serve, is immeasurable," explained Barber.
Vietnam veteran Frank Applegate traveled to Ventura Harbor for the event as he does each year for a day of bonding and as a time to share with others like himself.  A victim of Agent Orange, Applegate uses a wheelchair walker, yet enjoys the time aboard with MissionFISH.
Once aboard New Hustler, Applegate settled in along the starboard rail next to Air Force veteran, Buff Martindale, who owns B & F Tackle in Montclair, California. Despite losing his leg in an industrial accident and wearing a prosthetic, Martindale fishes aboard the boat several times a year with charters of his own. The pair could be found working their baits deep and bringing up plenty of rockfish throughout the day.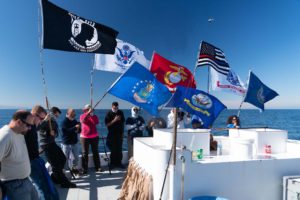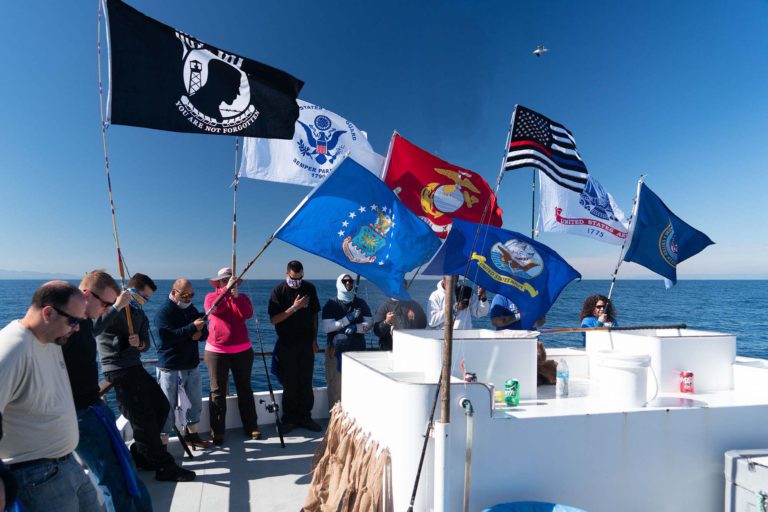 Fishing outings with MissionFISH are completely free to participating guests, including license, rod rental, tackle, fish cleaning and more.
On each trip at 11:11 a.m., the group pauses for a remembrance of those who had given their full measure. Flags are unfurled and a moment of silence is broken with "Amazing Grace" played, while anglers pause in their day. The date 11-11, and the time of day, are symbolic of the 22 (11+11) veterans that take their own lives each day, unable to continue in their circumstances and not finding the help needed to work through to a better day.
MissionFISH, along with its sponsors, is working to change that statistic.
One of the enduring sponsors of MissionFISH is Genesis Programs, Inc., and according to Angel Jones, Executive Community Liaison for the organization, it is a perfect fit.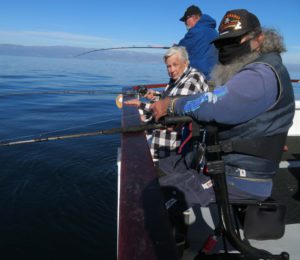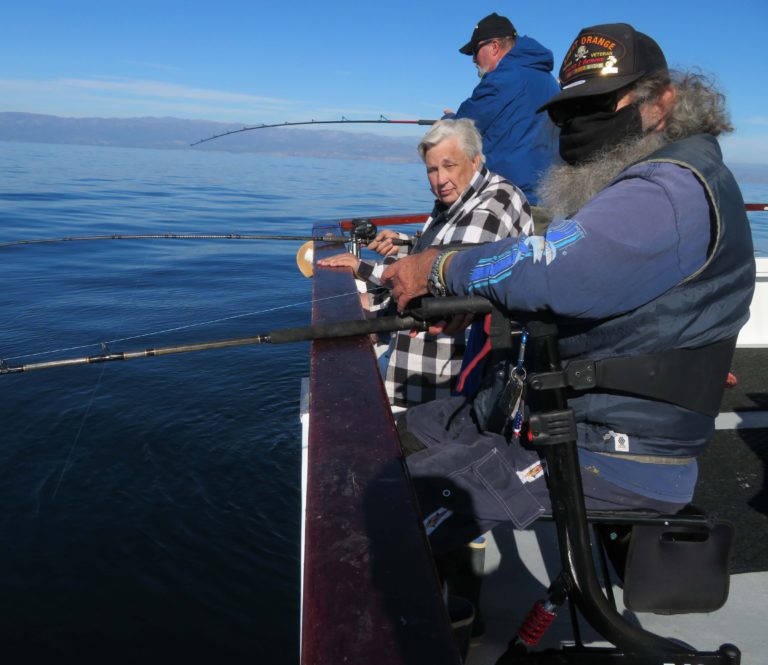 "Part of Genesis Mission is educating and working with the community. It was a natural fit to sponsor MissionFISH, where we not only help sponsor their trips, but also offer our faciality as a working/meeting space for their board," said Ms. Jones from aboard New Hustler.
"As we move forward with MissionFISH, we hope to offer support groups for those dealing with PTSD & TBI, offering us a wonderful outlet to send our 'Elite Track,'" concluded the organization's liaison.
Across slick waters with barely a breeze the two boats were jockeyed from spot to spot, as the two experienced skipper kept looking for willing biters throughout the day.
Some anglers found fish despite being out for their first offshore fishing adventure. Stationed at Port Hueneme, active duty Navy man Maco Moore, and Navy veteran Allan Peralda, both found lingcod of some size. At day's end, Moore's buckethead lingcod took the New Hustler jackpot and a great gift bag filled with swag. Despite wearing face coverings, both anglers were all smiles.
Army veteran Steve Hare helps out at B & F Rod and Reel and could be found at the rail next to Buff Martindale, landing several larger model rockfish. As the afternoon grew late, the angler boated a green spot rockfish that weighed-in at 4.25 pounds and could possibly be a new California record, according to New Hustler deckhand Alex Edwards.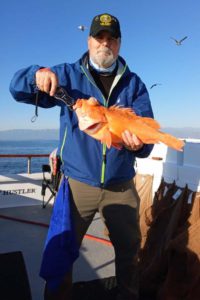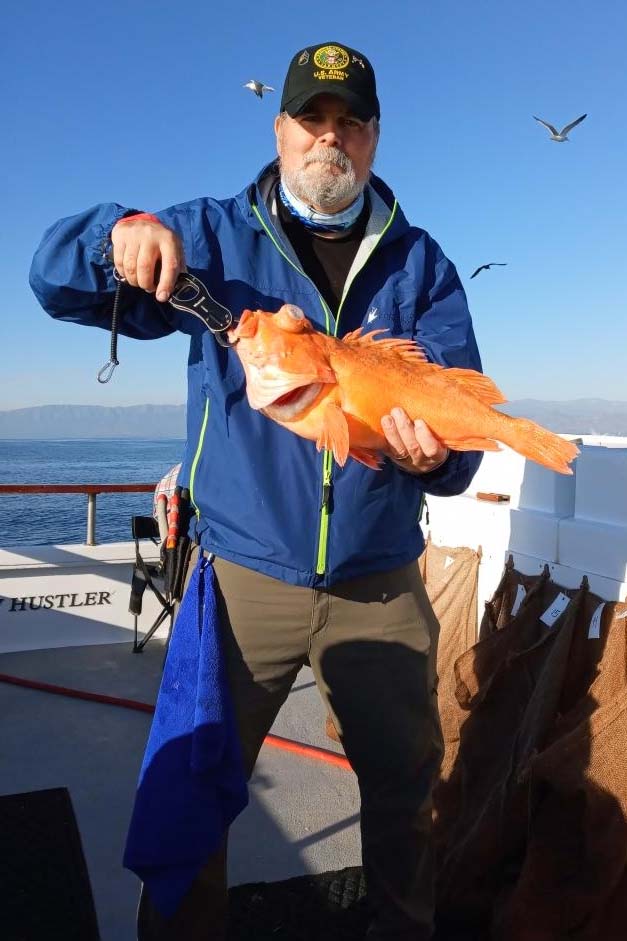 Across the water, aboard Island Spirit, anglers were making things happen as well. Dylan Weicht, active duty Navy, bagged a huge salmon grouper, aka bocaccio, while soaking squid strips for his largest fish of the day. First responder Anthony Clark found a larger model lingcod for the biggest fish aboard Island Spirit to win the jackpot and a bag filled with sponsor supplied swag. Plenty of fish went into the sacks and finally the time came to head back to the docks at Ventura Harbor Sportfishing to call it a day.
Stories were swapped and friendships bloomed aboard the decks of the two fishing boats as anglers enjoyed great fishing in perfect conditions. The camaraderie and the relationships made while fishing the "America's Brave and Courageous at Ventura" event will go a long way to helping the honored guests as well the volunteers and sponsors lending a hand.
Once back at the docks, pizza and cold refreshments made the return to dry land a welcome part of the day as fish were distributed and the group parted company.
A brief ceremony for MissionFISH board members had Oxnard Mayor-elect and current Ventura County Board of Supervisors Member, John Zaragoza, bestow an official commendation upon the dedicated organization.
"Our work continues, and we will build on what we have achieved to help as many individuals and families as we can in the coming months and years," said Barber in accepting the embossed document honoring the work being done by the group.