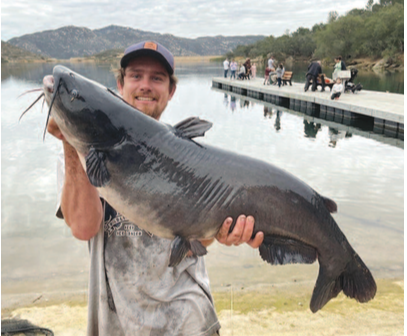 BY MIKE STEVENS
ESCONDIDO – Another sizable delivery of quality rainbow trout were dumped into Dixon Lake and red-hot fishing fol lowed, but another species stole the spotlight in record- breaking fashion.
Valley Center angler Cameron Gruwell was soaking cut mackerel on the South Shore when he connected with a giant catfish. After coming out on top of that tussle, the fish tipped the digital scale at 30.4 pounds, which allows it to stand as the new Dixon Lake record for catfish. Gruwell released the big cat after some photos were taken. The previous record was a 24.9 pounder.
On the trout side of things, fishing blew up like it always does following the 3,000-pound stock that went in on Feb. 3. Minijigs were the hot ticket to quick limits, and if anything, the quality fish in this particular plant seemed to be noticeably above average.
Lake regular Jacob Lopez limited on trout that were all 5 pounds or better. He was work- ing Hookup Baits in black/gold and white/yellow. He was fishing with another familiar face on the SoCal trout scene, Brandon Avalos who stacked up his own limit on the same jigs. Temecula angler Tracy Hartman also reached out to WON after bagging trout of 7 and 5 pounds on back-to-back days on black/gold jigs.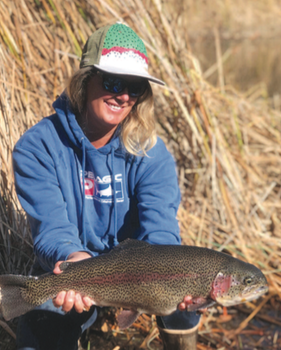 The hot spots remain the historical producers: Whisker Bay and the surrounding banks, Boat Dock Cove, Trout Cove and the shore between it and Jack Creek Cove.
Boat rentals are still not available at Dixon Lake due to "storm damage and maintenance needs." The lake is open daily from 6 a.m. to 5:30 p.m