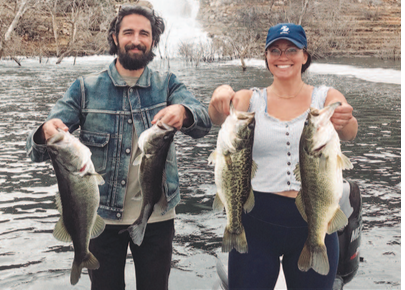 BY MIKE STEVENS
LAKESIDE – Well known for an almost-always-there but crazy deep winter bite, San Vicente Reservoir seems to have a different identity this cold season. The deep bite has been and remains there, but it's been shallower on average, and San V is also overachieving in the quality department this year with a lot more chunks mixed in with the typical pound-and-a- half cookie cutters. A lake regular some of you veterans of the San Diego multi-day salt scene will recognize reached out after a couple particularly good days on the lake.
"It appears to me that the fish are staged up, ready to move on to the bank," said former long-range Captain John Grabowski. "Our fish came in 5 to 25 feet of water on Texas- rigged worms. The water is very low right now at San Vicente, and the temperature seems to be holding at around 58 degrees. Water is being brought in through the aqueduct, and the lake seems real healthy now."
Typically this time of year, the San V faithful are grumbling about having to go as deep as 60 feet with a drop-shot rig to get bit. Even then, it's typically smaller bass, and at that depth, most need to be gassed for a successful release. There have been biters that deep over the course of winter 2020-21, but based on all the reports picked up by WON, it definitely seems like 20 to 30 feet has been the most productive deep-bite window.
Grabowski was fishing with his daughter Mary Grabowski and her boyfriend Alex McFarr.
"We asked my dad if we could join him on the lake for a half day trip, but the weather was so perfect we ended up staying all day," she told WON. "My dad said it is pretty hard for beginners to catch a lot this time of year at this lake, so we went with low expectations, but the Captain set us up for an amazing day with lots of bites."
She said the trio bagged 17 largemouth including kickers of 7.25 and 6.4 pounds, both very respectable fish for San Vicente's standards. John Grabowski checked back in with WON after a follow-up trip and got into them again.
"Good fishing once again on the 2- to 5-pound fish," he said. "Same deal, 5 to 25 feet of water fishing worms in multiple areas. Sixty-degree water by this afternoon, and they have water coming in at both ends of the lake now, so maybe it's going to start coming back up."
The shallower winter bite is actually no secret, as other angler-sourced reports to WON mentioned the same thing. According to staffers at San V, there are largemouth to be found all voer the water column down to 40 feet, and some of the fish tigher to the banks will also eat a small swimbait, weightless worm or a jig.
For WON BASS U.S. Open champ Rusty Brown is still working the deeper fish, and he had nothing but good to say about the current state of the fishery overall.
"San V is the best bite in San Diego right now," Brown told WON. "Texas- rigged 7-inch Roboworms in Morning Dawn and MM III in 25 to 35 feet. Toll Road Arm and Kimball are the best areas."
That being said, he did tack on the fact he's putting clients on some soft-jerkbait fish around shallower sticks and big rockpiles.